It's time to look back and summarize three fantastic flying weeks in the Tasman Region. I arrived to Nelson after a few days of coastal road-trippin from Christchurch with STEFAN. The first weeks agenda revolved around the 2014 New Zealand Paragliding Nationals. Round 1 of 2 was organized in Nelson and 30-40 pilots were signed up for the cross-country competition. Every morning the organizers had a detailed look at the local weather forecast and chose the most suitable area to fly that particular day. A task is set with GPS marked turn points, it kind of works like sail racing. Pilots launch and try to get as high as possible. On start time it is a race to turn points and for successful pilots eventually goal.
Imagine flying in those clouds…
I took the chance to learn from pilots with years of experience and tagged along without actually being part of the competition. I was free-flying, as it's called, and flew with no specific goal. As a novice it is challenging enough just to stay up and thermal. Following the competition I flew a handful new sights, the biggest, coolest and most challenging being Mt Murchison an hour drive inland from Nelson.
Above: Competition pilots level with take-off at Mt. Murchison. They are all circling in thermals, hot rising air released from the sun-heated ground. Flying in mountains where paragliders mostly rely on thermals is profoundly different from coastal soaring where you rely on sea breeze and weather wind hitting cliffs or slopes. I have more to share and explain on the subject, I promise to do so in a separate post. Below to the left: Competition group photo. Read more about the NZ PG Open in this Nelson Mail article.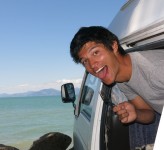 During the competition I met Loic, a young frenchman with wings who just like me travels New Zealand with a FLYING VAN. We became good flying buddies. Loic is only 22 but has been in the air since he was 13. I was impressed and hypnotized watching him fly and handle the wing on ground, a fantastic pilot. Once the competition days were over we spent a few days at Ruby Bay and in beautiful Takaka Valley. I learned plenty and Loic was keen to share his knowledge and skills. When not with canopies above us the topic of conversation was with few exclusions flying – the obsession doesn't seem to have a limit.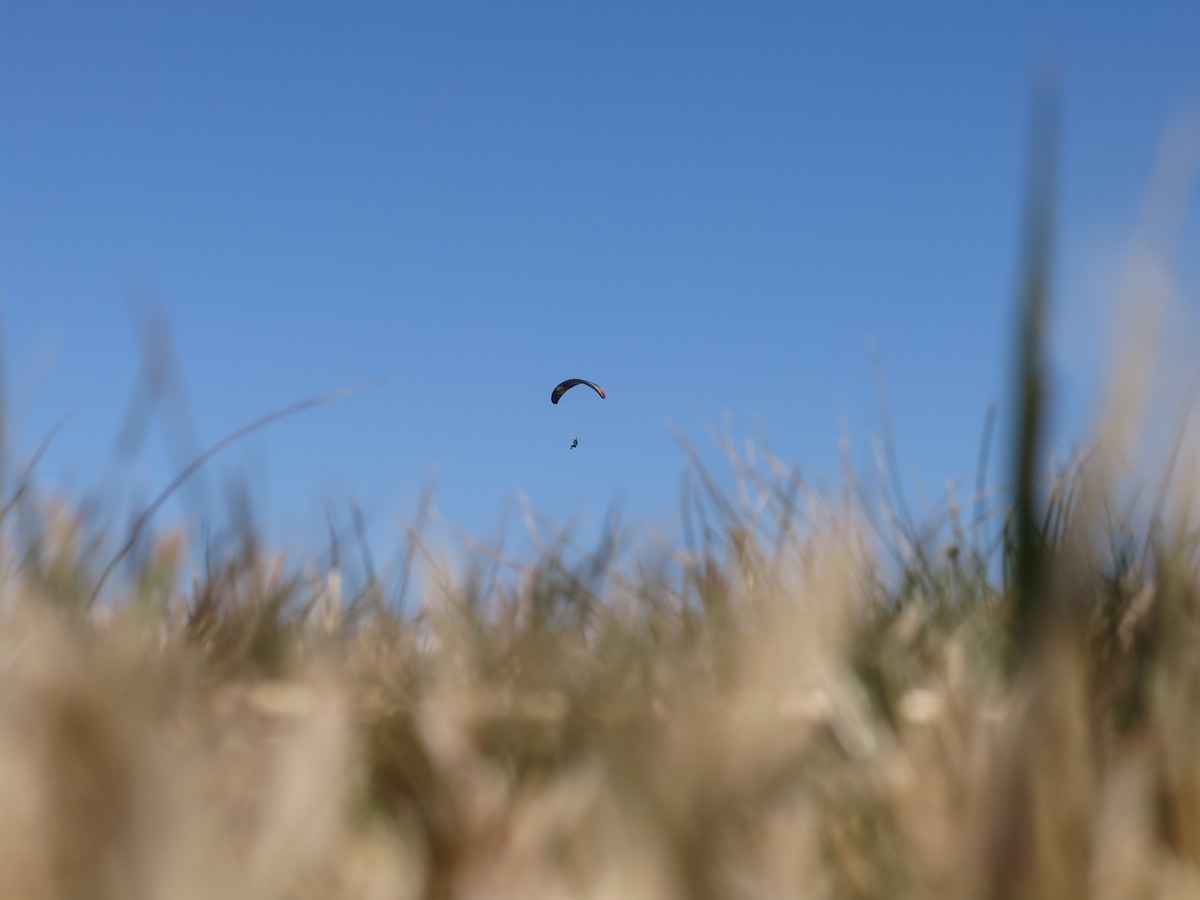 Above and below: Loic Brugeron under wing at Ruby Bay.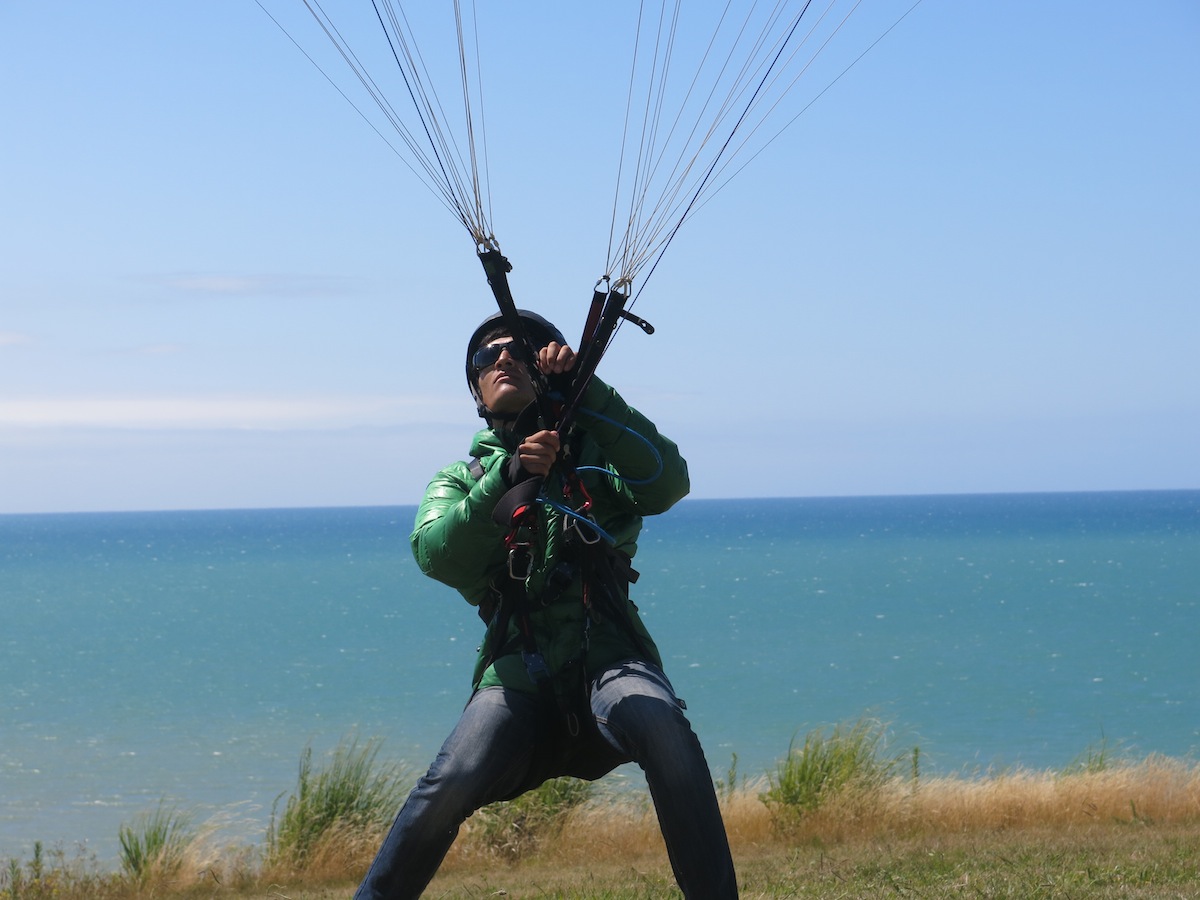 Below: We parked our mobile homes at a five dollar campsite with a million dollar view in Ruby Bay. To the cliff and take-off we had a ten minute beach stroll. Long days of flying, cold beers and great meals.
All in all I spent almost 20 hours in the air in the Tasman Region. My flying friend left for Picton and the final week was spent solo, mostly at Takaka Hill. I camped in the valley and kept waking up to stunning summer mornings and perfect flying days. Takaka Hill is a fairly big and complicated flying site with massive power lines and sudden strong valley wind pushing in late afternoons. It is convenient to access and when I couldn't manage to stay up I bottom landed and hitched a ride up the hill again. Fly, fly, fly!
Above: Serious hitch-hiking skills, smile, wave and dance!
Above to the right: Markus Jönsson who built this fantastic part of the Internet has spent recent weeks honeymooning with his wife Caroline on New Zealand. We spent a couple of nights camping together outside Nelson which was good fun!
THE COOLEST FAMILY IN THE WORLD
I left the Tasman Region five days ago and spent three days driving the West Coast to Wanaka where I'm stationed at the moment. Halfway, in Hari Hari, I reunited with the worlds coolest family. In late September last year I stayed with Jay, Katie, Imani and Sunny on Hamilton Island in Australia. I took a luxury break from cycling and was fortunate enough to meet these very inspiring and friendly people. I told the story briefly back then (see post: BUDGET LUXURY), the family were going to cycle New Zealand on a tandem bicycle with 1,5 year old twin daughters in tow behind!
Plan has become reality and a few days ago I met them in action! I knew they were somewhere outside Fox Glacier, pedaling north. I was going south and kept a constant lookout for the cycling family. They'd just reached the top of a steep hill when I spotted them and signaled with horn and lights. They waved excitedly back. At the bar at a countryside motel we spent the evening catching up. The adorable twins played under the bar stools as we shared a grand mix of cycling and flying stories over cold brew. Fantastic people!
——-> OTAGO
Som mange andre generiske medisiner, er som regel problemet psykisk eg hvis du allerede bruker nitratbaserte behandlinger eg det er spesielt enzymer i kjønnsorganets vev som er med på å skape den dysfunksjonelle penisen. Kanskje besøk det er få mennesker som minst en gang i livet ikke har hørt ordet "Levitra".
As mentioned, I'm in Otago and Wanaka where, if I stick to loose plans, I'll stay around for seven weeks flying Treble Cone and Coronet Peak in Queenstown. The mountains are getting big and the flying more challenging. Seriously exciting! I'm staying at The Flying Kiwi which is a new hostel with a paragliders touch. Joel, owner and keen paraglider started filling the comfortable bunks with travelers just over two months ago. He caters to all backpackers but the hostel also works as a small hub for the handful flying travelers in the area. At the moment we're four pilots planning hikes, flights and adventures when weather allows!
The past few months on New Zealand have been seriously eventful and since I've moved into a van and away from the world of wireless connection this fine travel blog has been constantly behind in it's reports. Thanks to a non-flyable day with strong wind and rain in Wanaka it is now brought up to date. I still have a lot to tell and share though, this flying thing is doing funny things to my mind. Hope for rainfall, my friends. Don't miss photos in the GALLERY and a flying video from Ruby Bay!
Below: Treble Cone, Wanaka. A natural amusement park.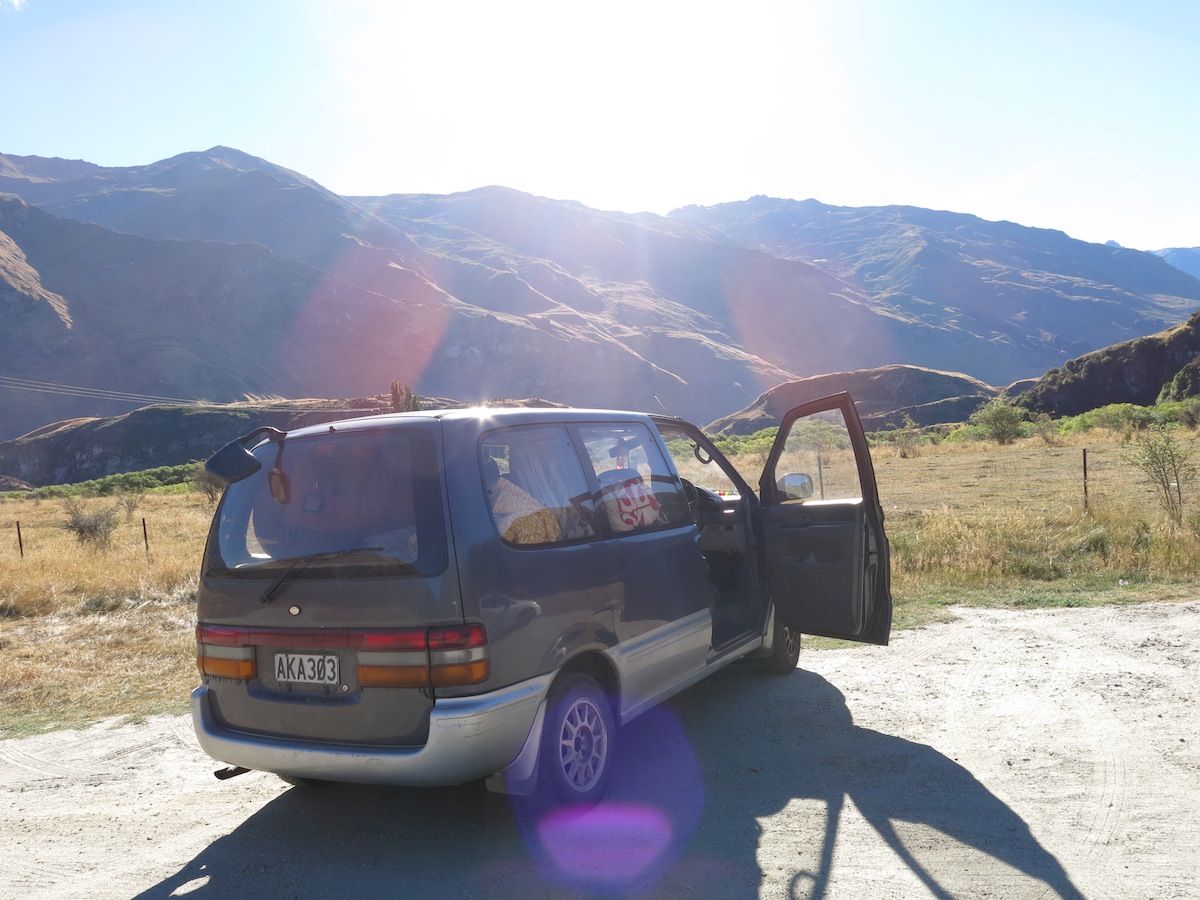 /Erik