It's time to start moving, time to head for flyable weather. With wing, thumb and gigantic smile I'm leaving Christchurch and heading north towards Auckland. I'm in for a going-home-adventure of the epic kind. I aim to finish in style: I'm hitch-flying home! A couple of months ago I started looking into ways of returning to Sweden from the other side of the planet. I've decided to continue all the way around and fly (with a commercial aircraft) east instead of west; I'm Los Angeles bound!
I have three weeks in the land of the brave and free, the first will involve coastal paragliding in California. In end April I'm meeting one of my very closest childhood friends, Rustan, at LAX. He's flying half way across the world for duo adventures. We're hitch-hiking from Los Angeles to New York! I'm stoked for Arizona, Texas, New Orleans and Georgia but most of all, I can't wait to see my friend.
From NYC I fly to Reykjavik on Iceland where I hope to have my mind blown by spectacular paragliding above waterfalls and volcanoes. On Iceland I'll have a finishing week to solo-marinate home-coming excitement. By the end of May I'm back in Stockholm. I guess I'll stay for a while. I could write that twice but it still wouldn't make more sense. Family, friends and yet another summer, I'm a lucky one.
Rustan Curman is a familiar face on THE ESCAPE, in late 2012 we met in Thailand and early 2013 on Bali in Indonesia. We've got some good stories already, I have a feeling we might collect a few mere this spring…
First things first, I still have two weeks in New Zealand. My summer cottage on wheels is staying in Christchurch on the South Island. I haven't been able to sell the van but this car market in town will do it for me. I've finally decided to buy my own wing and I've also invested in a light weight harness easy to travel with. All in all my flying gear doesn't weigh more than 7-8 kilos. I'm only bringing essentials to the US and Iceland. Bicycle, panniers, spare parts and other random gear will be transported to Sweden with the help of Brad Norton and Grey Hamilton, helpful and friendly pilots that I've got to know through paragliding in Christchurch. Exciting news is that my beloved bicycle is in for it's own adventure; it's actually going to be pedaled all the way back to Stockholm! If everything goes according to plan Grey will reach Sweden in November 2015.
Below: Grey Hamilton is my paragliding instructor and has inspired me in many ways. It looks like it might have worked both ways, he recently turned 60 and is now planning to cycle 20.000 kilometers from Hong Kong to Stockholm! Biking and flying! He'll deserve an arrival party of magnitude, what a legend!
I'll have roughly ten days on the North Island, most of the time I'm probably coastal soaring around Auckland. On the 23rd of April I leave for the US but one thing worries me slightly; getting in. In 2009 when I cycled across I got a ticket and court-date in Montana for cycling this short stretch without a bike light. It was ridiculous and the cop just wanted to give me a hard time (I had a handful interesting AMERICAN POLICE ENCOUNTERS…). Since I had to keep going, I never showed in court and quickly forgot all about it. I might be paranoid but lately it's been a slight concern of mine. If anyone's got experience, please share! Could this be a problem and if so, what could I do?
FALL IN CHCH
I'm reluctant to leave FLYING VAN, HOUSE and TAYLORS because they're all connected with so many positive memories. I've had a fantastic time in and around Christchurch – too many travelers forget to scratch the surface of this earthquake damaged gem. The gray clouds and wet air in combination with fire colored tree's reminds me though. It's time to hit the road.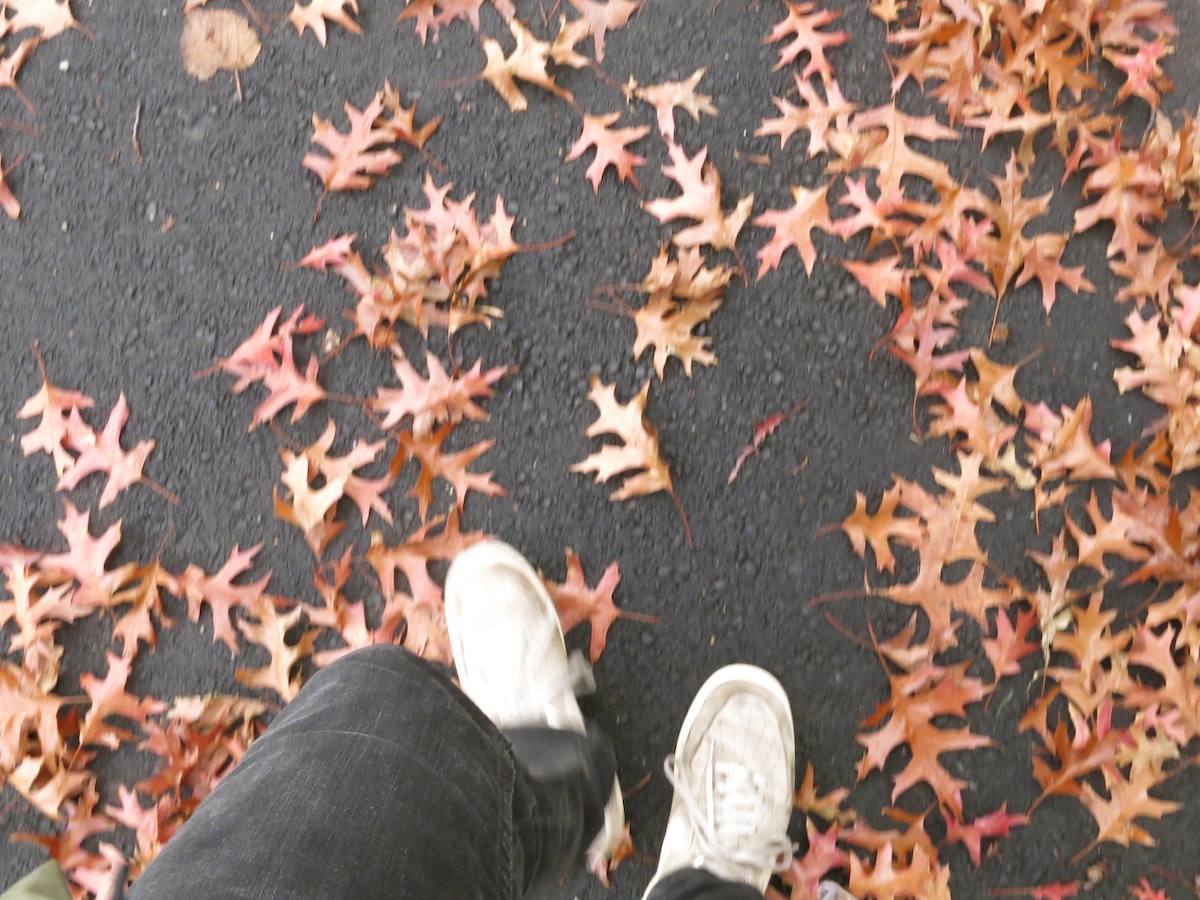 Above: This backpack holds all my flying gear; canopy, light weight harness and reserve parachute. And then there's Jerry the dog who's actually also into paragliding! That's right, there's dog-harnesses! (I can see my dads joke in advance and the answer is no, they don't fly solo…)
Below: The most popular site in Christchurch is Taylor's Mistake where I learned to paraglide last year. It's been great returning to this safe playground. An ideal place to practice and play!
/E