De dystra och mörka nyheterna avlöser varandra och en framtida återförening i Indonesien har sorgligt nog blivit inställd. I förra veckan omkom mina cykelvänner Pete och Mary när de blev påkörda av en mindre lastbil ett hundratal kilometer öst om Bangkok i Thailand.
I Trabzon i nordöstra Turkiet träffade jag Peter Root och Mary Thompson från Kanalöarna i Storbritannien första gången. I nästan två månader hade jag trampat utan att träffa andra cyklister och synen av två cyklar och smutsiga packväskor i hotellentrén gjorde mig lyrisk. Över té inleddes vår vänskap och omedelbart fattade jag tycke för de två vänliga och varma själarna. I Trabzon umgicks vi tre dagar innan vi fortsatte vår färd österut på olika vägar. Någon månad senare sågs vi igen i Irans huvudstad Teheran. Sedan vårt möte i Turkiet har vi hörts frekvent, uppdaterat varandra löpande och planerat för en återförening i Indonesien. Det är med ett surrealistiskt obehag jag försöker realisera den oundvikliga planändringen. Tragiskt nog tog deras episka äventyr slut alldeles för tidigt.
Pete and Mary, RIP from Tom Waugh on Vimeo.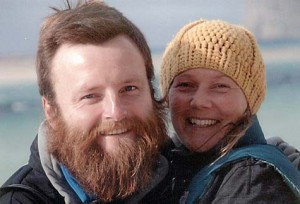 Pete och Mary var båda konstnärer och träffades i konstskola för 14 år sedan. Innan de gav sig iväg för att uppleva världen från sadeln bodde de i ett fint stenhus på idylliska Guernsey på brittiska Kanalöarna. Pete skapade kreativa, udda och häftiga konstinstallationer och Mary gjorde fina smycken. I en konversation med Pete i Iran hävdade jag att det inte fanns några onda cyklister vilket givetvis fick påföljden att Pete skulle bli den enda. Från den stunden kallade han sig "The Evil Cyclist" och signerade all korrespondens med T.E.C. Varken Pete eller Mary var dock några onda cyklister, raka motsatsen. De som någon gång träffat dem fastnade genast för deras nyfikenhet, generositet och värmande skratt. I 1,5 år levde de sina liv som lyckliga cykelnomader och trampade sammanlagt tiotusentals kilometer genom 23 länder i Europa, Mellanöstern, Centralasien och Sydasien. Tillsammans skapade och producerade de fantastiskt bild- och filmmaterial från deras äventyr och på deras hemsida twoonfourwheels.com och Vimeo spred de inspiration, spänning och glädje till många.
Bild ovan; Den fruktansvärda olyckan i Thailand har gett eko i långfärdscyklingens värld. Några lokala cykelentusiaster hedrade Pete och Mary genom att cykla till olycksplatsen och placera ut blommor och hälsning.
På The Telegraph, The Guernsey Press och Daily Mail hittas mer information om den otäcka olyckan som tog mina vänners liv. Med rysningar går mina tankar till deras familj och nära vänner. De kommer att vara djupt saknade.
Pete and Mary, may the tailwinds always be with you.
/Erik