Det har tidigare klargjorts att äventyren på THE ESCAPE är långt ifrån över - eventuellt har det även uttryckts som att de knappt har börjat. 2012 var ett cykelpräglat år men när jag nu parkerat min kärlek av järn är det dags att presentera ett nytt projekt och tema för de inledande månaderna av 2013. Som bekant har THE ESCAPE fått tillskott av Nicole Ahne - nyuppsagd från kontorsarbete i Stockholm. För att utforska Indonesien, Filippinerna och Borneo reser vi med ryggsäck men fortfarande med tält och campingutrustning för att möjliggöra självständighet. Vårt huvudsakliga fokus ligger under ytan och vår resplan för kommande fem månader tar oss till områden som är kända för färgglada rev och myllrande marinliv. Ovan ytan har vi tänkt bestiga vulkaner och inta folktomma paradisöar. På sidan CURRENT ADVENTURE hittas uppdaterad information och läsning om vårt aktuella äventyr. Titta även in på sidan ABOUT, som uppdaterats efter kvinnlig anslutning och ankomst till Singapore.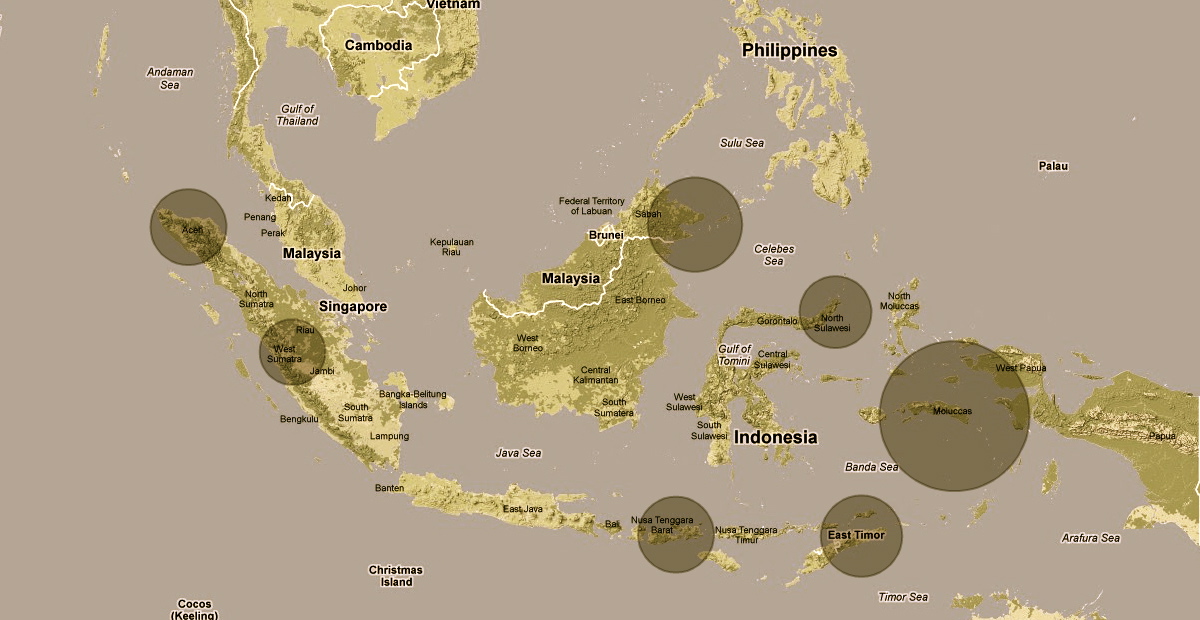 Karta ovan; ASIAN PLAYGROUND!
Vi finns för tillfället vid pulssänkaren Lake Toba på Sumatra. Ytterligare någon månad väntar på Sumatra där vi mestadels tänkt tillbringa vår tid i den allra nordligaste provinsen Aceh med dykning på Pulau Weh. Vår plan därefter blir att röra oss österut mot Komodo, Flores, Östtimor, Maluku, Irianjaya, Sulawesi och Borneo (se karta ovan). Någon gång under 2013 är vårt mål och förhoppning att besöka det miljöprojekt på PNG som THE ESCAPE stöttar (se nedan).
Under 2012 cyklades det till förmån för grodorna - nu släpas det istället ryggsäck. THE ESCAPE reser till förmån för ett miljöprojekt som arbetar för att rädda utrotningshotade amfibiearter i regnskogen utanför Madang på Papua Nya Guinea. För att läsa om det hela, bidra med några kronor och få ett vykort på brevlådan - besök sidan CHARITY. Tack för ditt stöd!
Vi tycker det är väldigt kul att höra från er - skicka gärna en hälsning i kommentarsfält eller genom vår sida på Facebook. Missa oss heller inte på Instagram (@theescape).
/Erik