Så kom dagen som jag längtat till under en hel sommar och höst. På tisdagsmorgon den 27/11 väntade jag förvantansfullt på cyklisten vid Merlion Park i Singapore. Jag hann tänka både en och två gånger om jag verkligen tagit rätt på mötesplats. Fanns det fler vattensprutande lejonstatyer i denna för mig okända stad?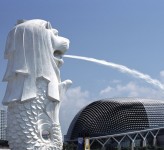 Med tre röda rosor i den ena handen och en symbolisk champagneflaska i den andra, andades jag ut när nyfikna svenskar, journalister och fotografer anslöt. Kort därefter hörde vi glädjerop och skymtade två meter euoforisk svensk med vänster näve mot skyn i en segergest. Känslorna var otaliga och svårkontrollerade när Erik, efter att ha släppt greppet om sin tvåhjulade kärlek, omfamnade mig i en lång, hård kram. Tjugo minuter följde av osammanhängande meningar och försök till att sätta ord på känslorna - journalisterna väntade tålmodigt. Nio månders längtan till målgången och föreställningar om hur den skulle bli var över i ett ögonblick.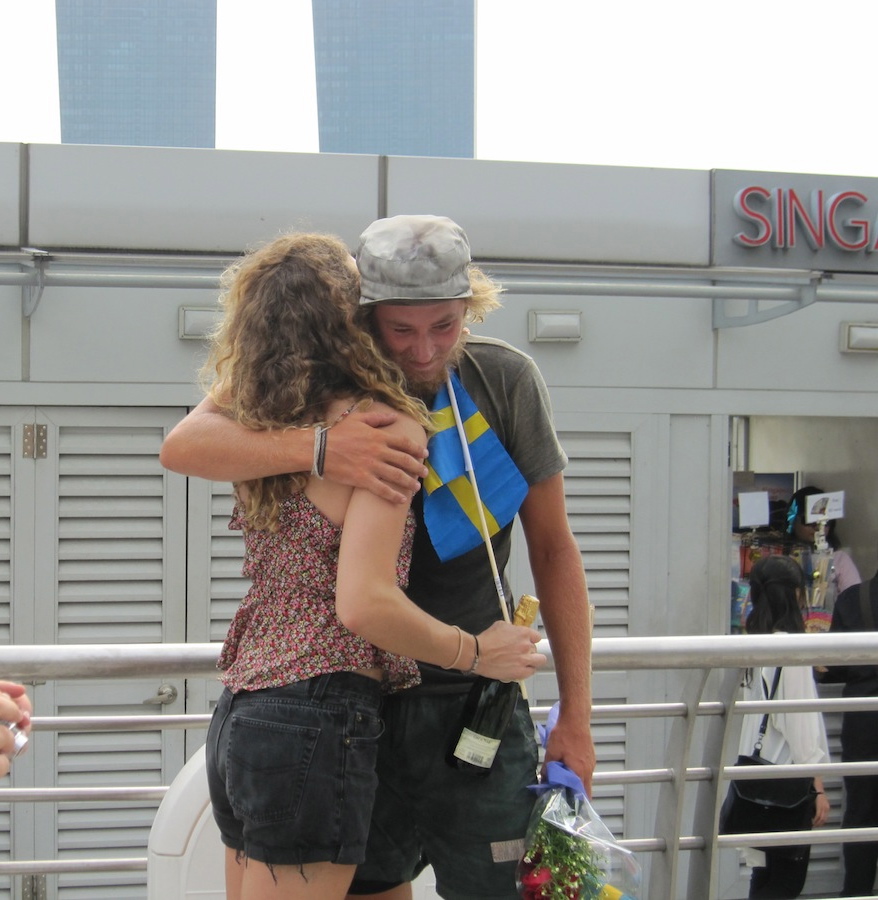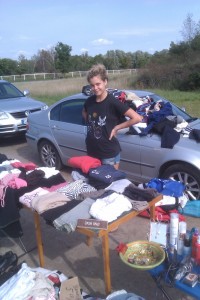 Medan den ene idogt trampade kilometer slet en annan med att analysera empiri i förhållande till teori och i maj förra året lämnades C-uppsatsen in i ämnet etiskt konsumtionsbeteende. Efter erhållen kandidatexamen i företagsekonomi följde en sommar och höst med arbete på ekonomiavdelning. Vid sidan av jobb vigdes åtskilliga helger till loppmarknader i Stockholmstrakten men också till nätförsäljningar av mina begagnade kläder, skor och dylikt. Målsättningen var att lägga undan så mycket som möjligt till reskassan samt att skära ner på allehanda utgifter. Budgetplanen fick dock lov att tummas på med anledning av den dykkurs jag anmält mig till. Sex bassängpass och fyra utedyk i niogradigt vatten med usel sikt belönades i oktober med dykcertifikat. Östersjon bjöd på allt ifrån tomma glasflaskor och utslitna bildäck, till trädgårdsmöbler och en toalettstol. Jag gissar att framtida dyk i tropiska vatten kommer att bjuda på en något rikare fauna än den jag hittills fått se.
Sju veckor har passerat sedan jag rensade skrivbordet och flydde ett novembermörkt Sverige. Inledningvis kan känslan närmast liknas vid att jag haft en något längre semester än vanligt. Faktumet att, vecka efter vecka, inte behöva ställa alarmet för att skynda iväg till en föreläsning eller ett kontor är en något overklig realitet. Gradvis sjunker dock detta, inte särskilt svårsmälta koncept, in hos mig och jag gör mig påmind om att uppskatta och njuta av denna speciella tid.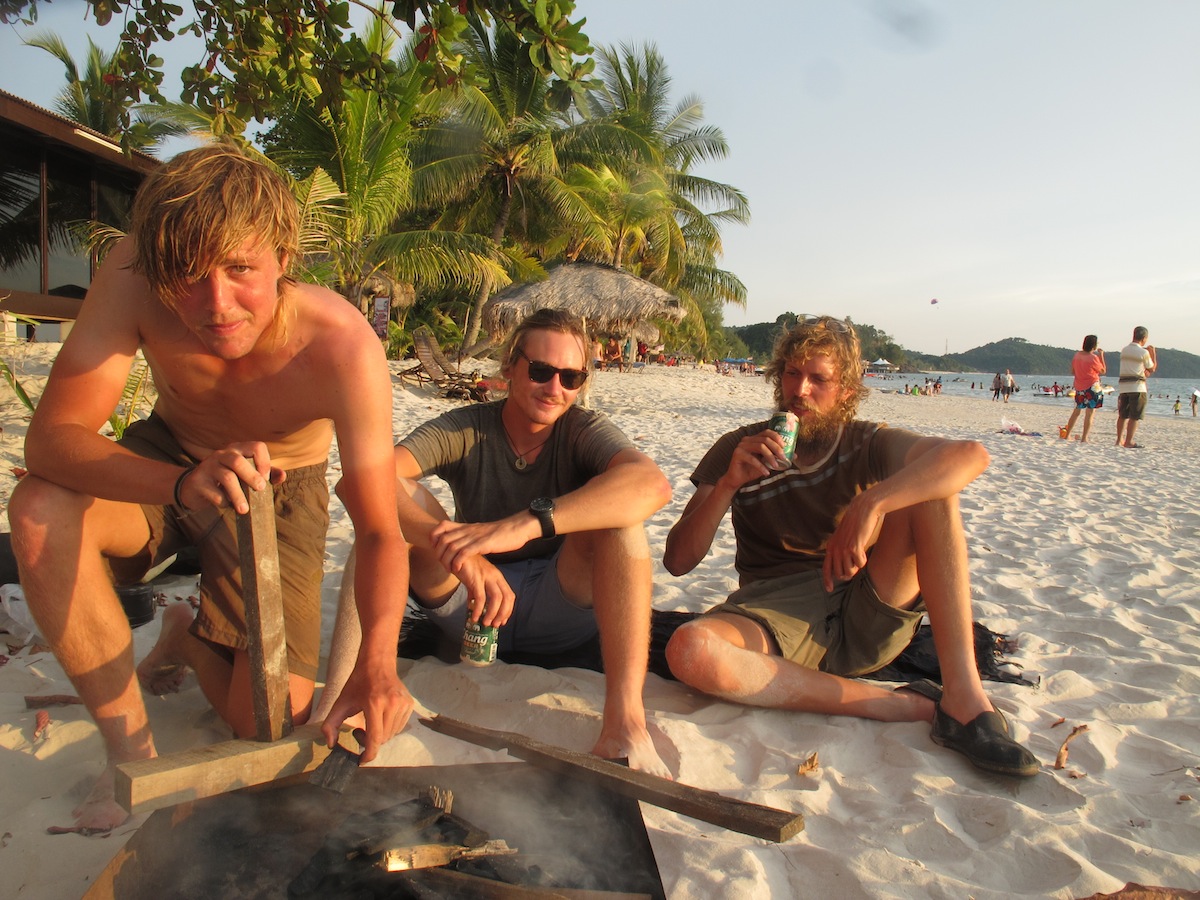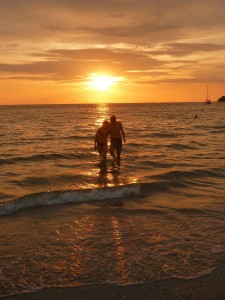 När jag summerar de första veckorna känns det som att det har varit en väl bekommen mjukstart. En vecka i Singapore utbyttes mot skrattfyllda dagar med Eriks två belgsika cykelvänner Filip och Mattias på semesterön Lankawi, Malaysia. Därefter intog vi Indonesisk mark och på ön Sumatra gjordes ett flertal utflykter med både vespa och bil som färdmedel. Två härliga familjeveckor följde innehållande lata dagar på vita sandstränder, en vulkanbestigning och många mysiga stunder tillsammans. Det verkliga startskottet för min och Eriks gemensamma resa föreställde jag mig skulle ske efter nyår när familjebesöket var över. Premiären på våra äventyr blev dock äventyrligare än jag hade anat. Allt för äventyrliga för min smak. I staden Painan hade vi just avslutat en måltid i matstånden som kantade vägen. Plötsligt öppnade sig himlen och monsunregn drog in över byn och med det följde strömavbrott. Vi gjorde resultatlösa försök att få tag på en taxi tillbaka till hotellet och bestämde oss därför for att promenera längs sidav av vägen. Med endast tjugo meter kvar till hotellet kom smällen. I 50 kilometer i timmen körde motorcykeln rakt in i mig med fasansfull kraft. Jag landade hårt mot asfalten några meter längre bort. En ambulansfärd senare med påföljande akutvård var jag åtta huvudstygn rikare och man konstaterade en våldsam smäll på vänster axel samt åtskilliga sår och blåmärken. Trafikolyckan tvingade oss att bli kvar i den större staden Padang där jag i en dryg vecka vilade upp en öm kropp. En läxa lärd den hårda vägen där jag bär med mig att alltid vara utrustad med reflex, såväl som lampa i mörker.
KUALA LUMPUR ------> SUMATRA
Rehabilitering i Padang utbyttes den 10/1 mot skyskrapor och stadspuls i Kuala Lumpur. Vi fick sällskap av min nära vän Katarina Juréen, direkt influgen fran Singapore där hon praktiserar som affärsutvecklare på ett reklamföretag. Helgens agenda var simpel. Vi umgicks, åt god mat, besökte barer och iakttog staden på 335 meters höjd från KL Tower.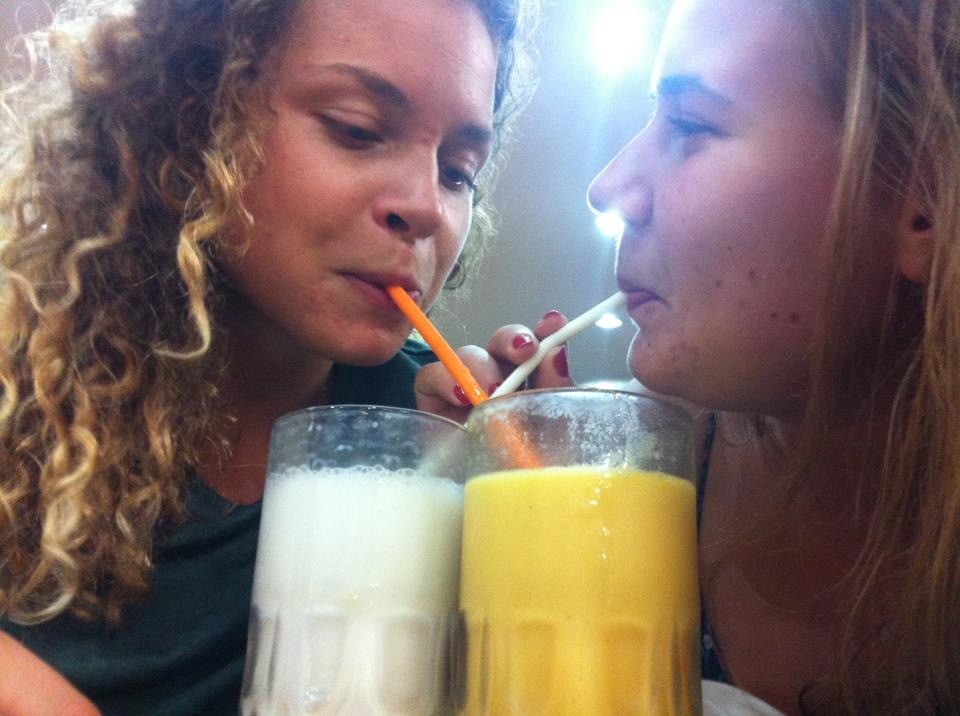 Bild ovan; Fruktjuice-frossa i Kuala Lumpur med Katarina.
Efter vår helg i Kuala Lumpur tog vi oss igår tillbaka till Sumatra. Vi befinner oss nu vid fina vulkansjön Lake Toba som ligger några timmars bussfärd från Medan. Vid sjön har vi tänkt tillbringa någon vecka innan fortsatt färd mot provinsen Aceh och dykning på Pulau Weh.
Bild ovan; Skön plats utanför vårt boende precis intill sjön.
Förutom att jag är det nya tillskottet på THE ESCAPE och framöver kommer att tillföra reseskildringar i text och bild, är jag också ansvarig för Instagram (@theescape) där vi hittas sedan några veckor tillbaka. Det är med spänning och en kittlande magkänsla som jag ser fram emot att utgöra den kvinnliga halvan av THE ESCAPE! Håll dig uppdaterad genom att gilla oss på Facebook och Instagram!
/Nicole