I visumväntans tider har jag fått tid att blicka bakåt en smula. Det finns en historia jag hållit inne på länge och som jag nu tänkt delge. Jag vill backa bandet till Turkmenistan där jag befann mig för en dryg månad sedan. THE ESCAPE är en relativt oskyldig del av Internet och resan jag gör saknar inslag av fullmånefester och kaosfyllor. Med denna post gör jag ett blött undantag. Vid ankomst till Turkmenistan kompenserades det uteblivna intaget av sprit i hink med överdrift och givetvis vill jag för en kort stund ta er med i text och bild till resans kanske märkligaste situation och händelse.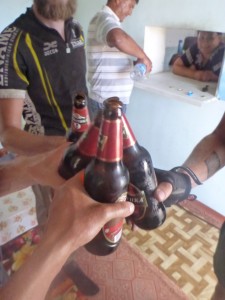 Ni känner till en del av historien kring 6-dagars äventyret i Turkmenistan som slutade med deportering. Det hela började i staden Mashhad i nordöstra Iran där jag träffade cykelkollegorna Matthias, Filip och Bert från Belgien. Vi bestämde oss för att cykla tillsammans från Iran, genom Turkmenistan, till Uzbekistan. Alla fyra hade vi spenderat en dryg månad i den islamistiska republiken Iran där alkohol är strikt olagligt. Mina belgiska vänner delade mitt sug efter kall lager och vi började genast planera för en ölfest vid ankomst till Turkmenistan. Till gränsen hade vi 20 mil från Mashhad och sadelsamtalen handlade nästan uteslutande om ankomstfesten och vi hetsade varandra till osunda nivåer. När det var 3 mil kvar till gränsen slutade vi att dricka vatten för att om möjligt göra ölen än mer välsmakande. Bert fick punktering och under den halvtimmes långa väntan i den 45 gradiga hettan började törsten bli olidlig. Min knastertorra gom gjorde mig otålig vid gränskontrollen och när den iranska tullmannen ville gå igenom mina packväskor skakade jag av abstinens. Det tog två timmar tills vi var instämplade i Turkmenistan och fyra omåttligt törstiga cyklister satte fart mot första bästa vattenhål. Givetvis tog även det längre tid än planerat och inte förrän efter ytterligare en halvtimme dundrade vi in på en restaurang och slet upp fyra iskalla nioprocentare från en kylbox. Ölen var utan någon som helst tvekan den godaste jag någonsin druckit. Den var så god att en blev fem och drygt tre timmar senare var vi åter på cyklarna. Vi trampade ett par hundra meter och stannade vid en liten butik med ambitionen att köpa vatten för att klara kommande tältnatten. Då vodkan visade sig billigare än vattnet flyttades festen till trappan utanför butiken. Vi blandade drinkar i våra kåsor och livet kändes fantastiskt.
Det var på väg att mörkna och det var dags att lämna gränsstaden Sarahks för att hitta en lämplig tältplats. Det var nu fyra väldigt högljudda cykelnomader som rullade längs stadens gator. Efter en kort stund hörde vi musik från ett husområde intill vägen i utkanten av staden. En kombination av nyfikenhet och vodkarus gjorde att jag och Filip satte fart mot husen. Musiken dånade när vi kom närmre och när vi rullade runt en husknut ser vi en stor folksamling på gårdsplanen. Poletten faller kvickt ner - ett turkmenistanskt bröllop! Ett drygt hundratal människor i traditionella dräkter mellan två blinkande och glittrande scener. Fler och fler huvuden vänds mot oss och jag och Filip rullar mot dem med armarna vevandes i luften i takt till den turkmenistanska folkmusiken. Folk börjar jubla och skrika och sången från kvinnan på scenen upphör. Hon har hoppat ner från scenen och är på väg emot oss och innan jag hunnit ta in situationen har jag en mikrofon i ansiktet och en dam som frågar något obegripligt.
HELLOOOOOOOOOOOOOOOOOOOOOOOO TURKMENISTAN!!!!! - svarar jag.
Det blir rundgång men jublet från folkmassan dämpar det obehagliga ljudet. Mikrofonen räcks till Filip som sjunger och vrålar på belgiska. Vår våldgästning tas emot med stor glädje av exhalterade gäster. Vi alla fyra tvingas lägga ifrån oss cyklarna och dras in i mitten av det jordtrampade dansgolvet och den färgglada folkmassan omringar oss. Vi dansar, skrattar och sjunger. Folkmassan skickar fram någon eller ett par tjejer åt gången att dansa med oss. Resten observerar stillaståendes spektaklet. Från scenen, dit jag släpats upp av värdinnan, försöker jag ta in situationen och jag ser mig om. TV-kameror filmar Filip, Matthias och Bert dansandes och på skärmar uppsatta på varsin sida av gårdsplanen live-sänds deras fylledans. På scenen mitt emot den jag står på sitter bröllopsparet. De deltar inte direkt i festligheterna då de sitter bakom en glasvägg. De sitter på varsin stol och rör inte varandra. Vid deras sida har de fruktkorgar och plastflaskor med läsk och ovanför deras plastbur hänger en stor tavla med ett porträtt av diktatorn Kurbanguly Berdymuchamedov. De småler när de blickar ut över folkmassan och de dansande cyklisterna men det är det enda livstecknet från dem. Likheten med två skyltdockor är slående och jag konstaterar att situation känns mycket udda.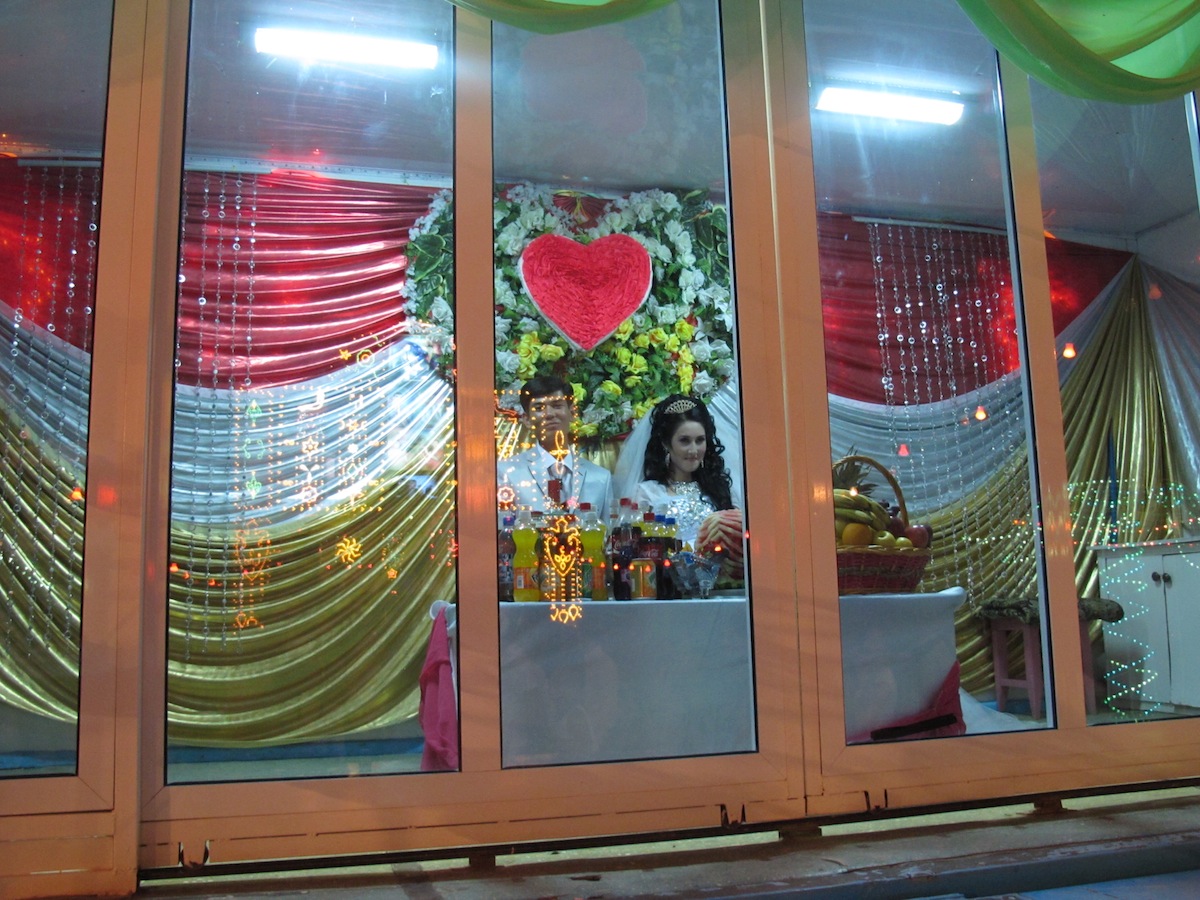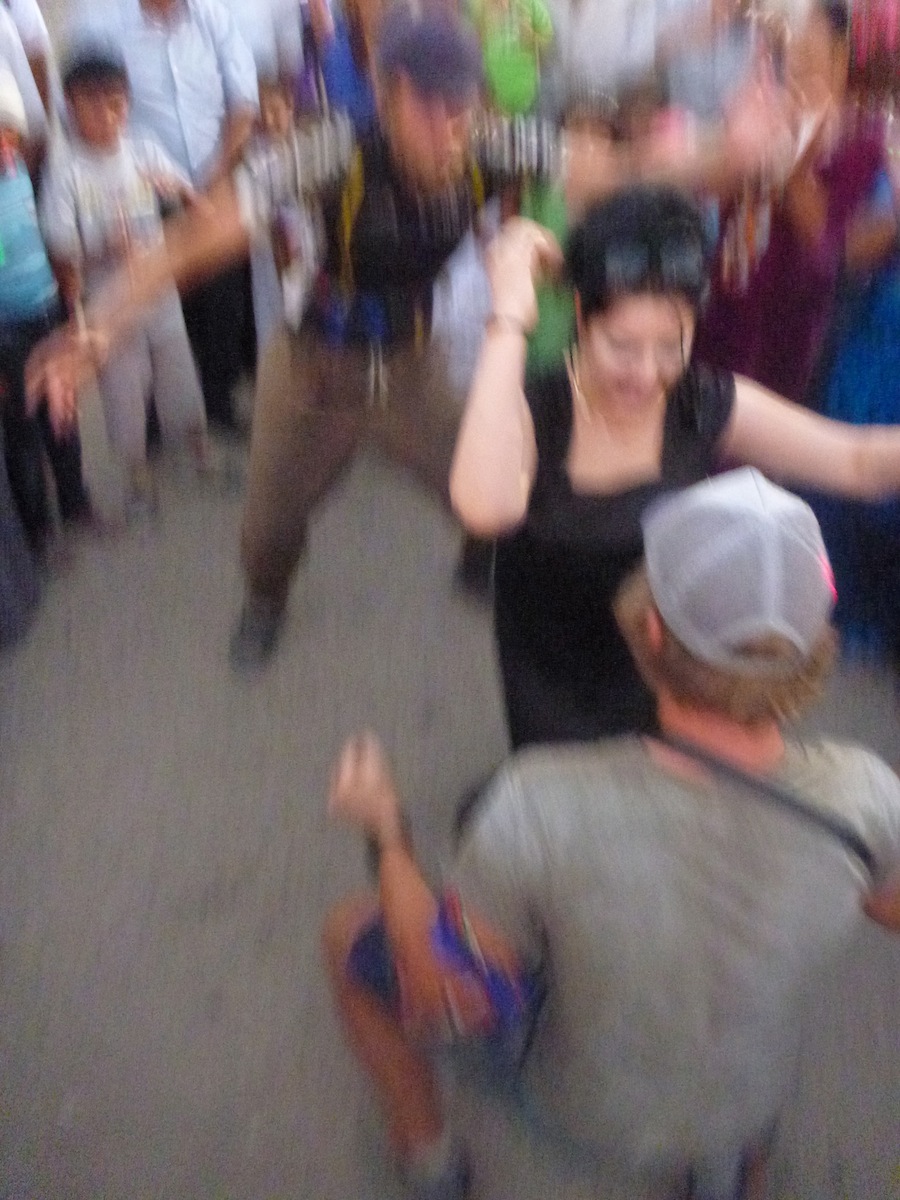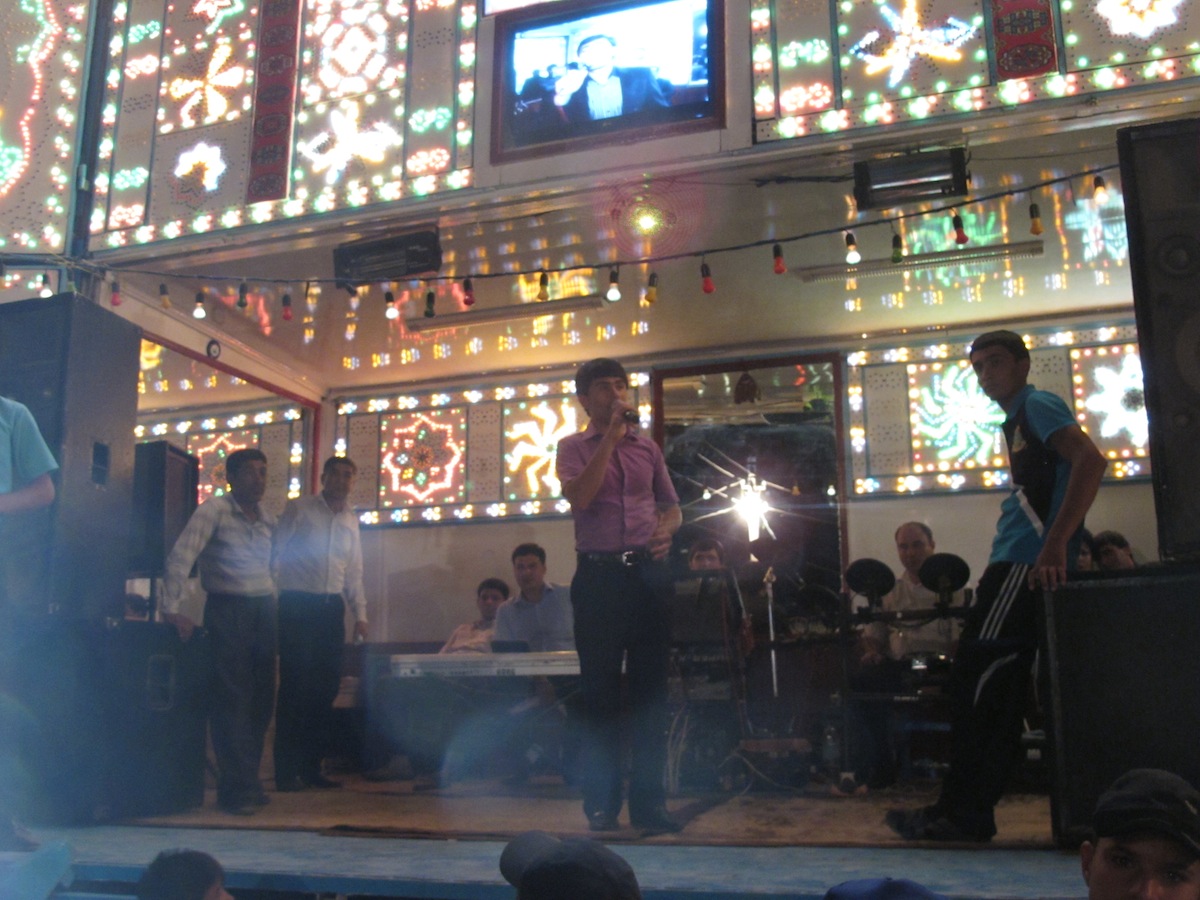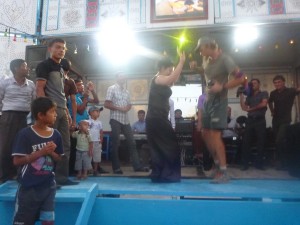 Efter dans var det dags för mat och dryck med betoning på dryck. Ett tiotal män drar oss från dansgolvet och placerar oss vid ett plastbord en bit bort. Vi omringas och får sällskap till bords. Framför var och en av oss står en tallrik, ett dricksglas och ett shotglas. Både det lilla och stora glaset fylls med hembränd vodka. I det stora glaset lämnas någon centimeter så att det fås plats med lite lokal läsk. Det serveras köttsoppa och kålsallad. Vi dricker, äter, dricker, dricker och dricker. Filip dricker mest och efter en stund står han på bordet och sjunger belgiska visor. Jag försöker hålla mig någorlunda klar i huvudet då jag hade en känsla av att det skulle bli en kväll värd att minnas. Inte långt efter att Filip stod på bordet låg han under det. Om det inte hade urartat tidigare så började det verkligen göra så nu. Droppen som fick dricksglaset av vodka att rinna över var när alla våra nyfunna bröllopsvänner började skrika och gorma om att vi var tvungna att lämna festen för att polisen var på väg. Vi trivdes väl och hade inte någon större lust att cykla någonstans. Folket började dock bli otåliga och vi började förstå allvaret. En man som talade engelska med väldigt lokal dialekt förklarade att de inte får ses med turister och att värden kan hamna i problem om polisen kommer. Vi tackar med en sista skål. Jag, Bert och Matthias sätter oss på våra cyklar. Filip försöker sätta sig på sin cykel.
Ovan bild; ett halvt dricksglas räcker...
Vi vinglade ut i ökennatten för att hitta den där tältplatsen som vi var på väg mot några timmar tidigare. Filip ramlar gång på gång och efter en halvtimme kan vi fortfarande höra musiken från bröllopsfesten. Förutom att vår framfart avbryts av Filips upprepade fall får han för sig att jaga hundar. Så fort han hör hundskall slängar han ifrån sig cykeln och dundrar in mellan olika hus för att leta rätt på byrackan. När det känns om allra mest hopplöst och efter Filips åttonde fall med cykeln och fjärde hundjakt kommer en vänlig man ut på gatan och erbjuder oss härbärge. Vi är inte sena med att tacka ja och fyra fyllecyklister invaderas hans hem. Vi äter nattmat och slocknar sedan på mattan intill matplatsen.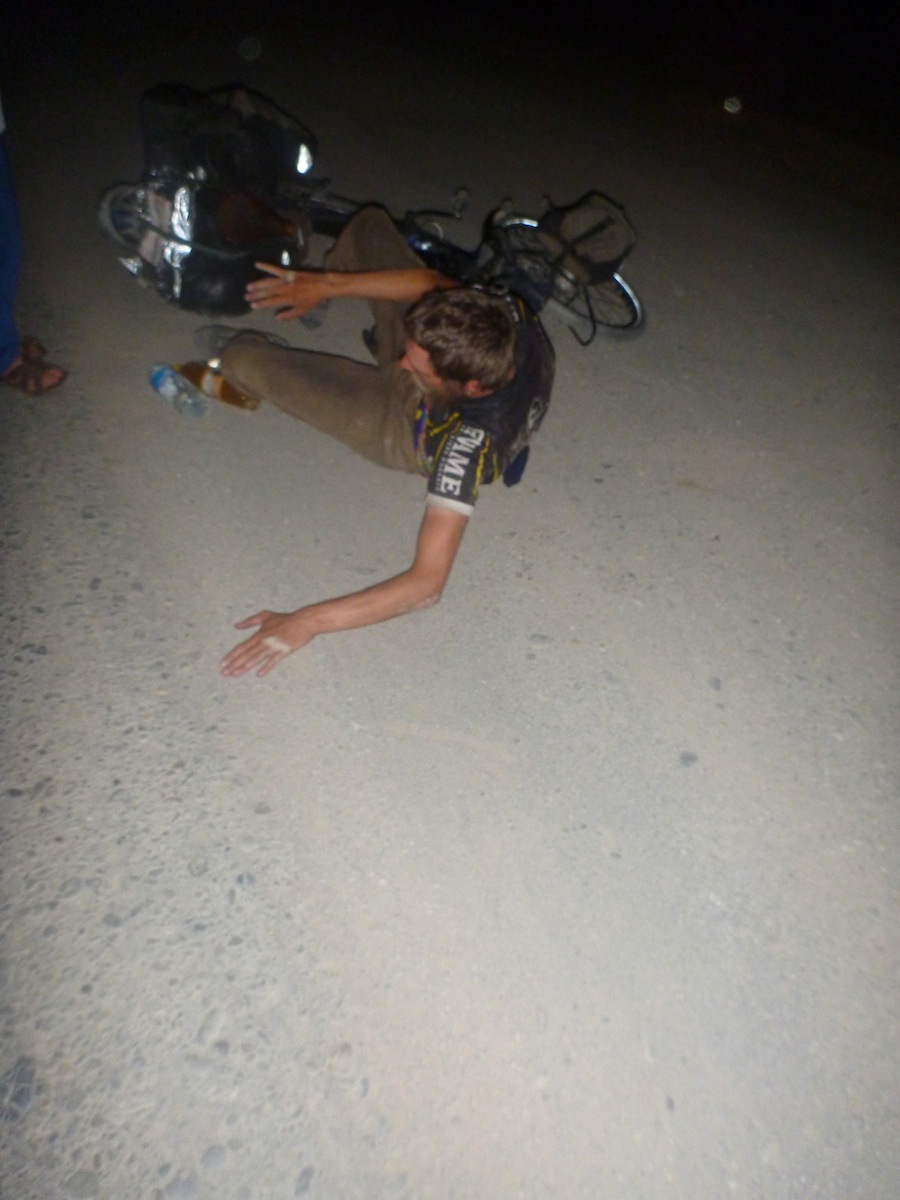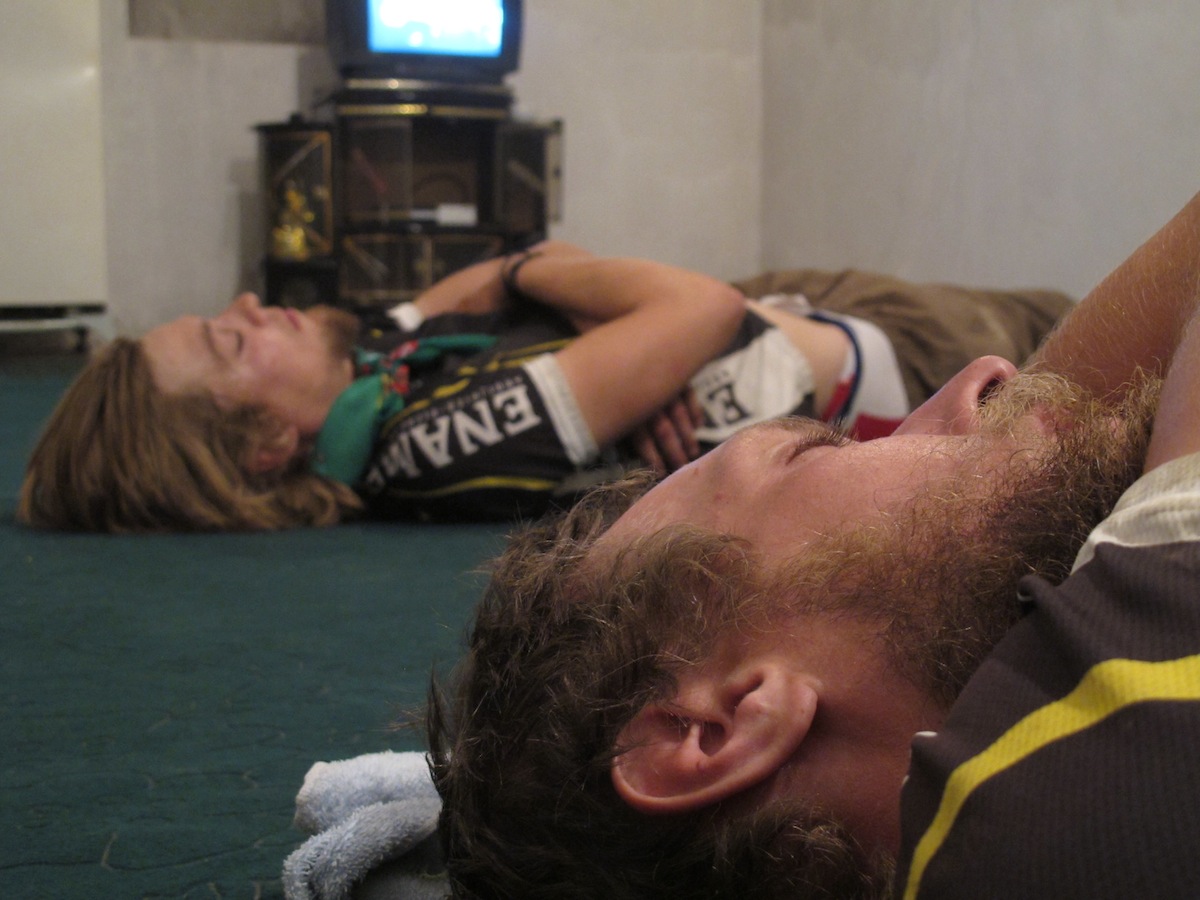 Efter några timmars sömn har klockan hunnit bli 05.30 och vi väcks av den vänliga mannen som måste iväg till sitt jobb. Då vårt transitvisum bara var giltigt ytterligare fyra dagar var det lika bra att sätta fart. Vi hinkade i oss vatten och begav oss iväg för att inleda vårt 570 kilometer långa ökenäventyr. Euforin kvällen innan var utbytt mot total misär. Piskande motvind, en förmiddagshetta på nära 50 grader, sömnbrist, hunger och en hembränd baksmälla. Behöver jag säga att jag aldrig mått sämre. Hur äventyret fortsatte i Turkmenistan kan läsas i posten "BACON, BEER AND BELGIANS".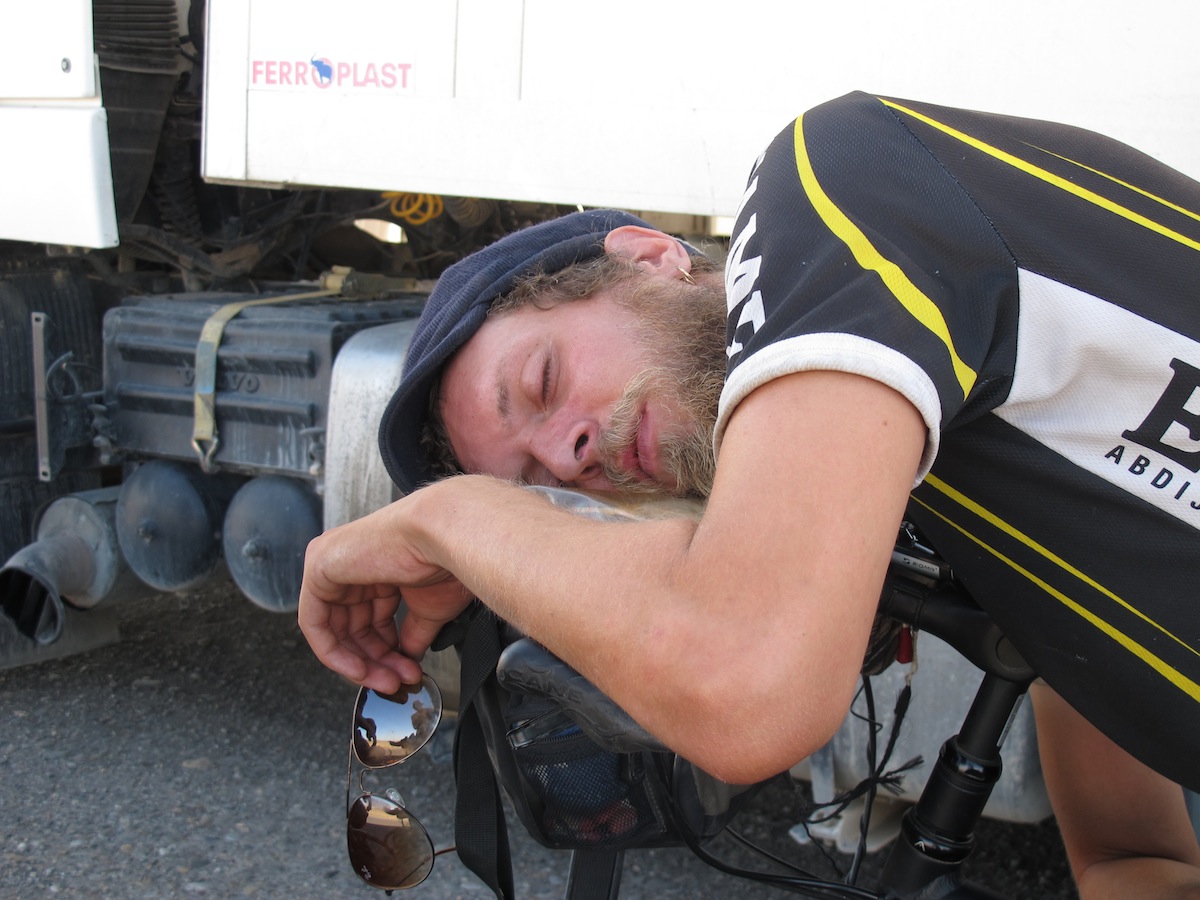 Ovan bild; Filip vilar i skuggan från en lastbil i morgonsolen.
Vi lyckades stanna för länge i Turkmenistan och det hela slutade alltså med utvisning ur landet. Jag är övertygad om att vår våldgästning av bröllopet i Sarahks var förödande för våra möjligheter att hinna ut ur landet i tid. Skulle jag cykla igenom Turkmenistan igen skulle jag göra det precis likadant.
/THE ESCAPE