THE ESCAPE slickar såren och vilar en ömmande bakdel i Bukhara, Uzbekistan. De senaste åtta dygnen som trampats i konstant motvind och med tid som stressfaktor har tagit på krafterna ordentligt. 800 kilometer längs klassiska Sidenvägen i torr 50 gradig ökenhetta. Som nämnt tidigare är det svårt att få annat än ett transitvisum som gäller i fem dagar om man önskar att resa i Turkmenistan. Denna tidspress, motvind, och sanslösa värme i kombination med försenad ankomst från Iran, laglig alkohol, magsjukdomar och vägvalsfel slutade med att jag, tillsammans med mina belgiska vänner, har ett minst sagt episkt äventyr att dela med oss av till barnbarnen i gungstolen en dag.
Bild ovan; från vänster bakom mig, Matthias, Filip och Bert.
Min berättelse börjar i Mashhad eftermiddagen den 7:e juni. Tillsammans med de tre belgiska cyklisterna Matthias, Filip och Bert gav vi oss iväg mot staden Sarakhs som är gränsstad till Turkmenistan. Våra femdagarsvisum skulle börja gälla den 8:e och vi ville placera oss så nära gränsen som möjligt för att morgonen efter inleda trampandet genom Turkmenistan. Efter åtta timmar på sadeln, varav tre efter mörkrets inbrott, hade vi cyklat 120 av 185 kilometer till gränsen och vi reste tälten strax efter ett bergspass. Med fyra cyklister tar saker och ting längre tid och morgonen efter blev trögstartad, trots att vi planerat för en tidig start. Inte förrän 13 tiden, efter mycket vackra avslutande kilometer i Iran, nådde vi gränsstaden Sarakhs där den pappersglada auktoriteten gjorde processen utdragen. Vid 15 tiden hade vi lämnat Iran och stämplats in i Turkmenistan. Då vi inte längre rullade under muslimsk lag stannade vi vid första bästa vattenhål för att fira vår ankomst med kall lager. En öl blev fyra och de 500 kilometer vi hade framför oss i Turkmenistan kändes inte särskilt övermäktiga. Med lite medvind skulle vi blåsa igenom kommunistdiktaturen på tre dagar skålade vi hoppfullt till.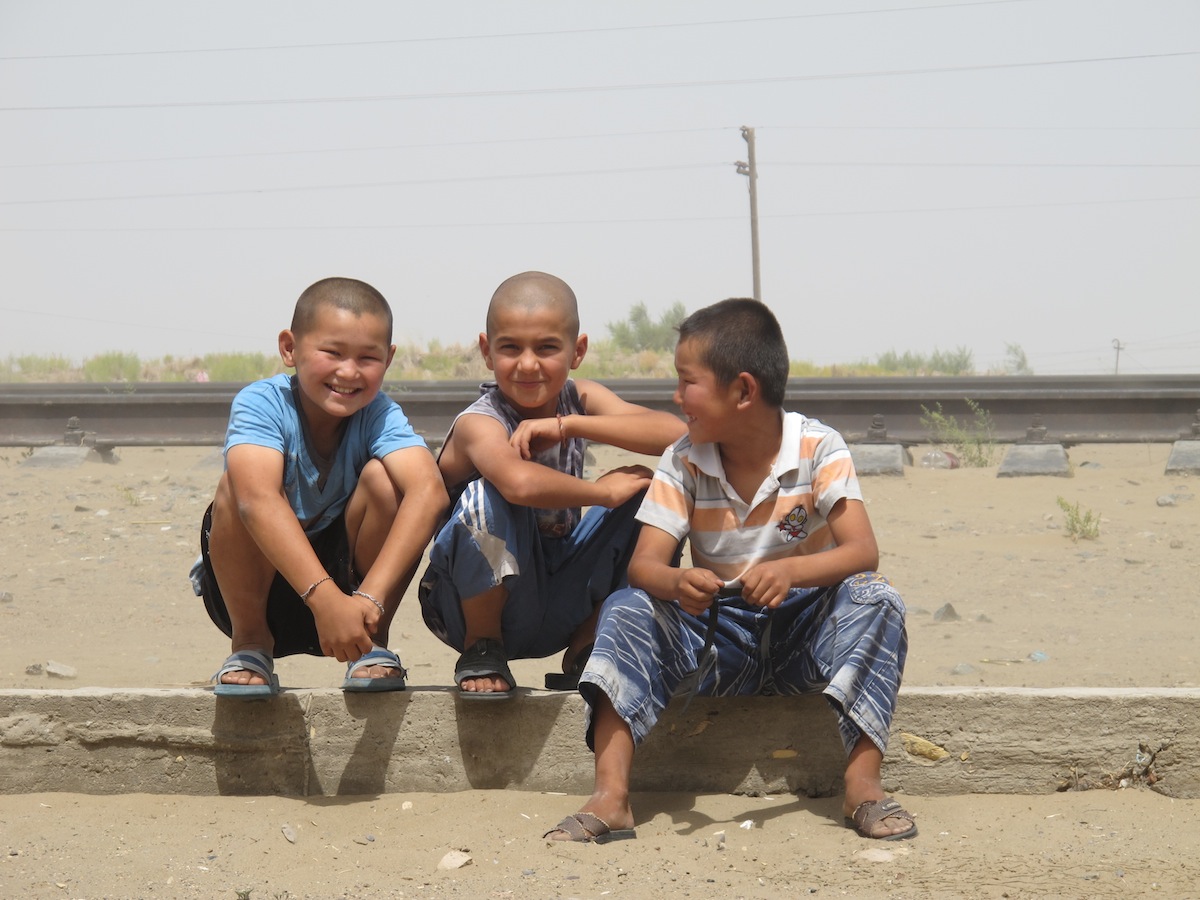 A TURKMEN WEDDING
Med öltunga ben och glada miner trampade vi vidare och hittade en liten butik där vi skulle fylla på vattenreserverna. Då vodkan höll samma prisklass som vattnet fastnade vi utanför butiken någon timme. När det började skymma begav vi oss ut ur staden för att hitta en tältplats. I utkanten av Sarakhs dånade högljudd musik från ett husområde och fyra hypnotiserade cyklister vinglade in för att nyfiket få en glimt av spektaklet. På gårdsplanen hade hundratals människor samlats i traditionella färgglada dräkter runt en stor glittrande scen. De jublade högt och vi sträckte händerna i luften när allas blickar vändes mot de fullastade cyklarna. Konferenciern springer lyriskt ner från scenen, förklarar att vi befinner oss på ett bröllop och räcker mig sedan mikrofonen. Vad som sägs här, och vad som händer de något dimmiga timmarna därefter, förtjänar sitt alldeles egna inlägg på THE ESCAPE. Keep yourself posted.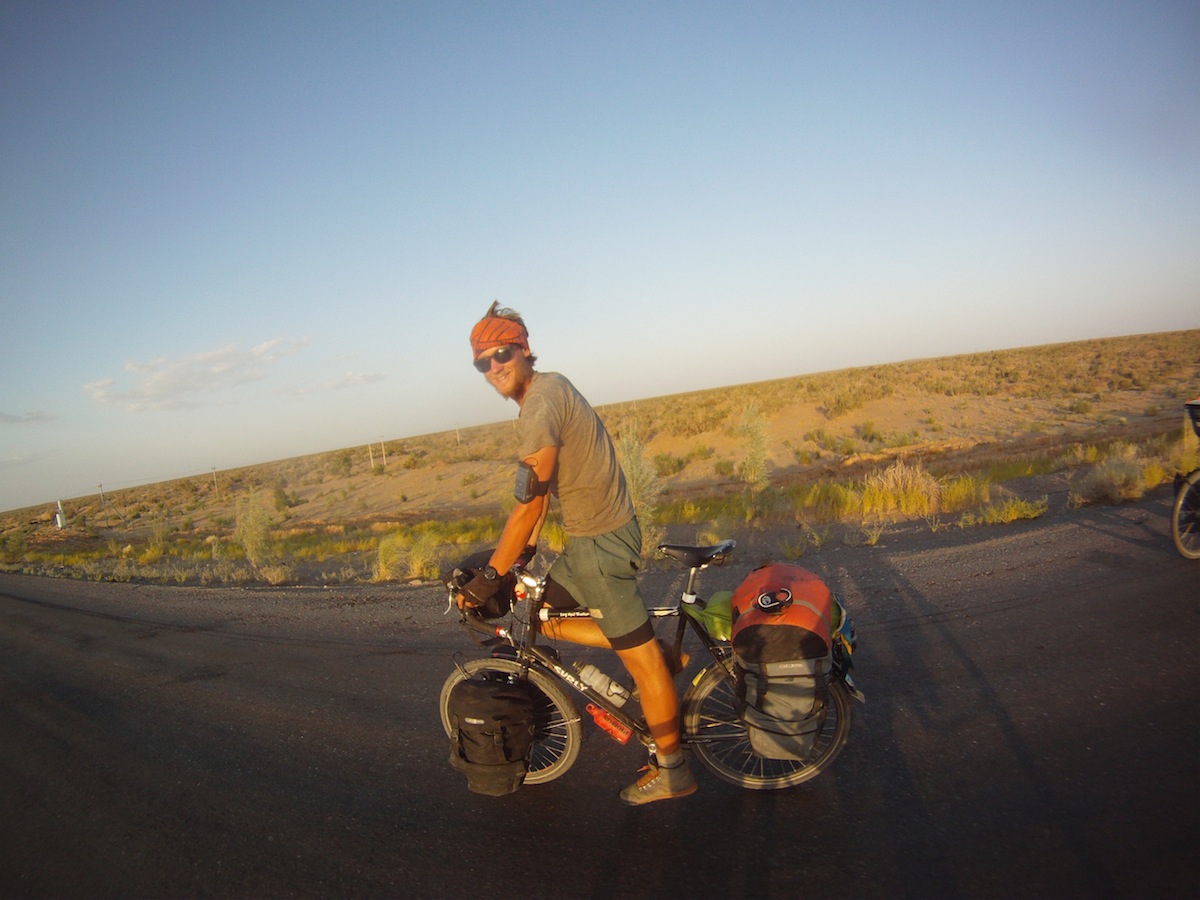 Trots en kväll och natt med rikliga mängder hembränd vodka får vi en tidig start den 9:e juni. Redan vid sju rullar vi ut från Sarakhs men då skyltar saknas och aktiviteten i knoppen inte är fullt fungerande gör vi fel vägval. Efter 25 kilometer överväger vi att cykla tillbaka för att hitta rätt väg. Trots lite betänktetid i skuggan tar vi det okloka beslutet att fortsätta och ta omvägssmällen på cirka 70 kilometer. Under förmiddagen tilltar vinden och vi rör oss oerhört långsamt med blytunga ben. Man mår som man förtjänar efter ett bröllop i Turkmenistan men att ökencykla med motvind och en sprängande baksmälla i 50 gradig hetta är ingenting jag skulle önska min värsta fiende. I hisnande farter mellan 5 och 10 kilometer i timmen tvingar vi oss själva att tugga vidare. Tolv timmars seg rörelse gav nästan 100 kilometer. Mirakulöst nog hittar vi i skymningen en flod och dagen avslutas med ett svalkande bad och en fin lägerplats.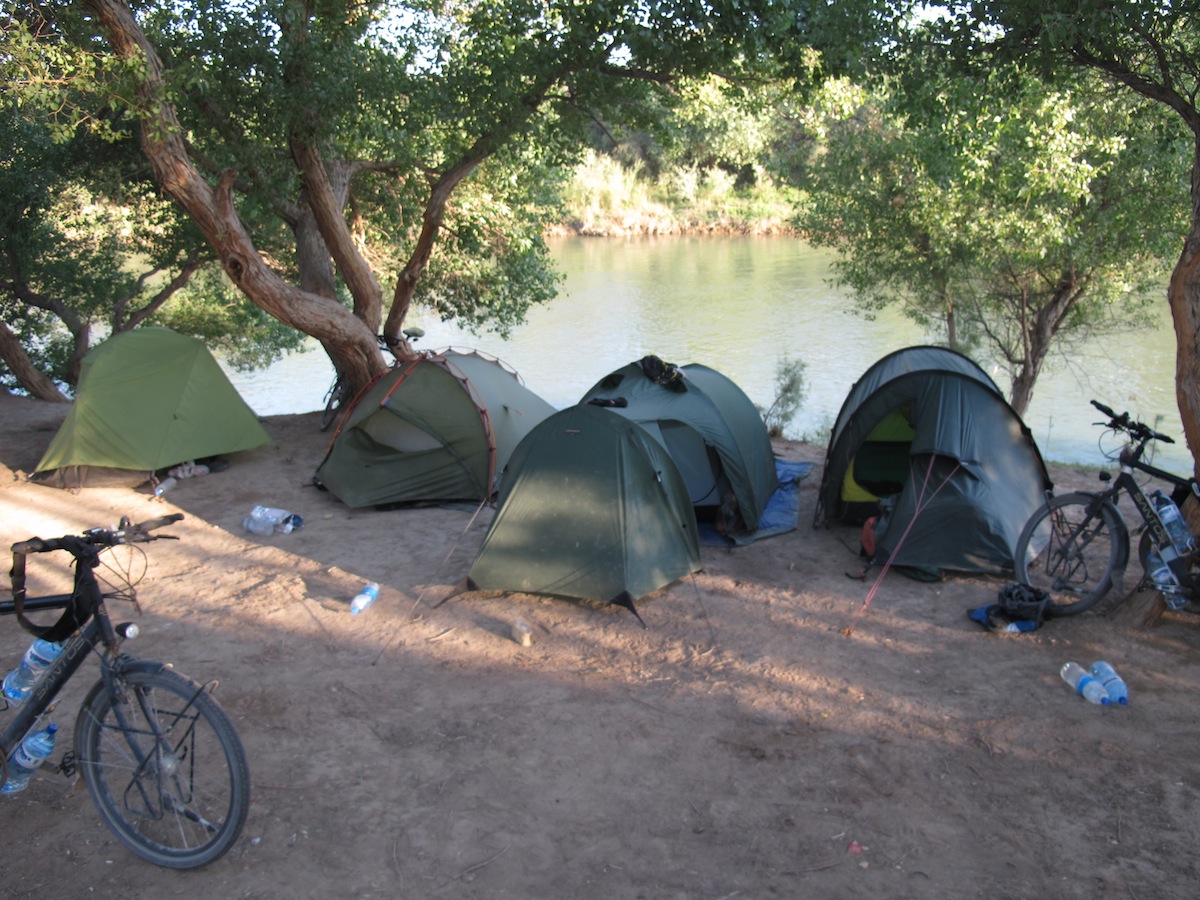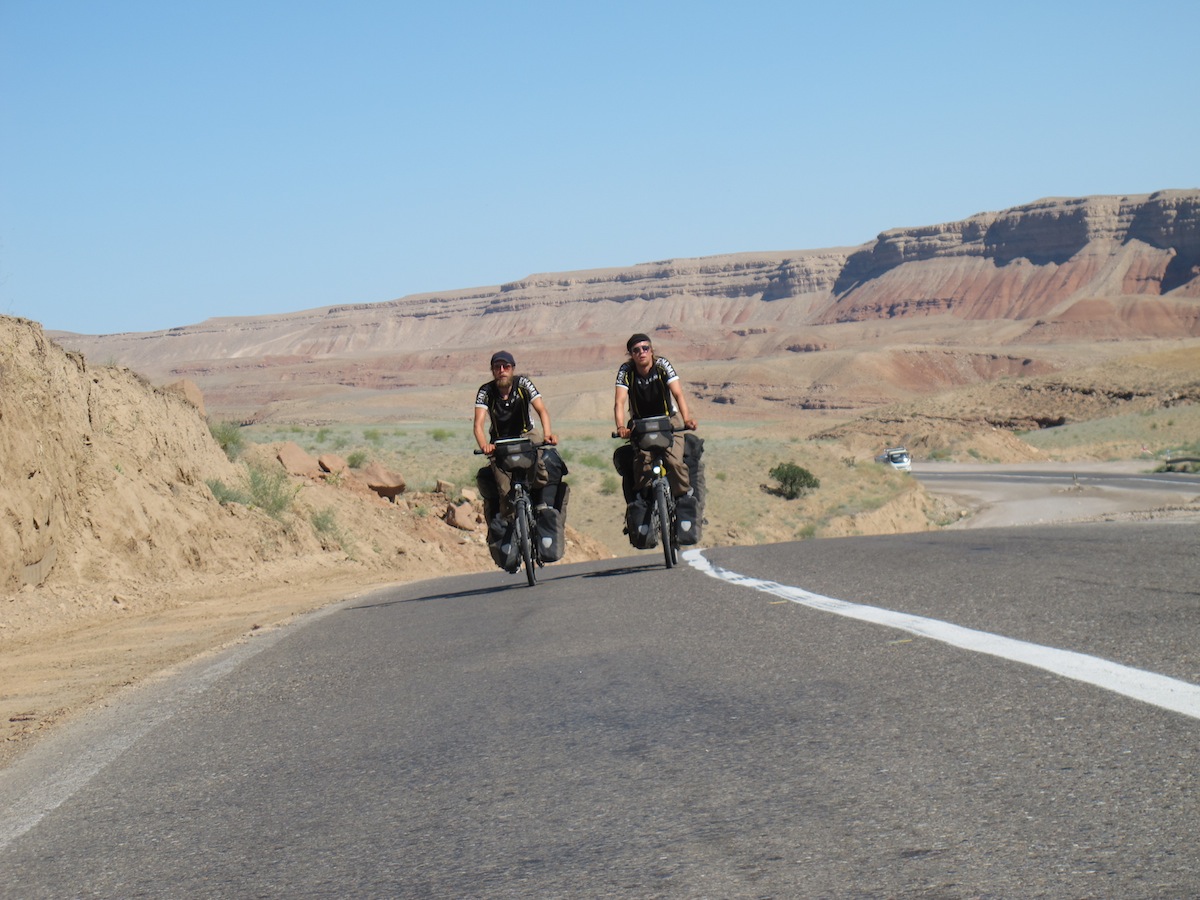 Den 10:e juni fortsätter det svensk-belgiska cykeltåget ökenäventyren. Det blir mer eller mindre en repris på gårdagen med slitsam motvind och extrem hetta. Jag berättade tidigare om den näst intill olidliga hettan i öknen mellan Tehran och Mashhad i Iran. Jag visste inte vad som väntade. I Iran cyklade jag på mellan 1000 och 1500 meters höjd och temperaturen låg kring dryga 40 grader. I Turkmenistan cyklade vi cirka 200 m.ö.h. och kvicksilvret steg därför ytterligare. I slow-motion släpade jag runt mina pedaler med trötta spagettiben. Var tionde minut stannade jag till för att fukta den torra gommen med några klunkar av det nästan kokheta vattnet. Trots svåra omständigheter lägger vi 167 kilometer bakom oss denna dag då vi fortsätter ända fram till midnatt. I ett garage, under ett plåttak, utanför staden Mary stupar cyklisterna efter 16 timmars aktivitet. Matthias får en jobbig natt med magsjukdom och placerar sig själv intill ett litet hål i marken.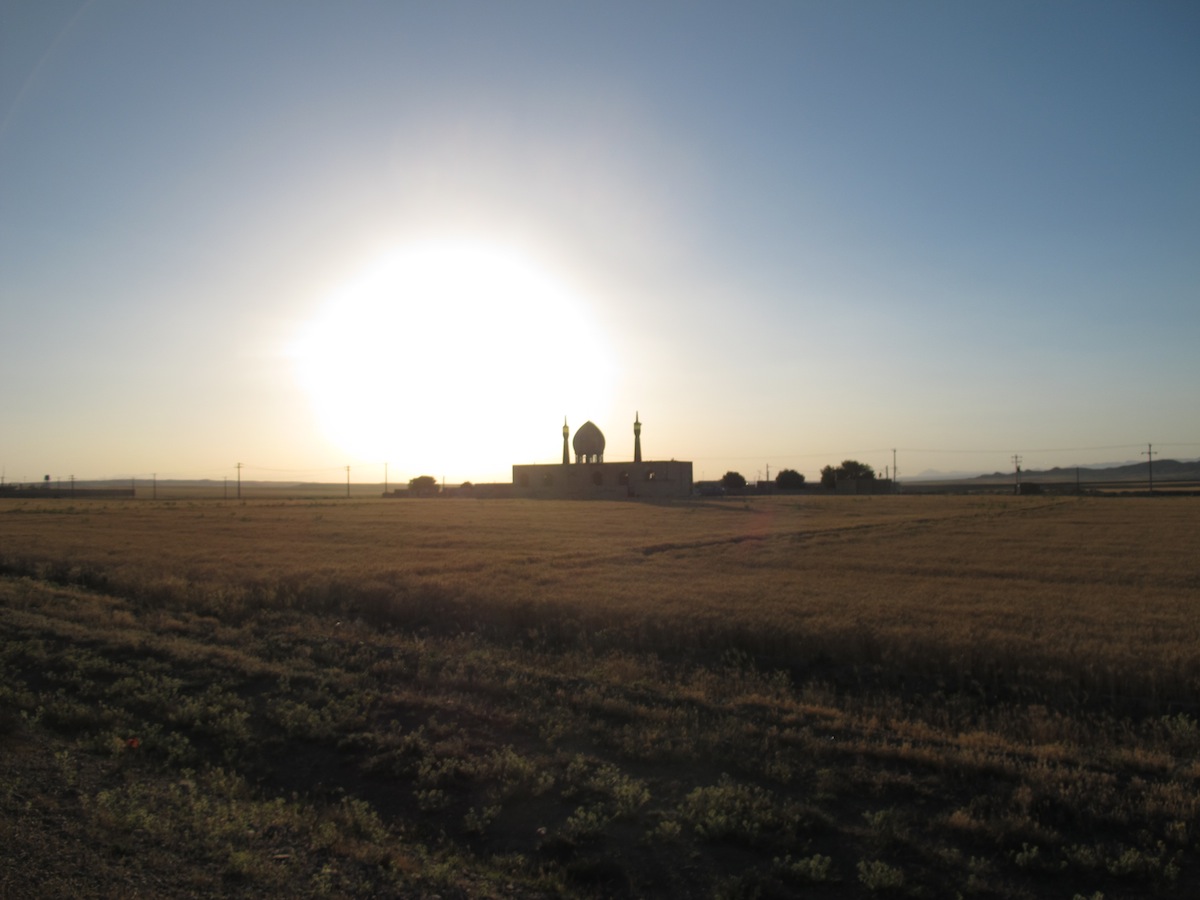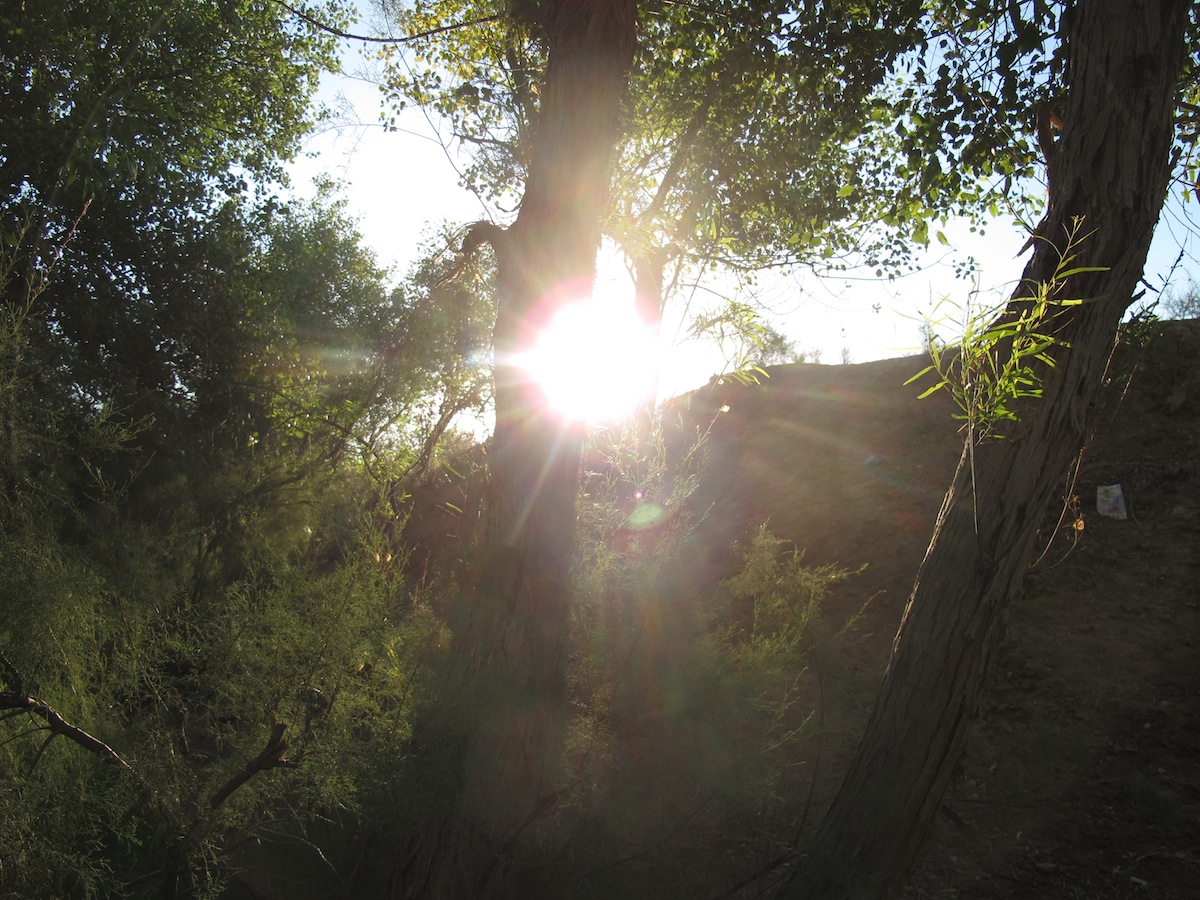 Den 11:e juni, vad som skulle vara vår näst sista dag i Turkmenistan, blir även det en repris och motvindsförbannelsen fortsätter. Matthias mår dåligt och även Bert får magbesvär. Under eftermiddagen gör de frekventa stopp för att i panik springa ut bland sanddynorna intill vägen. Då vi vill cykla hela sträckan i Turkmenistan börjar vi bli smått stressade över tiden men som sanna optimister höll vi tummarna för en avslutande medvindsdag. Dagen avslutas med ett par timmars nattcykling innan vi når ett par hus som bildar byn Ugajy. Jag blev överlycklig av att hitta en liten restaurang med en 14 tums TV där jag kunde följa Sverige mot Ukraina under natten. Mindre lycklig blev jag när motvinden fortsatte även på gräset.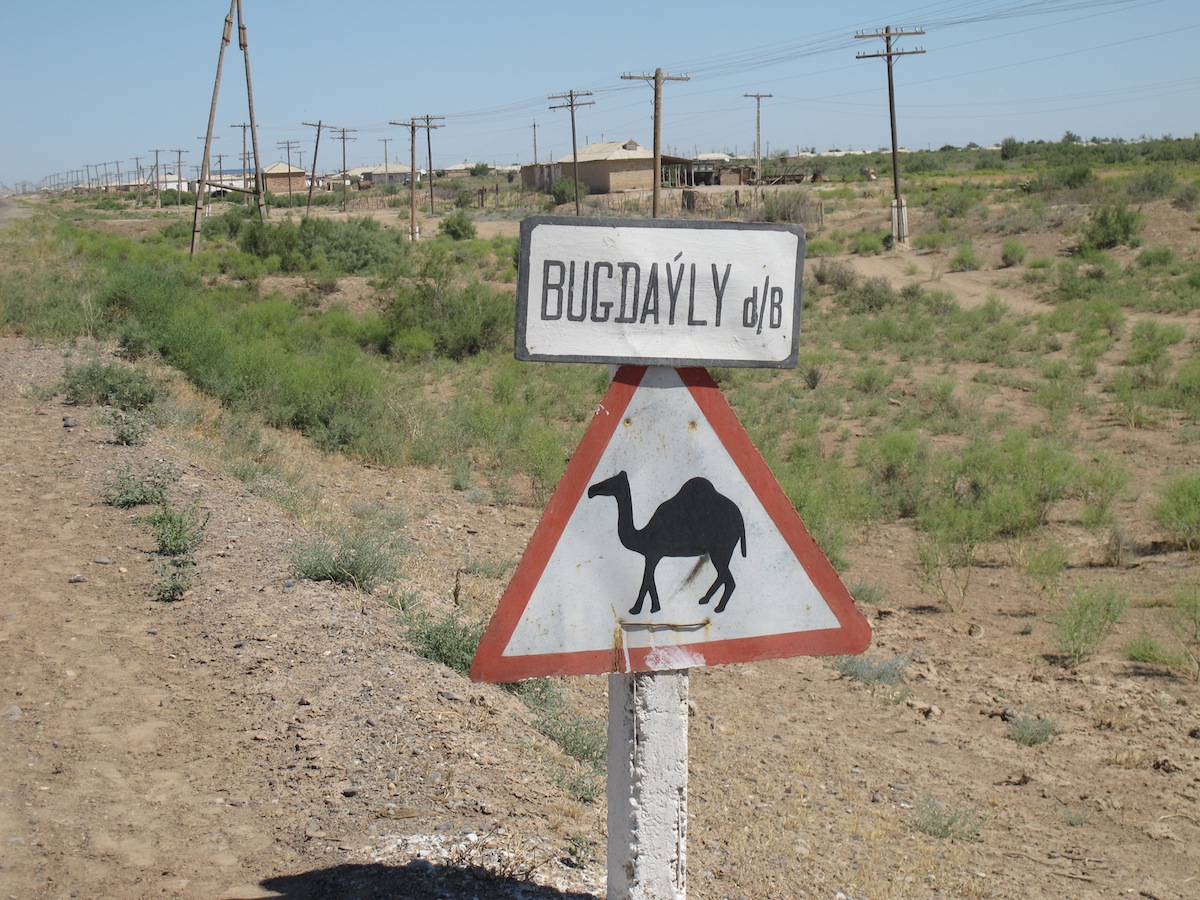 23:59
Efter några timmars sömn på restaurangborden som fick fungera som sängar vaknade vi tidigt den 12:e juni. Idag skulle vi vara tvungna att lämna Turkmenistan. När jag öppnar ögonen ser jag att vinden kraftigt piskar en liten buske utanför restaurangen. En svidande förlust mot Ukraina, trötthet efter en dålig och kort natt och återigen en moralsänkande motvind. Då distansskyltar saknas i Turkmenistan fick vi förlita oss till folk vi frågade och våra kartor. Vi estimerade att vi hade drygt 140 kilometer till gränsen. Matthias mådde väsentligt mycket bättre men Bert var fortfarande sjuk och under natten hade även Filip fått en ordentlig släng magsjukdom. Jag klarade mig fortfarande fint och besvärades inte av mer än utmattning och trötthet. Vi började slita i motvinden och på den ordentligt sargade asfalten vid 8. Det skulle bli en lång dag. För Filip och Bert gick det långsamt och Filip spydde från cykeln flera gånger. Vi krigade och vid 16 tiden hade vi hunnit drygt 100 kilometer. Jag övervägde att lifta till gränsen men 40 kilometer kändes överkomligt när vi kommit såpass långt. Vi fortsatte och när det vid 20 tiden blev mörkt skulle det inte vara mer än någon mil kvar till gränsen. Vi sick-sackade mellan groparna i vägen under den stjärnklara natten och började fråga oss fram efter gränsstaden Farap. Skyltarna var fortfarande obefintliga och det rådde delade meningar om distans och vägval. Frustrationen och desperationen ökade när klockan tickade allt närmre midnatt. Till slut kom vi på rätt väg och en polis informerade oss vid 22:30 om att det var 20 kilometer kvar till gränsen. Adrenalinet pumpade när vi nu var tvungna att öka takten och trampa mer intensivt. Efter cirka 20 kilometer informerade en ny polis oss om att det nu var ytterligare 8 kilometer kvar till gränsen. Klockan var 23:35. Bert och Filip var helt slut och likbleka. Jag och Matthias tog deras pass och satte i ett sanslöst tempo fart mot gränsen för att försöka hinna innan tolvslaget och förklara situationen med våra sjuka vänner. Flera gånger var vi nära att köra ner i stora hål i mörkret på den lilla landsvägen. Med dregel i mungipan och snor hängandes ur näsan stannade vi framför en stor järngrind. Jag kollade på klockan och jag skämtar inte - 23:59!
Våra förhoppningar om att klara oss ut ur Turkmenistan i tid släcks snabbt av en ensam gränsvakt som med armarna bildar ett kors och sedan visar upp sju fingrar. Gränsen var stängd och vi var fem timmar sena. En laddning svordomar övergår i att jag fullständigt utmattad lägger mig raklång i gruset framför den låsta grinden. Ilska och frustration ombildas till en ordentlig klump i magen. Bert och Filip ansluter efter 20 minuter och vi läser mindre lugnade rader ur en guidebok. To overstay your visa in Turkmenistan will result in a minimum fine of 200 USD or deportation with flight to home country at your own expense from Ashagabat.. Hade jag haft pengar hade jag nog kunnat somna i det lilla skjulet intill gränsen. Pengarna var slut. Jag sov inte en minut trots drygt femtom timmars cykling.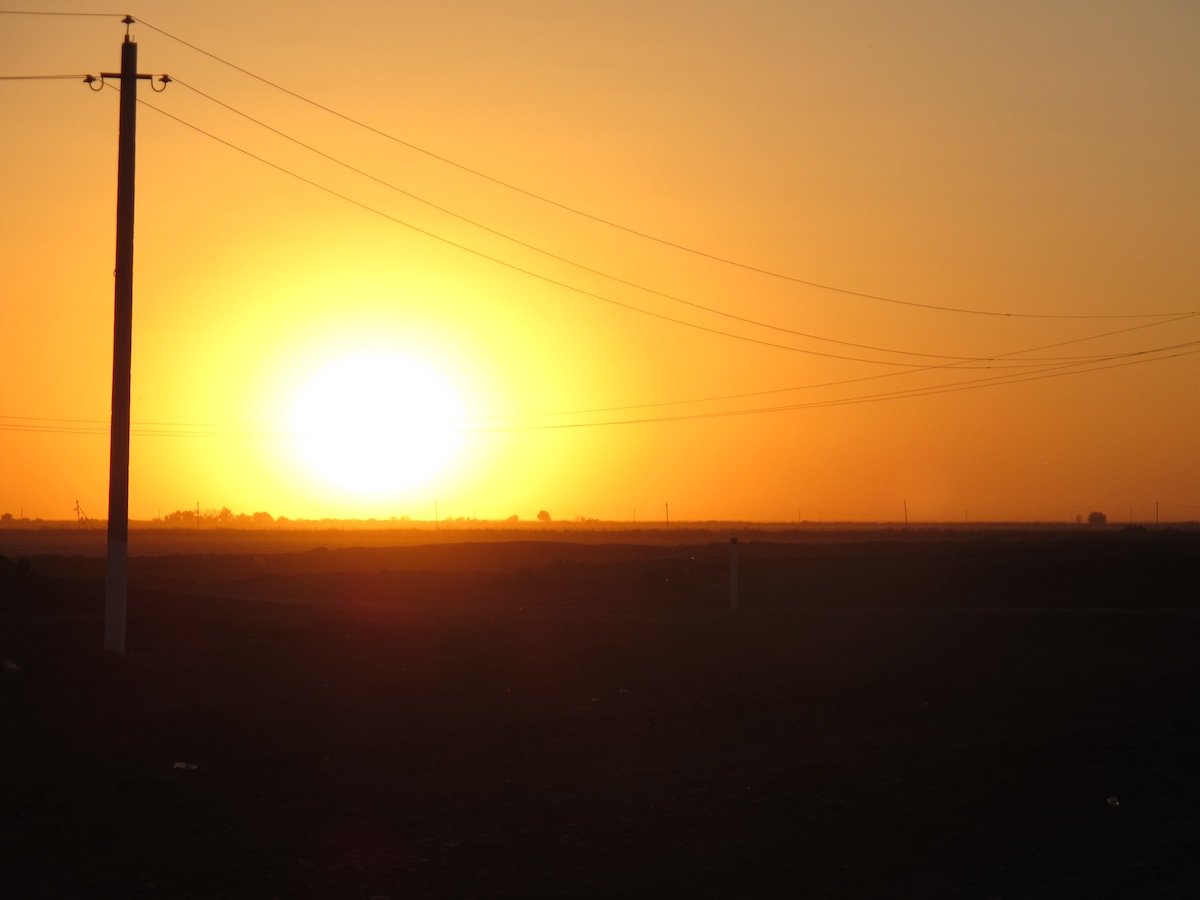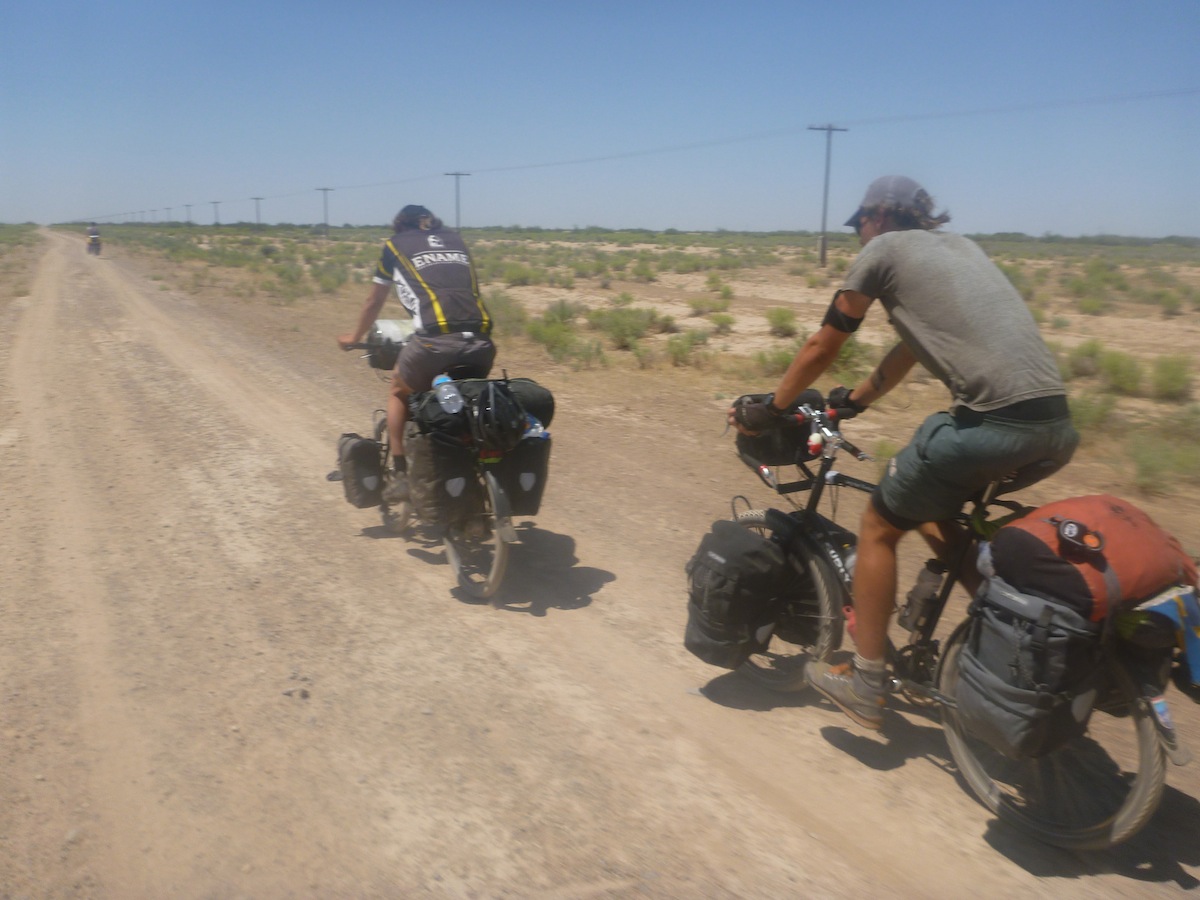 DEPORTED FROM TURKMENISTAN
Klockan 09:00 rullade fyra halvdöda cyklister fram till männen i militärutstyrsel och en spännande förmiddag hos gränspolisen i Farap inleddes. Vi räckte fram våra pass och de två gränsvakterna studerade pass och visum noga. Den ena vakten går till sitt lilla bås, lyfter luren och ringer ett samtal. Han kommer tillbaka och säger "BIG PROBLEM" och pekar sedan mot huvudbyggnaden och gestikulerar att vi ska leda cyklarna dit. Det tar en dryg halvtimme innan en kort, tjock och skallig man i grön militärskjorta ber om våra pass. Hans engelska är duglig och vi kan lyckligtvis halvt kommunicera med honom. Även denna gränsvakt inleder konversationen med orden "BIG PROBLEM". Han skakar på huvudet och suckar. Vi klistrar på våra allra bredaste leenden och försöker mjuka upp den strikta lilla mannen. Under konversationen kastas vi mellan hopp och förtvivlan. Jag försöker kallprata om fotboll och Sveriges usla insats mot Ukraina. Han börjar tala om pengar och vill att vi betalar 280 USD per person. Vi förklarar att vi nästan inte har några pengar och han skakar återigen på huvudet. Han säger att han kommer att bli tvungen att deportera oss från Turkmenistan och att vi inte kommer att vara välkomna till landet på några år. Vi blir rädda att han ska skicka oss till huvudstaden Ashgabat men lyckligtvis nog säger han efter en stunds velande att han kan deportera oss till Uzbekistan! Vi går genast med på detta och han ber oss vänta. Det tar två timmar innan allt pappersarbete är avklarat och de fotograferat oss. När han aggressivt smäller stämpeln i passet går ett rus av lättnad genom kroppen. En röd fyrkantig stämpel inklusive handskrivna datum förklarar att jag inte är välkommen till Turkmenistan på ett år. Hur ska jag klara mig? Mannen avslutar med att högt ropa; NO MORE TURKMENISTAN! NO WELCOME FOR ONE YEAR! BYE BYE!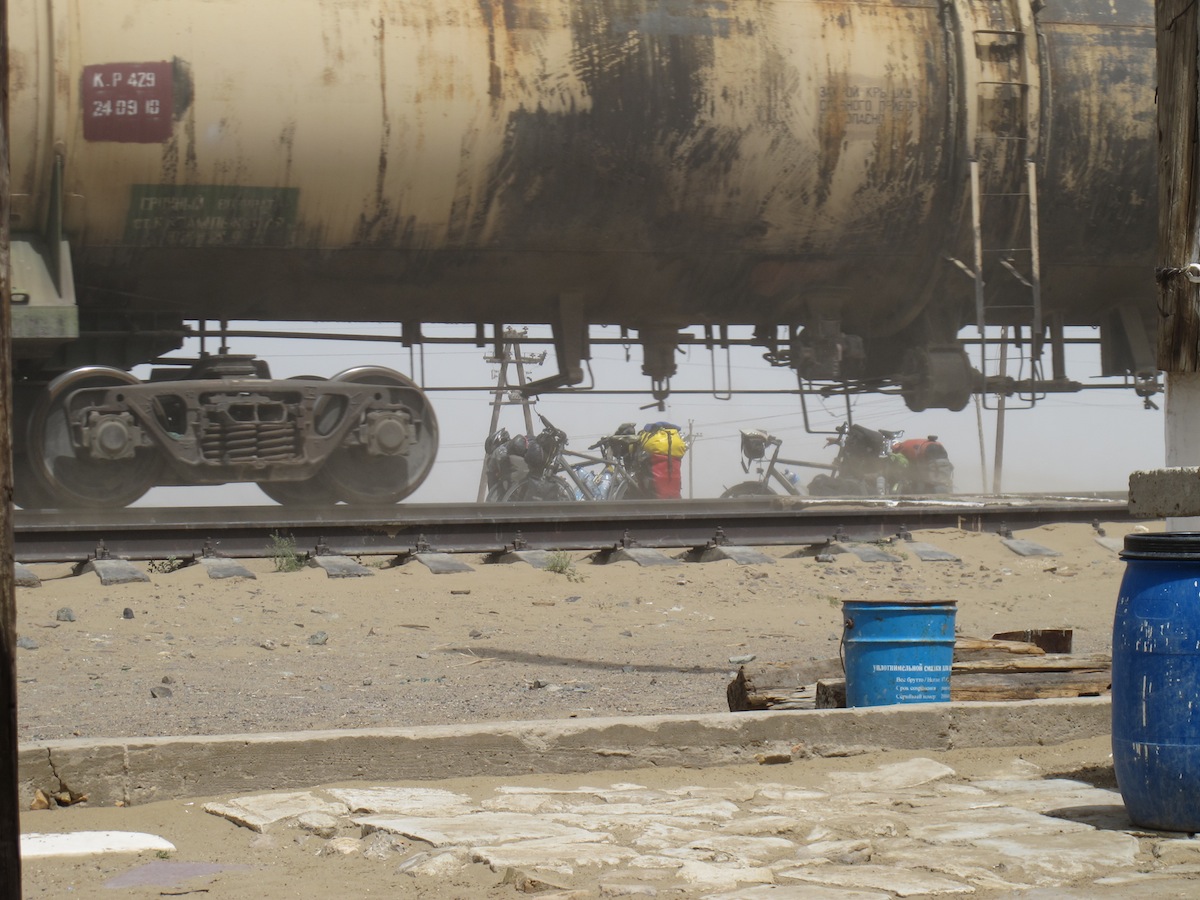 Vid lunchtid rullade vi våra dammiga cyklar mot friheten i Uzbekistan. Totalt slutkörda intog vi första bästa restaurang i staden Olot, 27 kilometer från gränsen. Vid restaurangen tillbringade vi resten av dagen och natten. Igår bjöds det på ytterligare 9 mils motvindscykling till vackra staden Bukhara där jag alltså finns i skrivande stund. Initialt hade jag planerat att göra ytterligare ett ryck mot Samarkand idag men kroppen skrek efter vila och THE ESCAPE efter uppdatering.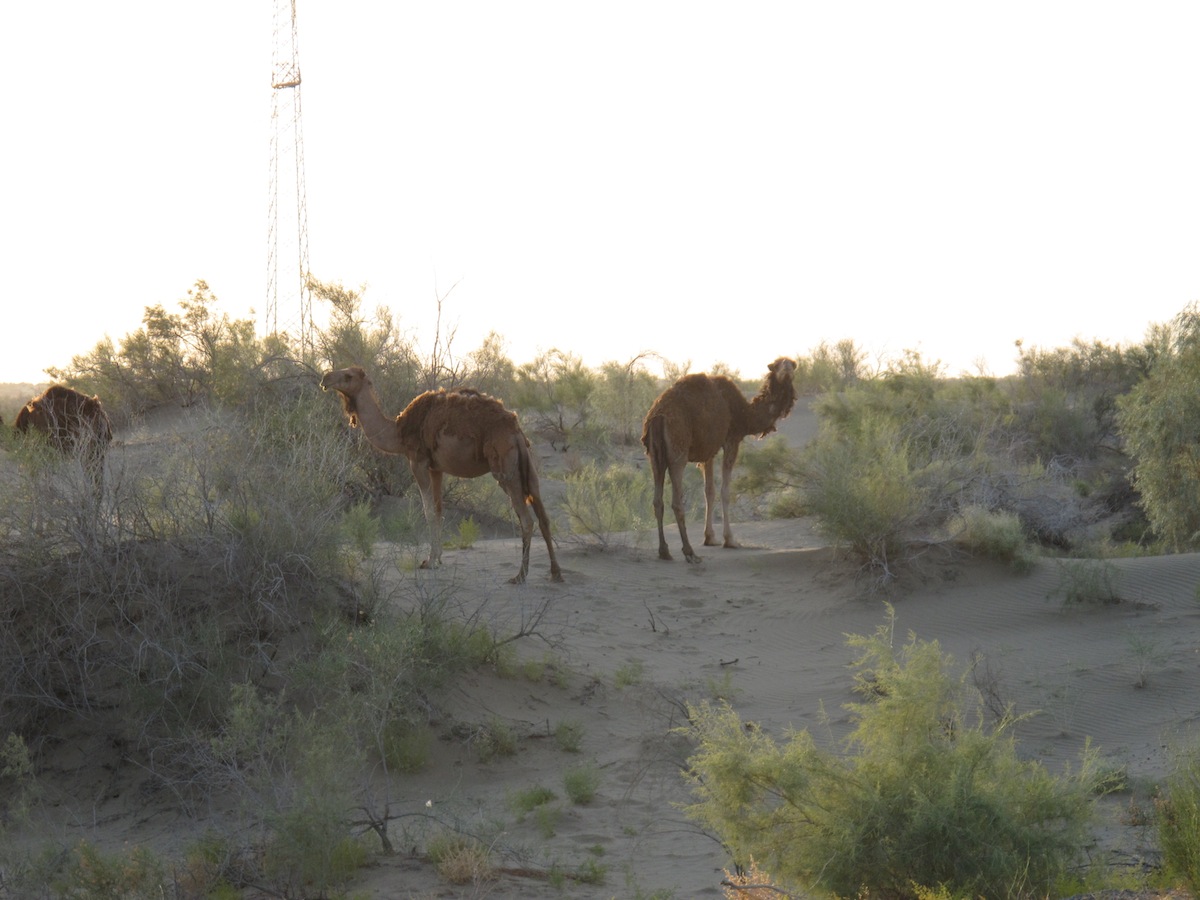 /Erik