Två flickor med kärlek för stora städer på vift i ett myller av Tokyos babes och gentlemän. Vi tappar omdömet redan innan avfärd och anländer från tropisk hetta till japansk vinter endast iklädda jeans och sommarnattssvala tröjor. Därifrån följer en rad brustna översättningar som leder till brutalt vackra möten med ett folk vars sömmar på kläderna följsamt ramar in rörelsen av smala fingrar som greppar pinnar, som greppar sushi. I Tokyo doppar man försiktigt fisken i sojan. Jag krispar på min obegränsade tillgång till ingefära och hånar Nicole som återigen tappar halva sitt ris i sojakoppen. En pöl av obalanserad färgkombination. Tack och lov för Tokyos hipsters, där det eleganta bytts ut mot kaos och vita riskorn tillåts långsamt slukas av mörkbrun soja.
Dag två finner vi oss bland träden som sträcker sina kroppar mot det oändliga blå. Snidade portar lotsar vallfärden av människor mot andliga rum skapta av tystnad. Jag tar av mig mössan för att lyssna till bruset av viskande löv och svajande stammar. I Meiji Shrine stannar jag till för att tvätta händer och mun rena från livets damm och bugar inför naturen innan jag tar stegen upp för trappan och skriver ner mina böner på tunna papper till universum. Skramlet av böner som etsats fast på hängande träskivor bryter loss tystnadens vilande själar. Ett ungt par i giftas skrud skrider försiktigt efter prästerna i abnormt stora träskor.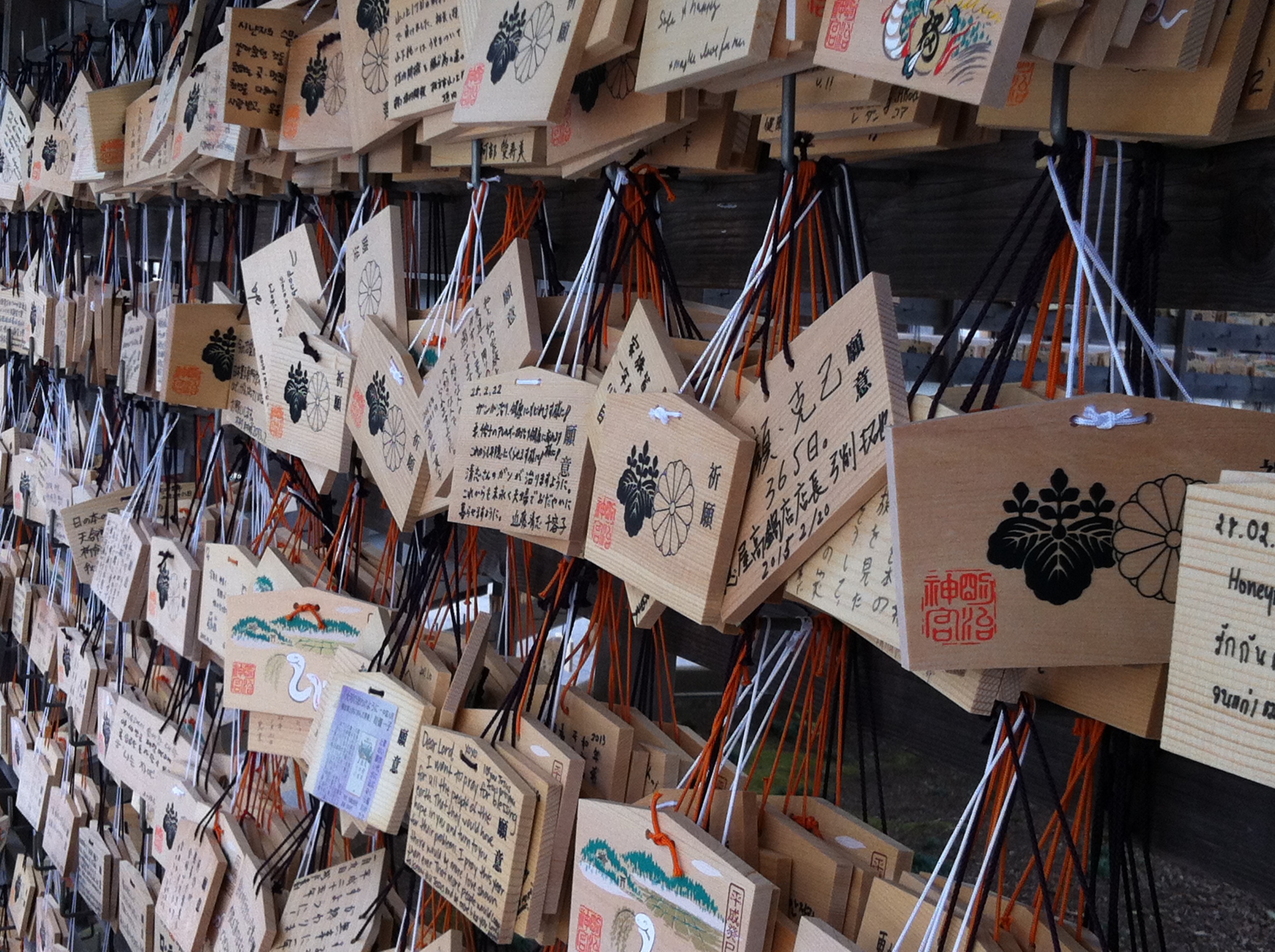 I Harajuku följer vi tonåringarnas platåskor ner längs Omotesandos explosion av plottrig shopping. Sluter upp med den äldre publiken längs cat streets vintage och hänger med hiphoparna inne på X-LARGE som bjuder på corona och mixtapes. I Akihabara följer vi en slinga famlande händer på jakt efter den senaste elektroniken och med handflatorna tryckta mot öronen observerar vi kostymnissarna som flyr vardagen inne på spelhallarna. I gatukorsningarna infinner sig Manga maids och krigarprinsessor. Deras blåfrusna fingrar greppar om en mystisk bok fylld av svåråtkomna flyers. I slutet av dagen är det just att vi följer en av dessa maids som tar oss till nästa nivå i Tokyo spelet Follow the maid.
Kvällen avslutas med en tur till norra Shibuyo's mysgator. En smutsig glasskiva visar Uplinks X's meny. Japanskt drama, dokumentär och danska Armadillo på bio, utställningar och restaurang. Vi tar ett glas ekologiskt rött och kikar på en europeisk meny som bjuder på salami pizza, marockansk couscous och libanesiska smårätter. Nötta träbord med tjocka kurviga ben och små bås med benvita ränder mot barbarisk botten. En trappa upp finner vi små bås av fynd. I den svenska hörnan står en dalahäst och Stig Lindbergs mästerverk i bilder. Därintill upptäcker vi den spartanska salongen. Tokyos minsta biograf rymmer nära 40 besökare på fem rader regissörsstolar i diverse modeller. Längst fram med små ben och sköna bakåtsvävande ryggar, längst bak barstolar med stöd för klättrande fötter. Längs väggarna finner vi högar av filmer, böcker, gamla lampor och annat bråte. Innan filmen drar igång infinner sig en japanska som kvickt ljuder, i mina öron, en sjungande ramsa vokabler för att därefter släcka ner belysningen.
Sista kvällen i Tokyo infinner vi oss på en restaurang i bartäta Roppongi. Var och varannan halvtimme utbryter en kedja växande hojt mellan servitörerna. Det rör sig inne på Gonpachi. Ett drama av vilt kroppsspråk mellan sällskapen, snabba fötter upp och ner för trapporna, ivrig matlagningskonst bakom bardisken i centrum och tonerna av klassiskt japanskt i krock med old school melankoli. I rörelsens dova dimma skymtar jag en stickande gul uppenbarelse och lyssnar efter en sugande viskning mellan andetagen. Kill Bill. Det är detta kubiska rum kantat av bås med mörka trägolv och skjutdörrar som inspirerade skapelsen The House of Blue Leaves där Uma Thurman massakrerar den vitklädd Lucy Liu och hennes flock av maskprydda kostymninjas och en skolflicka med en grotesk järnkula.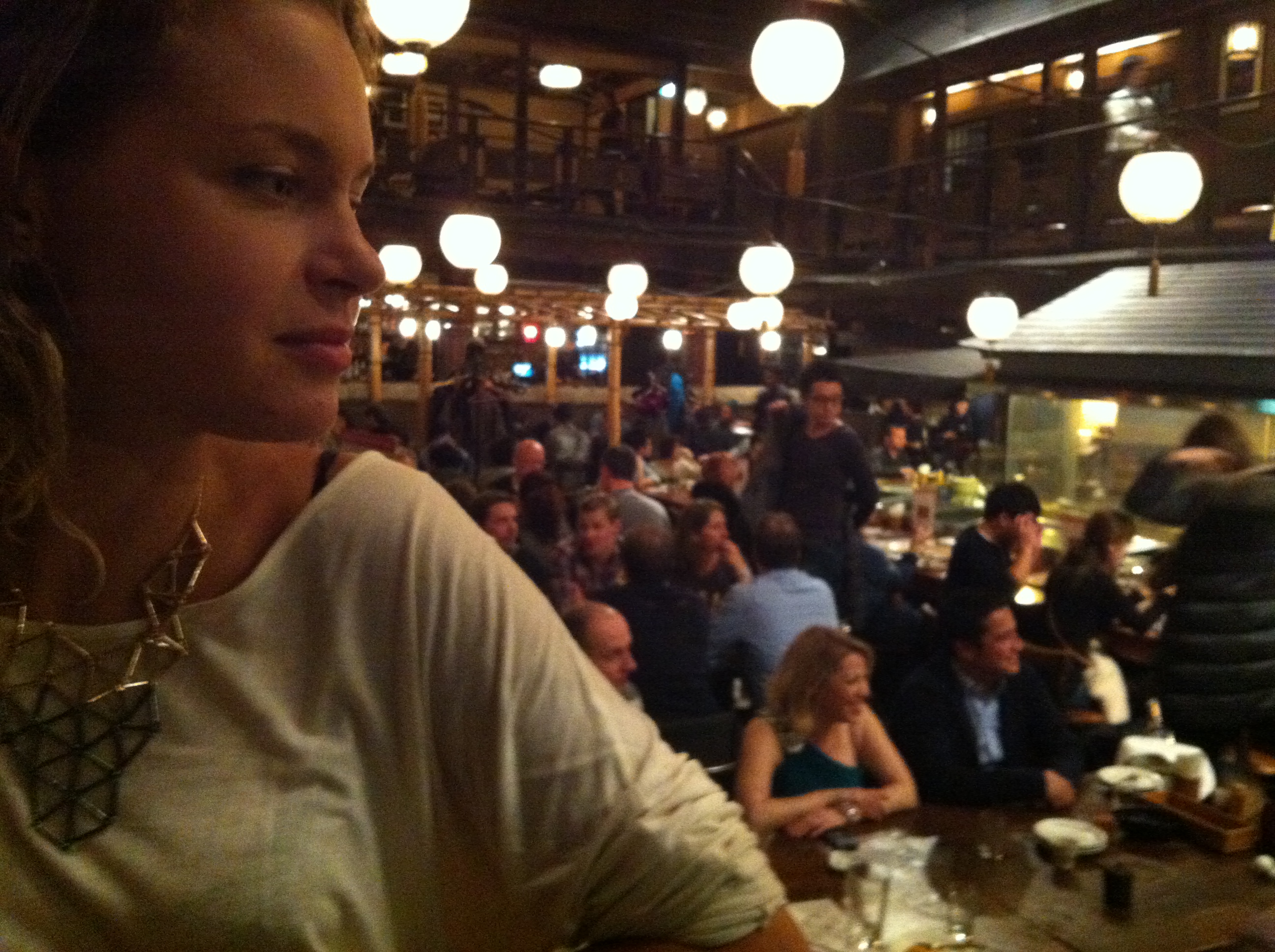 I filmvärldens anda avslutar vi kvällen med att försiktigt dra handen över samma bardisk där Bill Murray blir erbjuden en kopp sake och nickar menande mot det märkliga sällskap som omger Scarlett Johansson och som hon tycks vilja undvika. Han ber henne att fly, tillsammans, där och då. Park Hyatt. Vi blickar ut mot Tokyos skyskrapor. Jag nynnar på Airs mystiska toner och vi känner att vi de senaste dygnen befunnit oss vilse bland samma magiska brustna översättningar. I taxin på väg hem har vi ett djupt samtal med taxichauffören. Han på japanska, vi på svenska.
I posten TOKYO BY NICOLE hittas min goda väns återberättelse från dagarna i Tokyo i bild och text.
/Katarina Juréen