Innan en längre utläggning och rapport från sommarens höjdpunkt och flykt kommer här en kort förklaring. Sedan min första resa till Indien 2006 (tillsammans med min bror Axel) har det på livslistan funnits en mycket lockande punkt - en resa med motorcykeln "Royal Enfield" i Indien. Förra hösten bestämde jag, tillsammans med min bror Axel, att semesterveckorna 2011 skulle gasas bort i Kashmir och Ladakh i norra Indien. Under våren lyckades vi rekrytera vår pappa, Björn och därefter var planering och förberedelse igång. Flygbiljetter bokades, kartor införskaffades och klassiska skinnkläder inhandlades. Potthjälmar, motorcyklar och övriga detaljer skulle vi lösa på plats.
Strax efter midsommar, i slutet på juni flög tre fjärdedelar av familjen Ohlson till New Delhi där ett episkt äventyr på mullrande Royal Enfield's inleddes. Den något annorlunda familjeresan i Himalaya återberättas inom kort med text och bild. Nedan ses en enkel karta över vårt reseobjekt.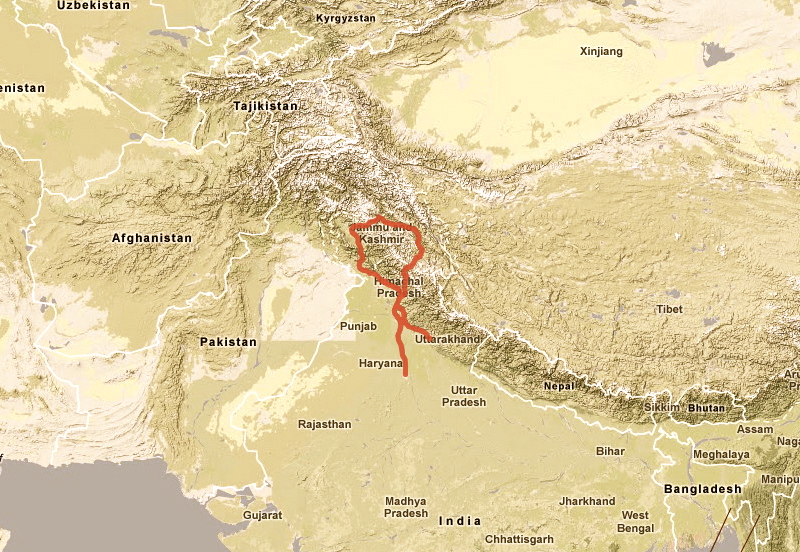 A family summer in the Himalayas. Coming soon on THE ESCAPE.
/Erik