Trots uteblivet drama den 26/7 har mina tva veckor pa Kuba inte saknat politiska inslag. Revolutionens och kommunismens avtryck pa samhallet ar narvarande, uppenbar och oundviklig vart du an gar och vad du an gor. Castro´s handlingar och politik genomsyrar nationen pa alla plan och paverkar varje vardagssyssla bade for turist och kuban. Jag landade i nyfikenhet och lamnade i forvaning. Kuba ar i varre skick an jag trodde och och mina tva veckor redogjorde for klasskillnader och orattvisor som en "fungerande" kommunism aldrig skulle tillata.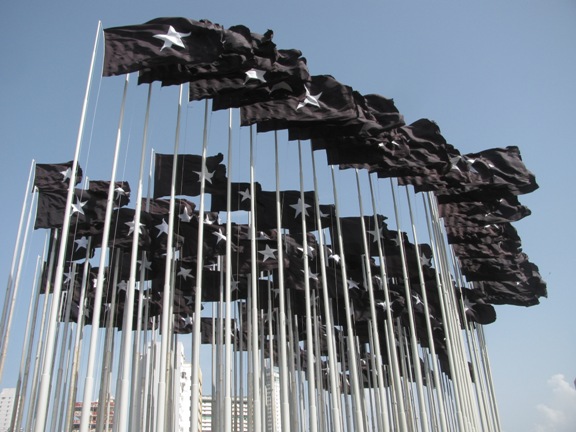 Under George Bush presidentperiod stramades emargot at och som "hamnd" uppfordes 138 kubanska flaggor mitt framfor den amerikanska ambassaden i Havana. 138 flaggor symboliserar antalet ar av "imperialistiskt fortryck". Pa nationaldagen var de svarta som ses ovan.
Den 26/7, nationaldagen, var dagen som initialt lockade mig till att spontant boka en biljett till Havana. Dagen, kvallen och firandet var en besvikelse men gav en tydlig signal om att befolkningen ar revolutionstrott. Gatorna var fullproppade men gladjen franvaranade. "We are tired of celebrating the revolution" viskade en kille i 25 ars aldern til mig. 50 ar kanske ar nagra for mycket?

Vem far vad? En av de forsta fragorna som dyker upp ar vem som far takvaning och havsutsikt istallet for gatuplan eller vem som sliter pa tobaksfalten istallet for att sitta i ett bekvamt AC-kontor. Alla tjanar lika (cirka 150 SEK/manad) men trots det infinner sig klasskillnader. De mest eftertraktade jobben pa Kuba ar inom turistnaringen da extrainkomsten dricks tillkommer. Systemet spricker redan har da en servitor eller guide utan storre svarigheter tiodubblar sin manadslon.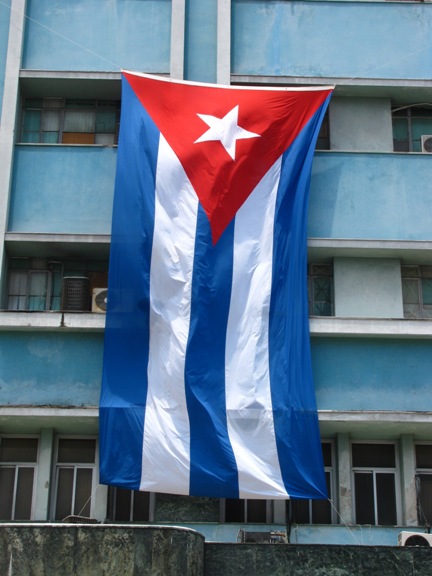 Enligt Castro ledde revolutionen till ett land utan prostitution. I dubbel bemarkelse ar landsfadern uppe pa laktaren da extrainkomsten (som manga idag beror utav) och en biljett till kapitalism lockar ut manga unga kvinnor pa gatan. Giftermal ar en av fa mojligheter for en kuban att lamna Kuba och darfor ar "lyxprostitution" narvarande pa alla stora hotellkomplex. Aldre vasterlandska man med unga kubanskor ar ytterligare ett inslag som skriker emot kommunismens grundpelare jamstalldhet.

Fran vanster: 1, Flaggorna utanfor den amerikanska ambassaden i Havana. 2, "Ledaren ar viktigast for revolutionen". 3, "26 juli - frihet och dod"
Ironin fortsatter med martyren Che Guevara som pryder gator, torg och vag-propaganda med sitt ogonvanliga ansikte och sina socialistiska citat. Ikonen som lamnade sin rika familj och trygga uppvaxt i Buenos Aires gjorde i stora drag samma resa som jag gjort genom Sydamerika innan han traffade Fidel Castro i Mexico i borjan av 50 talet. "Frihetskampen" Che Guevara´s handlingar frihetsberovade 11 miljoner manniskor pa Kuba. Med facit i hand skulle forhoppningsvis mannen som sjalv alskade att resa skammas over vad hans handlingar ledde till.
Samtidigt finns positiva inslag. Klassikern med Kuba´s hogklassiga sjukvard och utbildning kanner de flesta till men de har aven en annan lyxvara som den "bekvama" vastvarlden ofta saknar - tid. Med ett platt inkomstsystem (forutom inom turism) finns ingen anledning att slita ut sig. Exempelvis ar darfor stranderna kring Havana och i distriktet Pinar del Rio fyllda, oavsett dag, av kubaner. De har tid for familj och vanner vilket i min mening ar nagot vi kan lara av i var del av varlden. Sjukvarden och utbildningen fungerar langt mycket battre an manga lander i Afrika, Asien och Sydamerika men det finns fortfarande anmarkningar. De valutbildade lakarna (Det gar 1 lakare pa 70 individer) kan ge dig en noggrann diagnos men saknar i manga fall medel att behandla. Dessutom har flera personer vittnat om att den "fria" sjukvarden inte ar sa fri som pastatts. For basta behandling kravs "dricks" till lakare och sjukskoterskor och ironiskt nog kommer dricksen inledningsvis fran en vasterlandsk ficka... Gratis utbildning klingar val i svenska oron men pa Kuba gar det inte att komma ifran att informationen ar vinklad. For kubaner ar Internet nastan omojligt att tillga.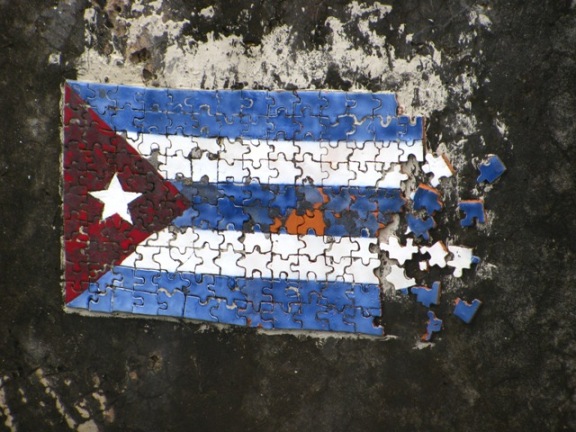 Trots min kritik ar Kuba jamstallt och tryggt i relation till lander som exempelvis Malawi, Zambia och Paraguay. I relation till Sverige och Europa ar systemet en katastrof. Som namnt tidigare upplevde jag befolkningens mattnad och jag tror pa flera satt att forandring redan ar igang. Det ar hapnadsvackande att mota manniskor som i decennier matats med propaganda men trots det ifragasatter storebror.
THE ESCAPE is for a new revolution! Cuba Libre! 
/Erik