Back in the Twins. Den 1:a oktober parkerade jag cykeln och tog en valbehovlig paus fran min "kontinent-korsning". Idag, 11 dagar senare, efter en road trip t/r Kanada och Montreal, ar jag tillbaka i delstaten Minnesota och staden Minneapolis Gardagen tillbringades bland de ENORMA skyskraporna i Chicago, storre delen pa "The Globe Pub" tillsammans med ett femtiotal Svenska och Danska "expats". Med en pilsner i handen, en lane-snus under lappen och gula trojor pa plattskarmen kandes det, for en kort stund, som att vara hemma. Trots en tung, halvt orattvis forlust, blev det en lyckad eftermiddag. Min snart 2 veckor langa paus fran cykeln har ocksa varit en paus fran solo-resan da jag haft sallskap av Nick som jag traffade pa Utila i Honduras. Vart gemensamma intresse, dykning, har varit pa tal otaliga ganger i bilen till och fran Kanada och darfor kommer har THE ESCAPE AWARDS - MARINE LIFE dar jag listat mina top 3 undervattens upplevelser.
---------------------------------------------------------------------------------------------------
THE ESCAPE AWARDS 2009 - TOP 3 - MARINE LIFE 
3. REEF DIVING on Pulau Bunaken, Sulawesi, Indonesia
Bunaken's och Sulawesi's fyrverkeri av farg och fisk belonas med en 3:e plats av THE ESCAPE. Undervattensbesoket gjordes tidigt i min dykkarriar och forst nu, med fler loggade dyk, inser jag hur magisk dykningen var. Fast i minnet sitter nattdykningen som bjod pa en hogst udda konstellation av varelser. Bilderna ovan och nedan togs av en dyk-kompanjon.
//////////////////////////////////////////
2. Diving with HAMMERHEAD SHARKS at Gordon Rocks, Galapagos, Ecuador.
To be in a wash machine with hammerheads is not for all of us. Att glida ner till 30 meter under ytan i ett kyligt hav med starka strommar ar en upplevelse, att dela den med ett femtontal hammarhajar ar en sanslos sadan. Luften som i vanliga fall disponeras ut pa 45 -55 minuter tog slut pa 30 nar de respektingivande 3 meters hajarna svepte forbi. Att vara i HELT fel element far manniskan att kanna sig liten och sarbar. Obehaglig kansla for vissa - makalos for andra.
//////////////////////////////////////////
1. Snorkeling with WHALESHARKS. Southern Leyte, Philippines and Utila, Honduras.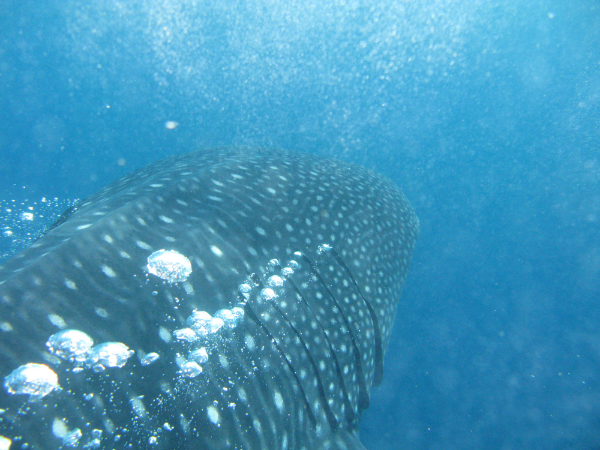 Pa odiskutabel forsta plats hamnar mina moten med varldens storsta fisk - valhajen. Vid 2 tillfallen har jag sett och snorklat med, totalt, 4 valhajar. I biblioteket sticker mitt forsta mote, utanfor lilla byn Pintuyan pa Filippinerna, ut. Klicka HAR!! Bilderna ovan och nedan ar farska pa THE ESCAPE. De ar tagna av Nick Longfellow som jag dok och snorklade med pa Utila i Honduras.
/Erik