När vi lämnade Lake Toba hade vi dykning på Pulau Weh i sikte. Den naturliga och smidiga vägen dit var via Medan och Sumatras östra kustlinje men för att göra vår förflyttning en smula mer givande valde vi istället att färdas på tidskrävande men vackra vägar genom Sumatras kuperade innanmäte. Det tog tolv timmar från Parapat vid Lake Toba till den lilla djungelbyn Ketambe. För att nå Banda Aceh (som är båtanslutande stad till Pulau Weh) från Ketambe låg fortfarande 600 kilometer och 24 timmars minibussfärd på smala och farliga skogsvägar framför oss. Vi beslutade oss för att bryta upp vår färd och ge oss ut i djup och artrik regnskog i nationalparken Gunung Leuser.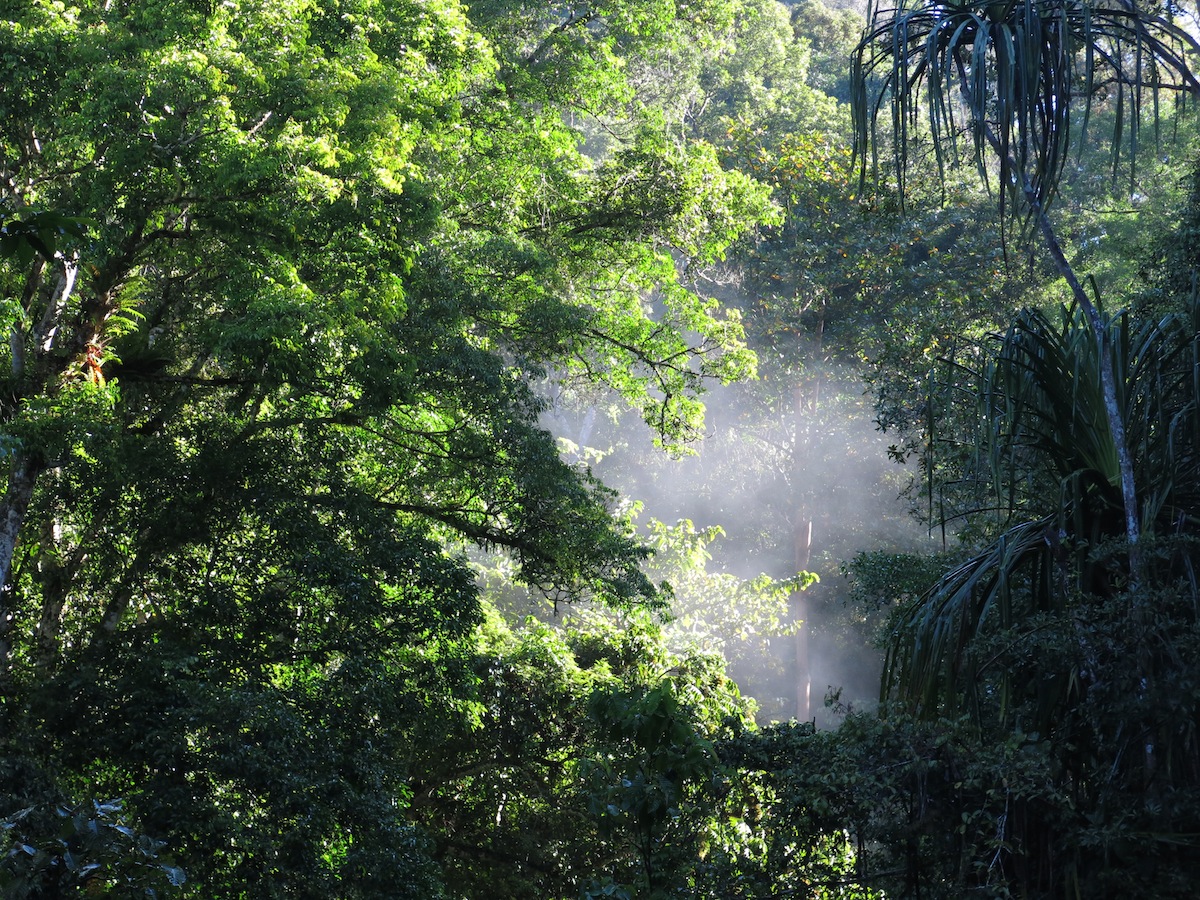 I Ketambe ordnade vi på ett par timmar både guide (Udin) och sällskap i form av Nikolas och Pauline från Frankrike. Väldigt snart hade den trånga minibussen blivit en smal lerig stig och det öronbedövande ljudet kom från djungelns varelser istället för sönderspelade högtalare. Tre dagars regnskogsäventyr väntade.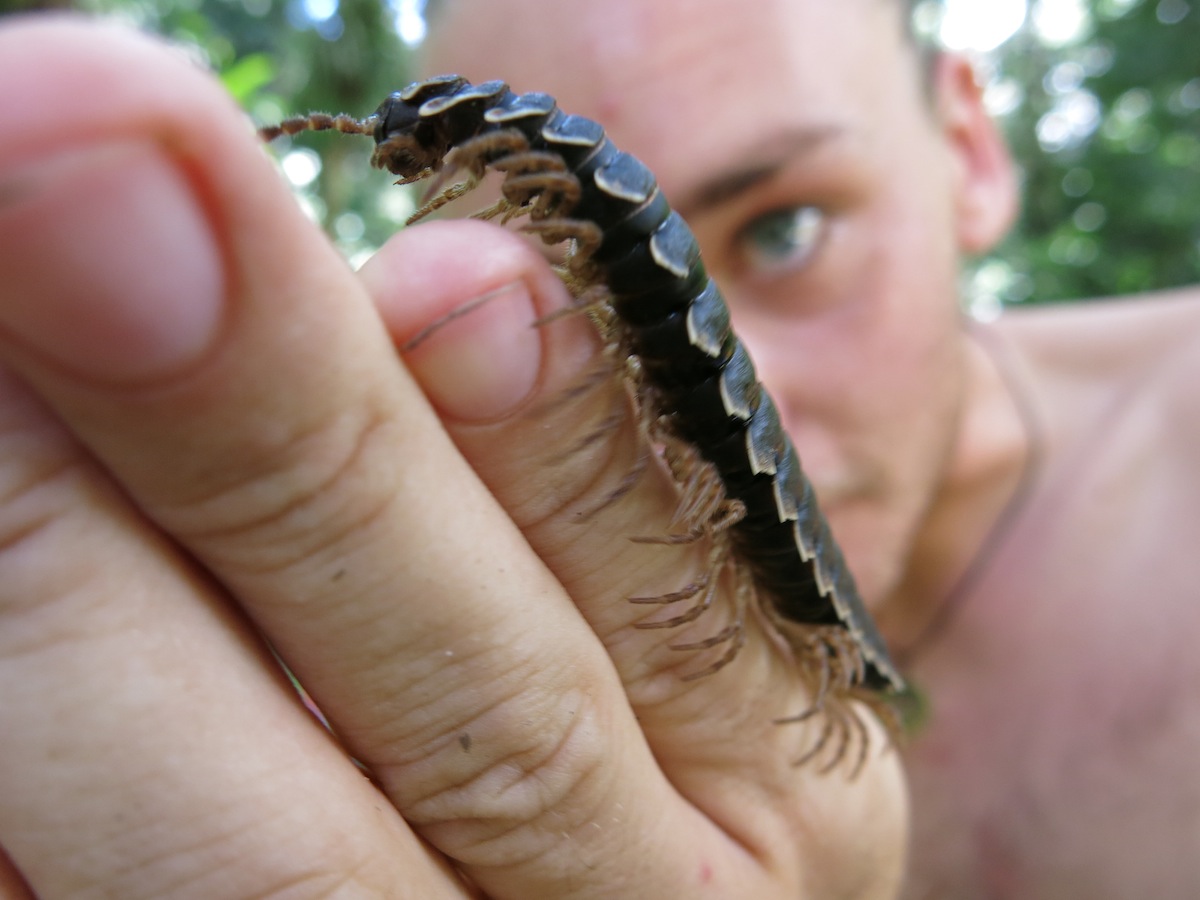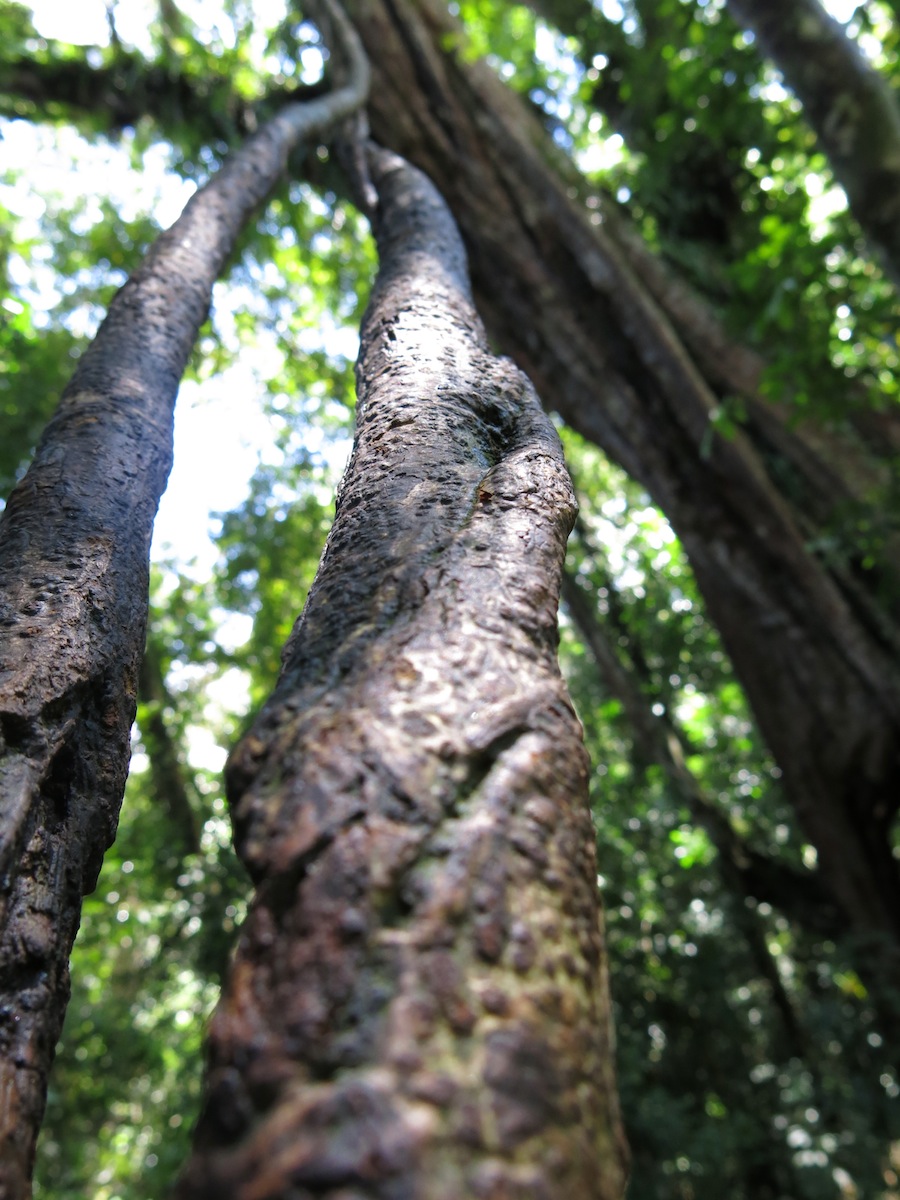 Till vår lägerplats tog det fyra timmar. Stigen slingrade sig mellan de väldiga trädens stammar, över vattendrag och genom snårig undervegetation. Med mjuka och försiktiga steg gick vårt lilla led i tysthet med blickar i jakt på rörlighet i trädkronorna ovan. Nationalparken Gunung Leuser är det sista skogsområdet på Sumatra med vilda orangutanger och givetvis ville vi alla få en glimt av den orangea skogsmänniskan. Våra förväntningar var dock inte allt för höga vilket gjorde den hårresande känslan total när vår skarpsynte guide Udin redan efter en dryg timme riktar sitt pekfinger mot en trädgren ett hundratal meter bort. Jag låter djurentusiasten Nicole ta vid för att beskriva vårt magiska möte;
ORANGUTANS (BY NICOLE)
Vi följde guidens spår och fick snart syn på en rödhårig varelse som satt lugnt och fridfullt i en av de gröna trädkronorna. Med ett tjugotal meter mellan oss och vår pälsbeklädde vän iakttog vi under tystnad och beundran när honan sträckte sina långa armar efter frukt, knäckte upp skalet med tänderna, spottade ut det mot marken för att sedan avnjuta det söta mellanmålet. Proceduren upprepades men denna gång var det en liten näve som tog emot den skalade frukten. Förnöjt knaprade orangutangbebisen i sig godbiten med den ena handen och klamrade sig fast med den andra vid sin mammas rygg. Mätt för stunden bestämde sig den lille för att ge sig ut på egna äventyr, lämnade mammas trygga rygg och dinglade svajigt och osäkert på en smal gren högt upp i trädkronan.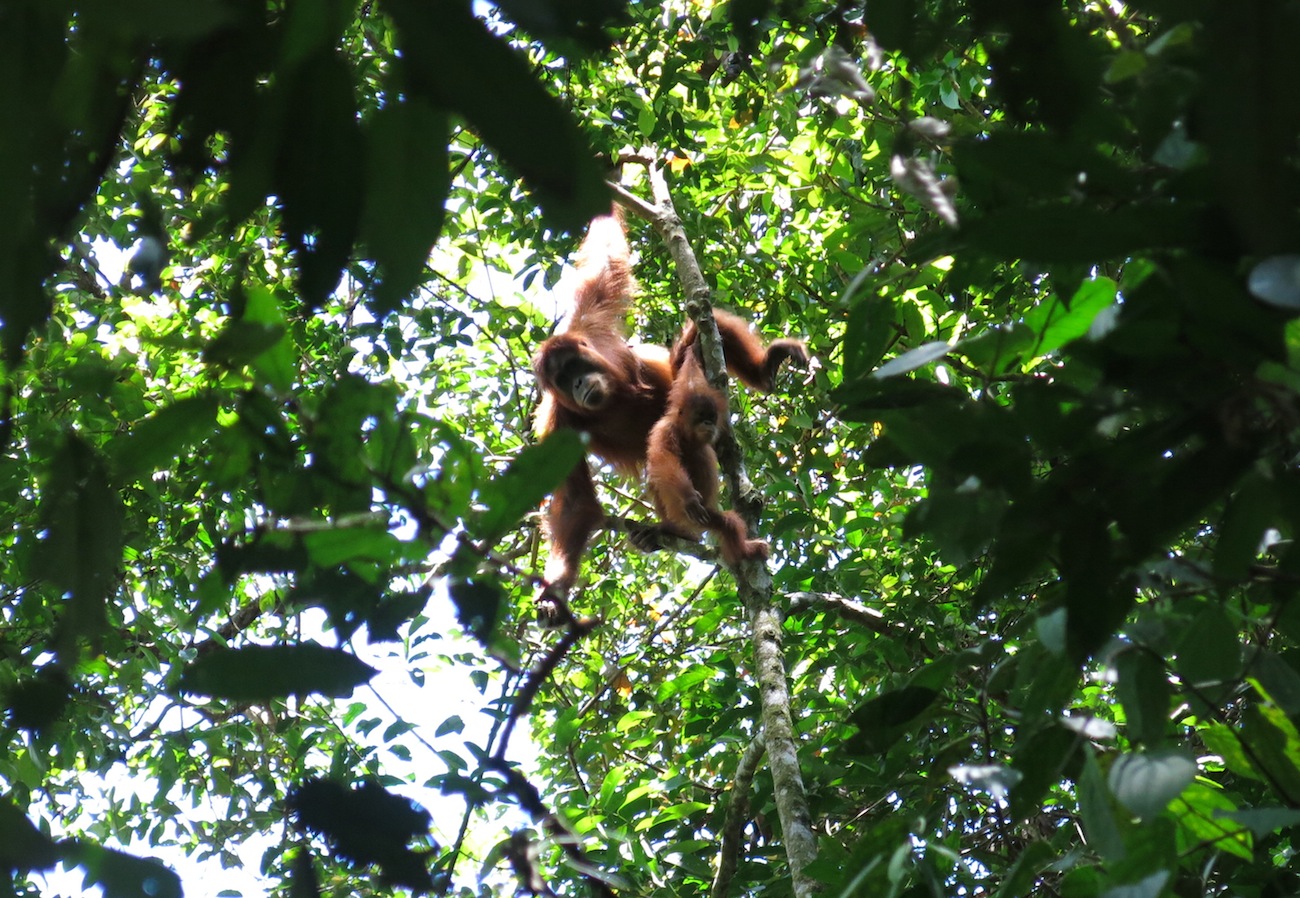 Modern, som till skillnad från mig, inte verkade särskilt bekymrad över ungens utflykt putade med läpparna, förde handflatan mot munnen och avlöste ett smackande läte som påminde om en lång och högljud puss. Jag gjorde ett försök att härma ljudet varpå honan vände blicken mot oss. Under en overklig minut fångade vi hennes uppmärksamhet och utbytte några pussfraser innan hon återgick till att rofyllt äta frukt.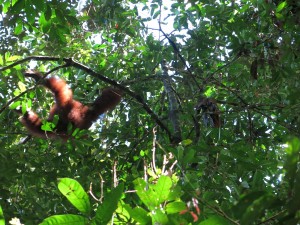 Med kännedom om att orangutanger tidigare har levt i skogarna över hela Sydostasien till att idag endast finnas kvar på två öar, var mina förväntningar att få se dem i det vilda låga. Antalet har reducerats kraftigt till följd av illegal handel men framför allt på grund av de kolossala ytor regnskog som avverkats för att ge plats åt palmoljeplantage (vegetabilisk olja). Faktumet att honan bara reproducerar en unge var 7-8 år och att populationen därmed växer långsamt bidrog till mina tvivel om att få se vår intelligenta släkting. När vi därför skymtade den ludna röda ryggtavlan som pillade med sin måltid i lugn och ro gick en varm ström av känslor genom kroppen.
Vid skymning nådde vi med upprymda känslor vårt läger och tältplats. Efter att vi rensat huden från rikligt med blodiglar slängde vi oss i den intilliggande floden och kylde ned överhettade kroppar. Ett kraftigt monsunregn svepte in och vår stearinljusupplysta nudelmiddag intogs samtidigt som regnet smattrade kraftigt mot plastskynket ovan. Vi samtalade om dagens upplevelser tills ögonlocken var tunga och i tältet vaggades vi sedan skönt till sömns av den högljudda regnskogskonserten.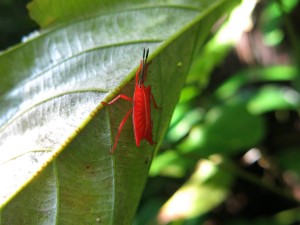 Följande två dagar utgick vi från vår lägerplats och utforskade ikringliggande områden. Den nästan 8.000 kvadratkilometer stora nationalparken är hem till en mängd olika apor, tiger, noshörning, leopard, björn och elefant. Våra sinnen var på ständig vakt och så fort det prasslade till bland löv och träd kunde man tydligt känna sina hjärtslag. Kattdjur, noshörningar och elefanter är oerhört skygga och håller till betydligt mycket djupare in i skogen än i de kantområden av nationalparken där vi höll till. För att få syn på de större ögontroféerna krävs veckolånga vandringar i minst sagt utmanande terräng. I vår utkantsexpedition fick vi förutom orangutanger se olika hornfåglar, gibbonapor, bladapor, tvättbjörn och vildsvin på väldigt nära håll. Det bjöds även på en mängd olika insekter och fjärilar. Jag fascineras särskilt av makroliv och fastnade inte sällan vid tusenfotingar, jättemyror, färggranna fjärilar och udda skalbaggar. Vår första dag träffade vi tre orangea släktingar och följande dagar fick vi till vår lycka bekanta oss med ytterligare sex av dem. Våra timmar med orangutangerna glömmer vi aldrig.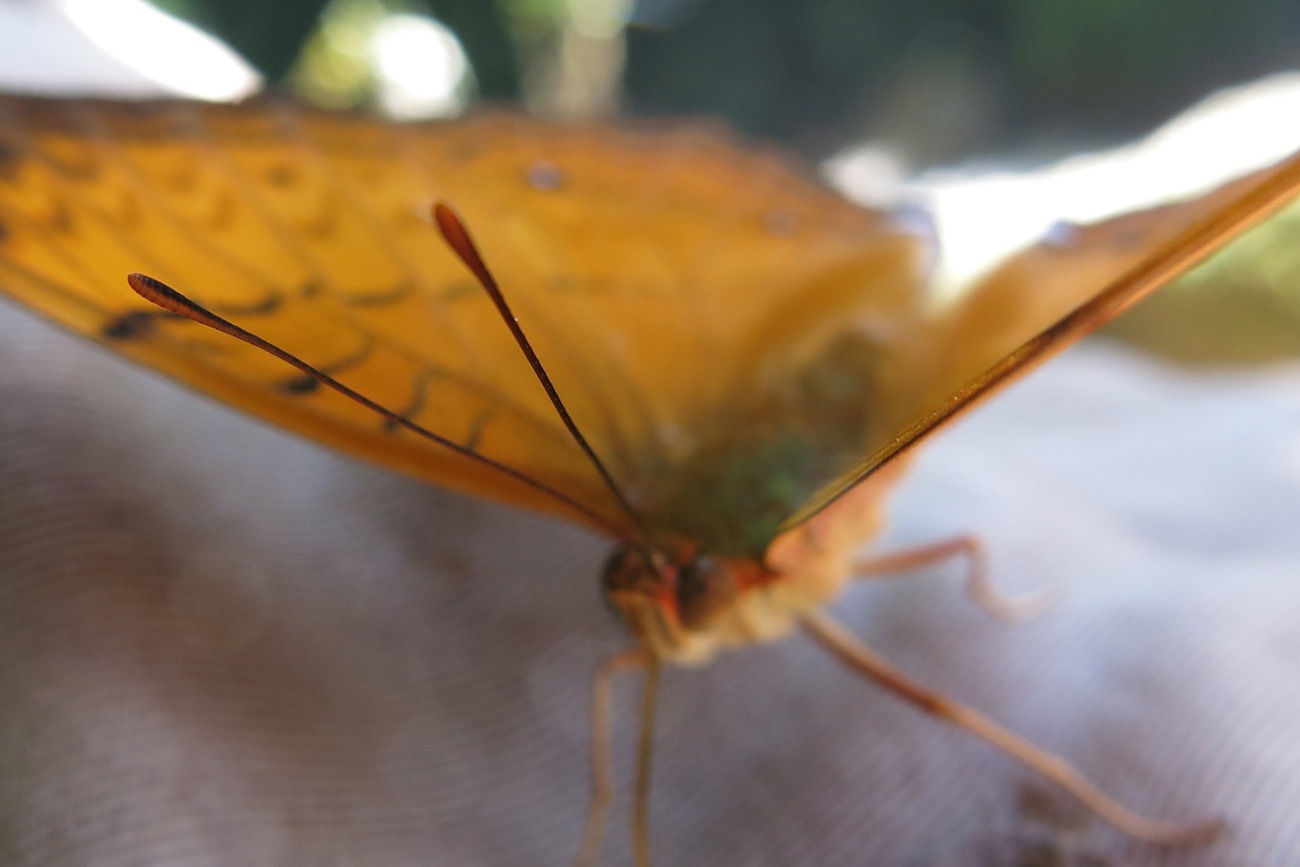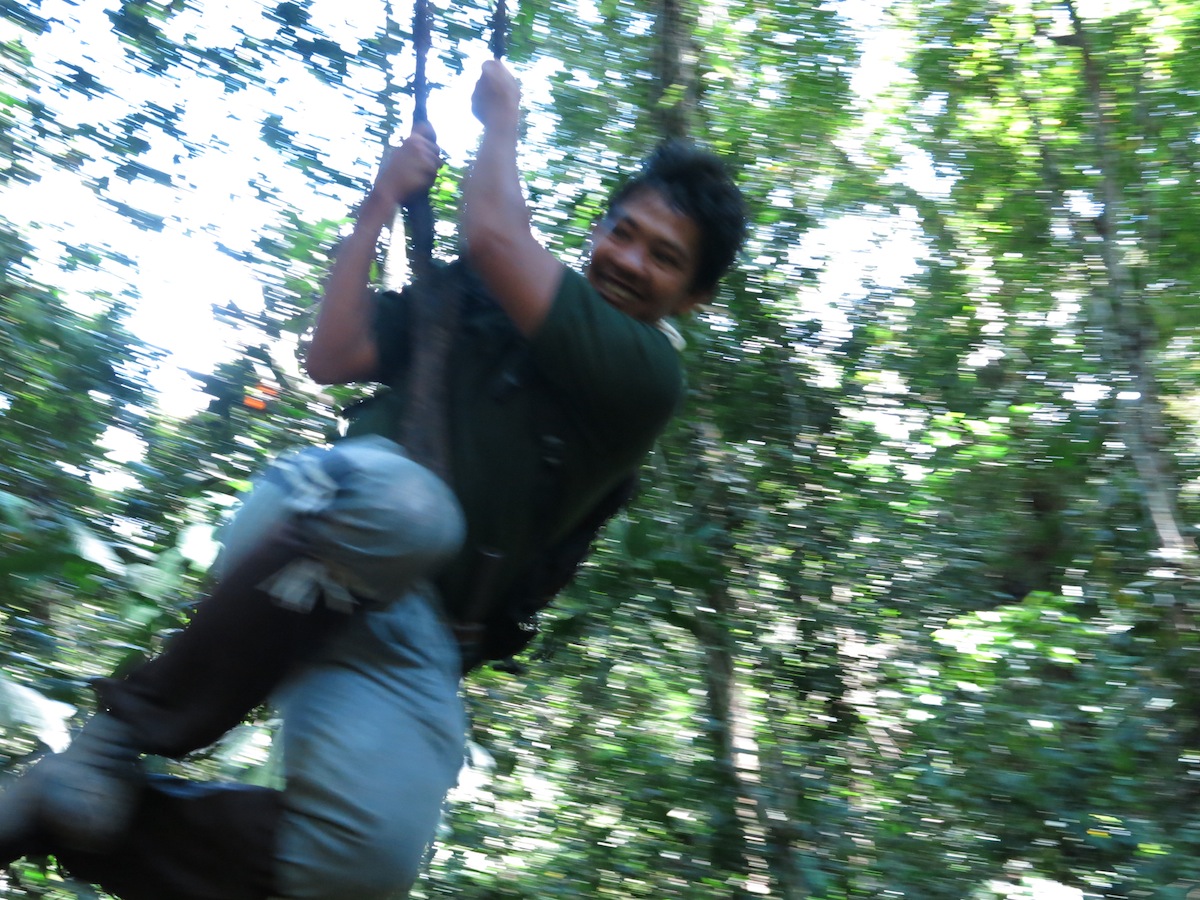 Bild ovan; Udin svingar sig i en lian.
A RIVER CROSSING CHALLENGE
Den mest äventyrliga delen av djungeldagarna var två utmanande flodkorsningar. Tunga regn gjorde det lerbruna vattnet vitt och strömmarna var kraftiga. På den senare av de två flodkorsningarna var taktiken att slänga sig ut och kråla över till säker flodkant på andra sidan. En efter en tog vi oss över och till slut stod Nicole ensam kvar med floden mellan oss. Nicole reagerade med förlamning. Med orolig blick gick hon långsamt ut i floden. När hon nådde det strömma vattnet tog hon ett par lätta simtag innan kroppen stelnade till och förvandlades till en stock. Jag och guiden Udin sveptes nästan med själva när vi fick håva in Nicole från den allra mest strömma delen mitt i floden. Kontrasterna från den bekväma kontorsstolen kan ibland var väl häftiga.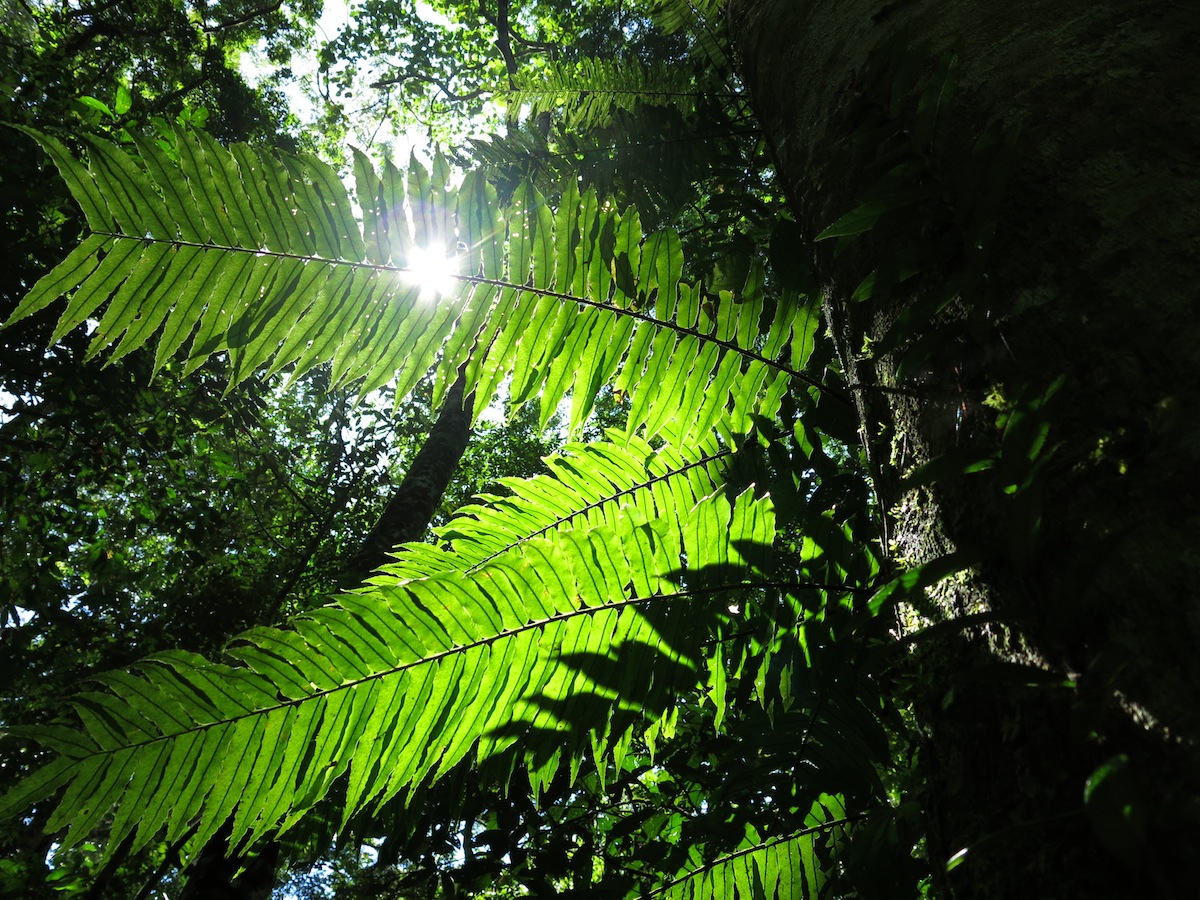 Efter nästan tre dygn i skogen satte vi våra leriga och blöta kängor på asfalt och med slutkörda ben vandrade vi den avslutande kilometern till hyddcivilisationen Ketambe. Samtidigt som skogsaporna fortsatte tugga frukt i det gröna intog turistaporna en kall lager och filosoferade över de många intrycken från den orörda och levande naturen. Vår spontanpaus i Gunung Leuser är en tveklös höjdpunkt från våra snart två månader på Sumatra.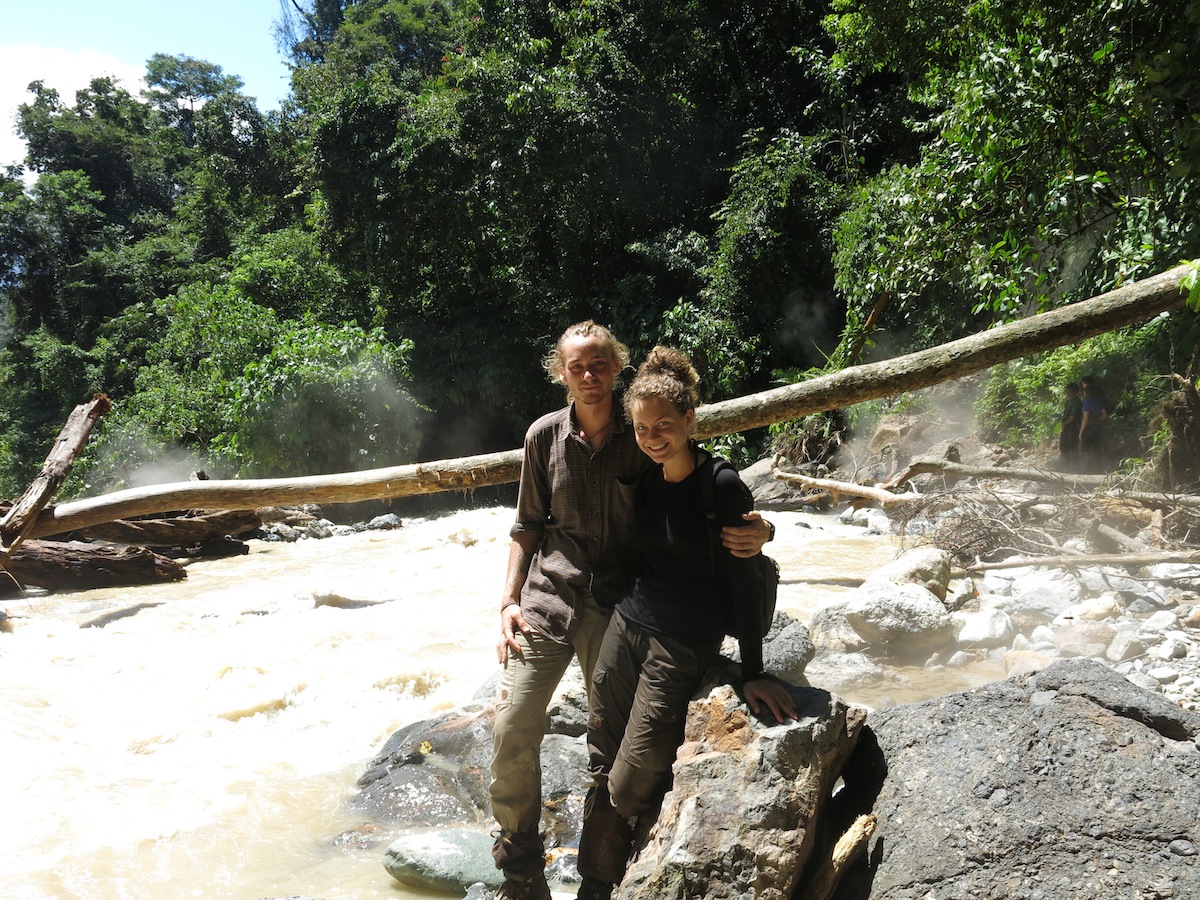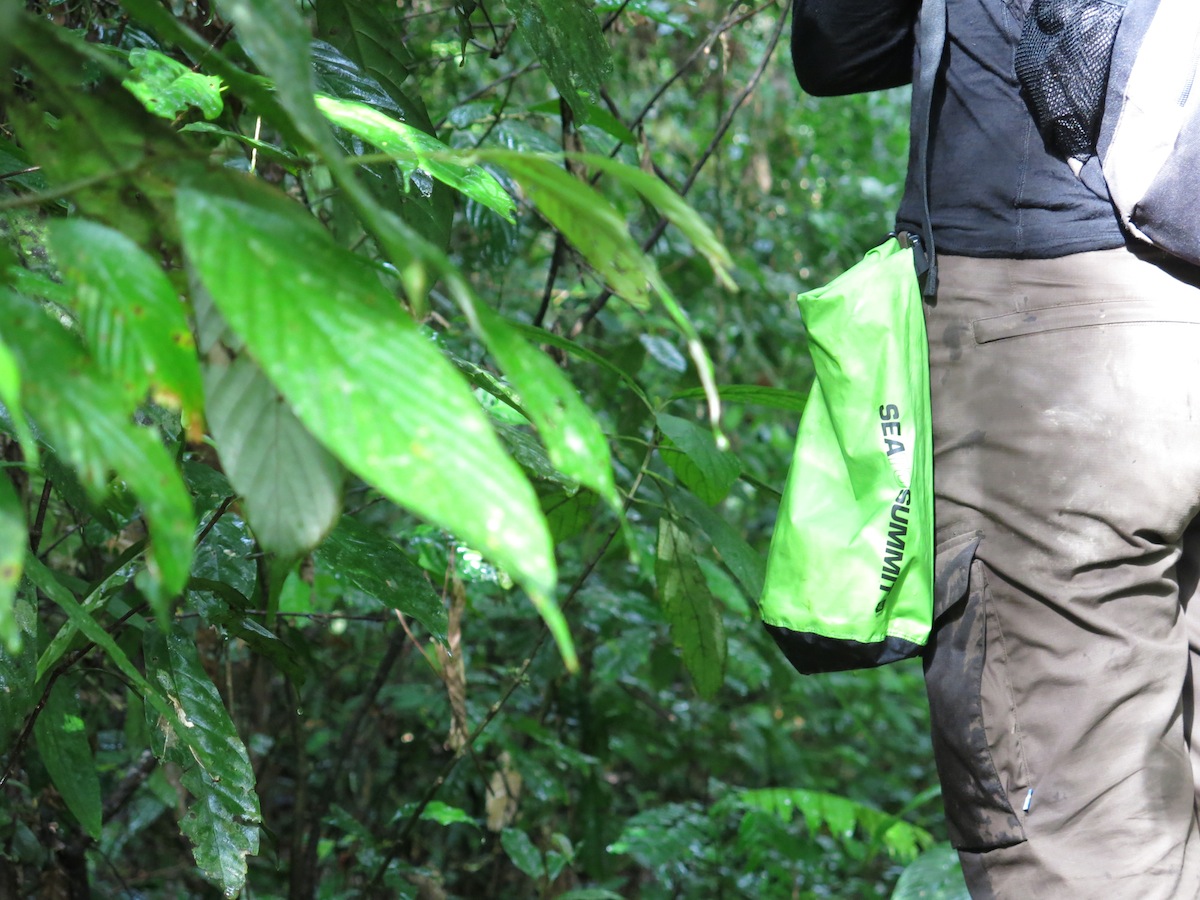 Bild ovan: Vattentäta packpåsar från Sea to Summit kommer väl till hands i fuktig och blöt omgivning.
WRONG SIDE OF THE SURFACE ON PULAU WEH
Vi har fått betala ett halvhögt pris för våra äventyr i regnskogen då vi för tillfället plågas av öppna sår från mystiska insektsbett. De otäcka såren (bild hittas här) har hängt med i snart en vecka. På fem dagar har vi bara hunnit med ett kort besök till den magiska undervattensvärlden på norra Sumatra men om kuren av antibiotika vill ge oss en extra skjuts finns vi förhoppningsvis åter under ytan om en dag eller två. Anslutningen från Pagang på Pulau Weh skapar problem vid bilduppladdning och bilderna kan inte placeras i inläggen på önskvärt vis. För att se fler bilder från vandringen i Gunung Leuser hänvisas det till galleriet. Det är alltid kul med en tumme på Facebook eller en hälsning genom kommentarsfältet nedan.
/ESCAPE