Efter våra fyra familjedagar på Pulau Pagang gav vi oss iväg för aktiva dagar i området kring Bukittinggi som ligger nordost om Padang. Både packning och kroppar klämdes in i en sjusitsig hyrbil utan nämnvärt baggageutrymme. Den högerplacerade förarplatsen gjorde inledande kilometer i den intensiva vänstertrafiken lätt kaotiska men vi vande oss kvickt. Jag och Axel, som sedan motorcykelsommaren i Ladakh och Kashmir 2010 har rutin från både stökig trafik och omvända körfält, fick ansvara för ratten. Efter fem timmar på slingriga bergsvägar med jultrafik nådde vi Bukittinggi och fann boende i rum anslutna till fin takterass med utsikt över staden och kringliggande vulkanmassiv.
Bild ovan; Utsikt över vulkanen Merapi från toalettfönstret på vårt hotell i Bukittinggi.
Följande dag – julafton – besökte vi stadens myllrande och livliga marknad. Julstämningen var avlägsen trots våra försök med snapsvisor till nudlar, ris och bordsvatten på julmiddagen. På juldagen delade vi upp sällskapet. Björn och Stina snörade på sig vandringskängor och utforskade byar, risfält och regnskog strax utanför Bukittinggi samtidigt som de något yngre i gruppen gjorde en dagstur till toppen av 2 900 meter höga vulkanen Merapi.
Ovan till vänster; Axel med förarhatt.
A BEAUTIFUL AND INTENSE DAY
Samtidigt som de första böneutropen ekade över ett Bukittinggi i gryning började jag, Nicole, Axel och Hannah mosa vandringslår på 1 600 meters höjd vid foten av Merapi. Efter en inledande kilometer i öppet odlat landskap fortsatte vår väg mot toppen genom tät regnskog, på smala stigar och över vingliga bambubroar. Lutningen blev allt skarpare, underlaget var halt och vi var kvickt genomblöta av svett. På flera ställen tvingades vi till djupa knäböj för att komma igenom den snåriga växtligheten. Vi såg både apor och blodiglar. Efter ett par timmar byttes leriga stigar ut mot lösa vulkanstenar och de ståtliga träden blev mindre buskage. Molntäcket tog slut samtidigt som trädgränsen och det avslutande rycket mot vulkanens topp blev i solsken. Med ångande utsikt över kratern förtärdes snabbnudlar och efter någon timmes återhämtning satte vi med stadig bakåtlutning fart nedför. Åter vid trädgränsen började regnet ösa ner vilket gjorde vår framfart på de redan hala stigarna än mer komplicerad. Efter sammanlagt sju timmar i spåren tog vi oss med vår hyrbil tillbaka till Bukittinggi. Efter eftermiddagslunch och en stunds matkoma anslöt Stina och Björn – som även de hade haft en utmanande dag till fots - för vidare färd mot vulkansjön Maninjao.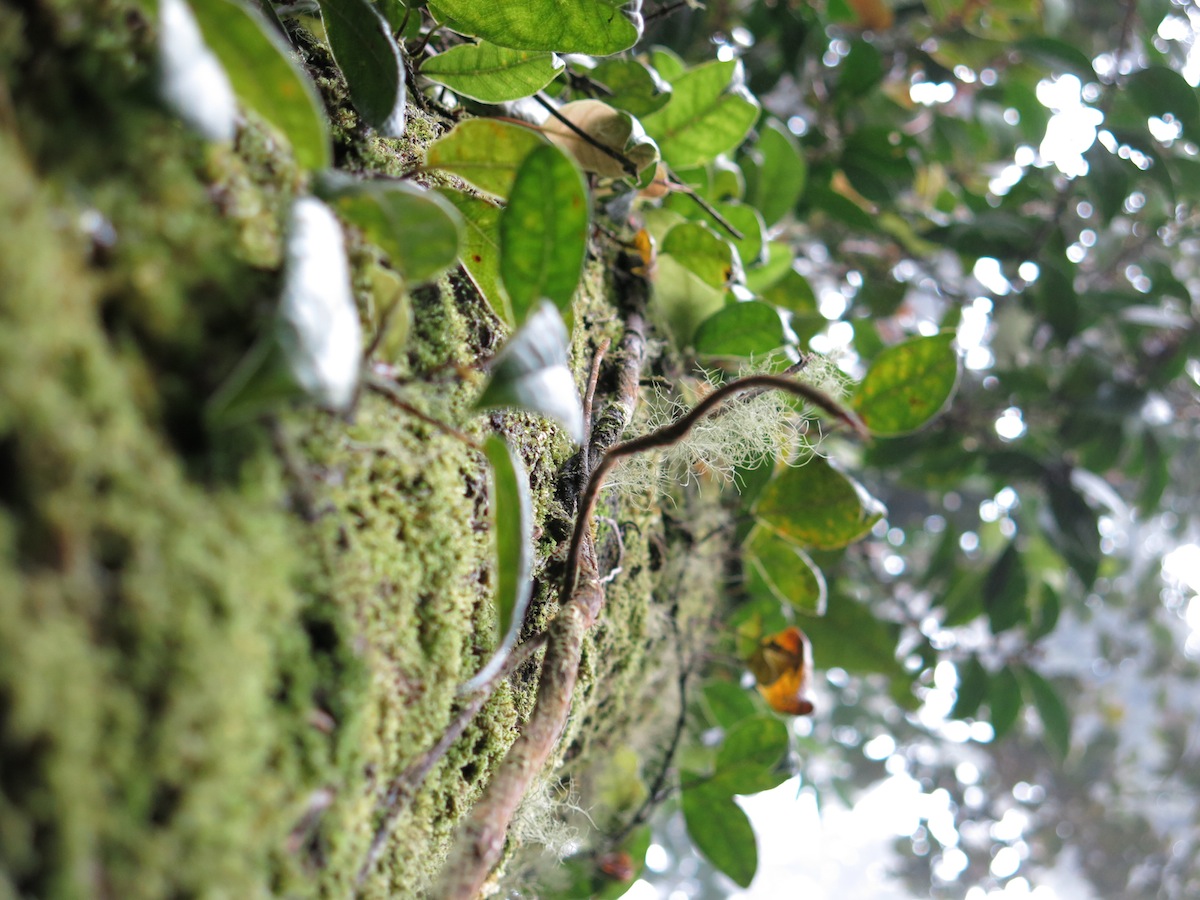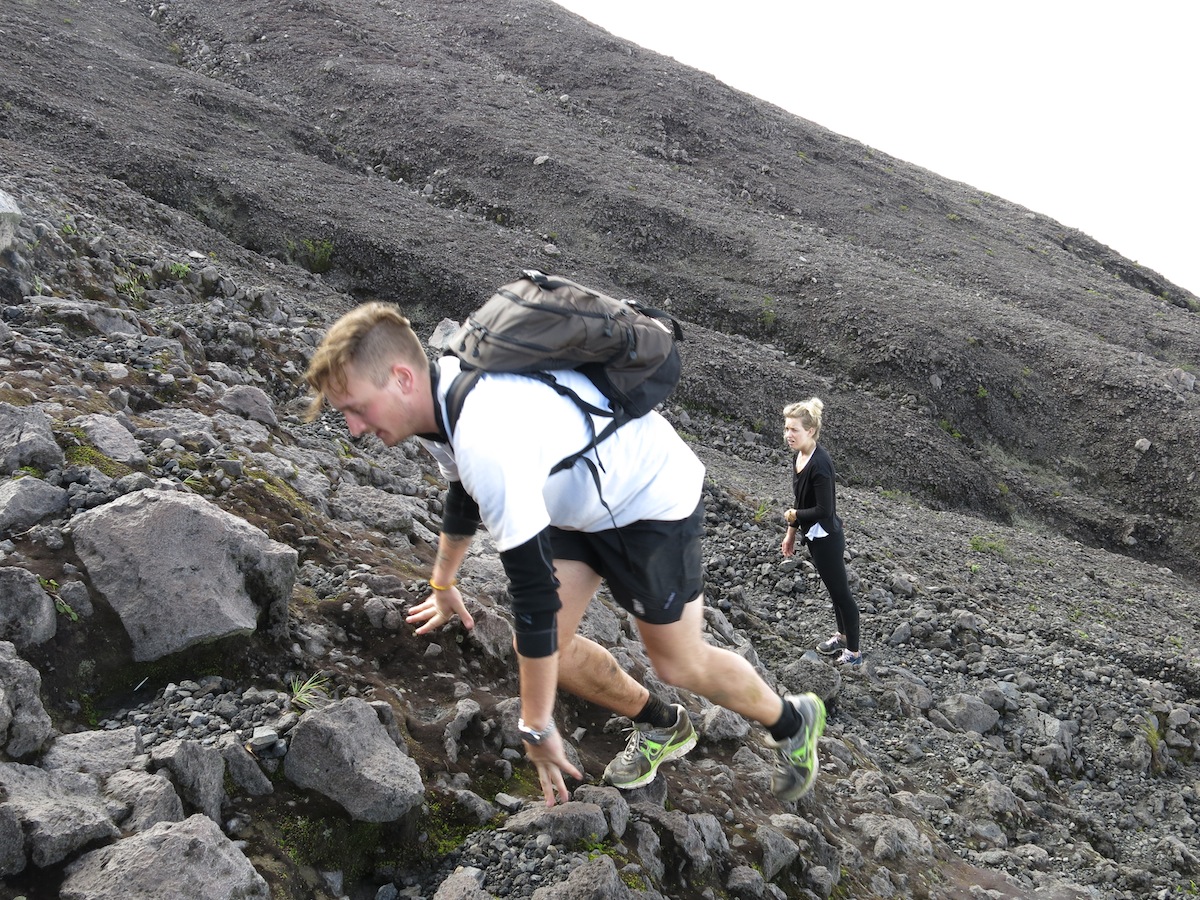 I skymning trängdes vi i tät trafik för att komma ut från Bukittinggi. Det blev mörkt och körningen på den oerhört smala vägen med mötande buss och lastbilstrafik krävde seriös koncentration. Det gick långsamt och samtliga i bilen var på helspänn. Då bilens vindrutor var mörkt tonade var varken sidospeglar eller backspegel till någon hjälp. Vägen var slingrig och gick genom kuperat landskap vilket gjorde kurvorna skarpa. Lake Maninjao är en sjö som bildats i en vulkankrater och för att nå vårt bokade härbärge på Arlens's Beach Paradise återstod en nöjesfältsfärd nedför 44 hårnålskurvor längs den branta kratersluttningen. Det tog oss en dryg halvtimme att krypköra de numrerade kurvorna men till slut nådde vi platt mark intill sjön. Innan strandhydda och nattvila skulle det skulle dock visa sig att ytterligare ett hinder återstod då det inte fanns någon bilväg till vårt boende. På leriga stigar genom risfält och fiskodlingar fick vi i mörkret stappla fram med redan slutkörda vandringsben innan den lilla strandoasen uppenbarade sig. Samtliga semesterfirare stupade till sängs.
WORTHY OF THE NAME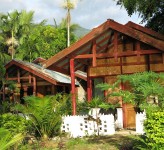 Följande morgon vaknar vi till ett idylliskt strandparadis och inser snabbt att vår färd från Bukittinggi gett resultat. Det charmiga Arlen's Beach Paradise har sex strandhyddor och flyktfamiljen fick husera i de tre närmast sjön och stranden. Axel och Hannah hade inte många dagar innan returresa till Sverige och strandhyddorna intill Maninjao skulle bli en utmärkt plats att tillbringa avslutande dagar. Det familjedrivna gästhuset var beläget några kilometer utanför det huvudsakliga samhället. Den vänliga familjen drev även restaurang där de från morgon till kväll serverade otrolig mat med kryddor, grönsaker och frukt som till stor del kom från från trädgården. Deras färskpressade graviolajuice som kom från trädet intill köket blev en favorit.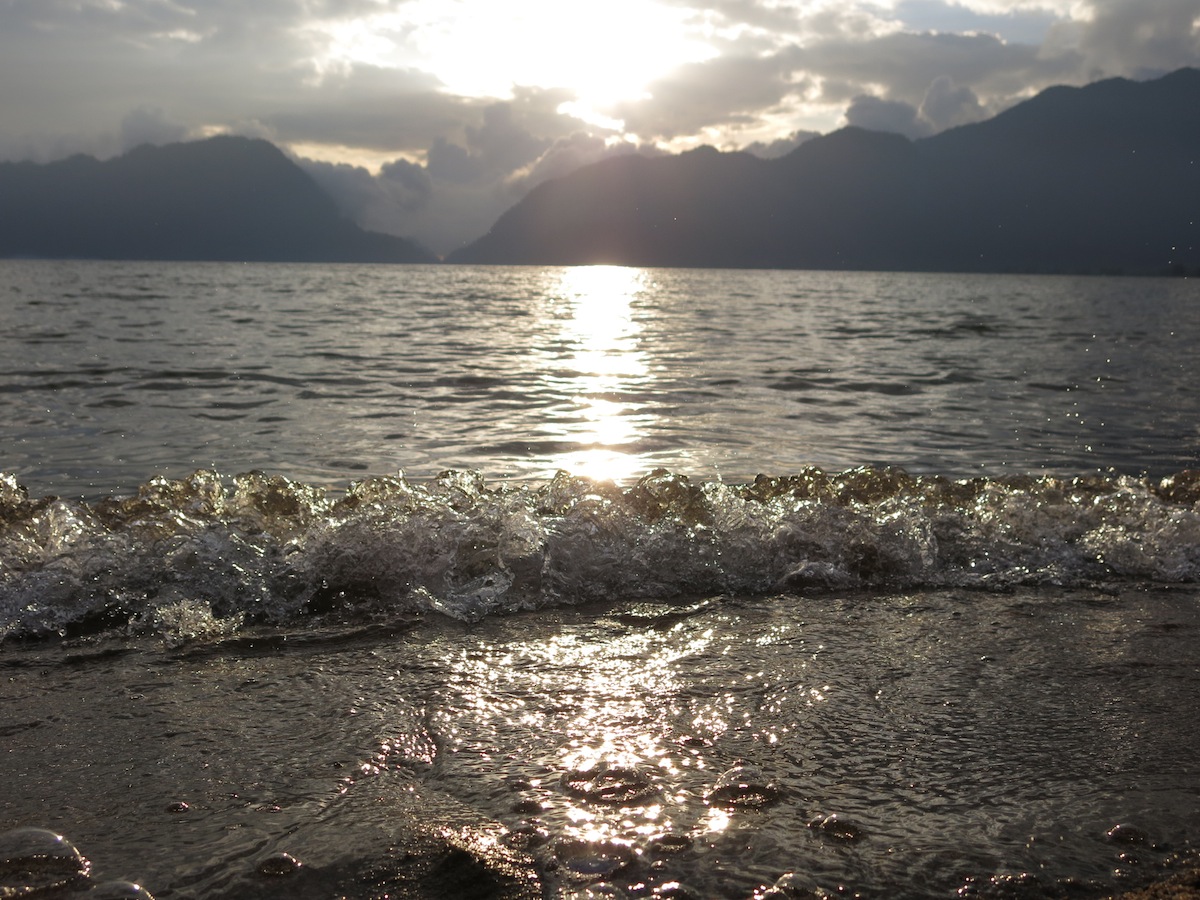 Våra tre dagar tillbringades till stor del vid strandkanten intill sjön med sällskap av fyra huskatter och en handfull fiskare. Katterna trivdes i korgarna med fiskenät där de låg ihoprullade under dagarna. Vi gjorde ett par turer till samhället men fann egentligen få anledningar till rörelse. Efter en avslutande kväll med brasa, kall öl och levande musik från familjebandet på plastlådstrummor, flöjt och gitarr gav vi oss följande dag tillbaka till Padang. Vi intog fint hotell och firade två härliga veckor med matfest på kinesisk restaurang. Den 29/12 tappade vi två resenärer när Axel och Hannah flög tillbaka till vintern. När de vinkats av i hotellentrén packades åter hyrbilen och jag, flickvän och föräldrar satte fart mot nationalparken Kerinci, där avslutande dagar skulle tillbringas på vandringsleder. Mer om detta i INDO UPDATES PART THREE inom kort.
Fler bilder från Bukittinggi och Lake Maninjao på sidan GALLERY.
THREE IN KUALA LUMPUR
Sedan igår finns jag och Nicole i Malaysia och Kuala Lumpur. Då vi har siktet inställt på norra Sumatra och dykning på Pulau Weh, passade vi på att göra ett visumsprång för att slippa immigrationskrångel i Indonesien. Idag har dagen bjudit på sjukhusbesök och läkarärenden för oss båda. Nicole har fått ordentlig läkarvård efter motorcykelolyckan för snart två veckor sedan och jag har kollat upp en svängig feber som besvärat mig den senaste veckan. Förhoppningsvis ska det inte ställa till problem inför vår returresa till Sumatra i början på nästa vecka. För att pigga upp oss båda anländer ikväll Nicole's närmsta vän Katarina till KL från Singapore på ett oplanerat men välkommet besök. Mer om vår gemensamma helg i nästa vecka! Som vanligt håller du dig uppdaterad genom att gilla THE ESCAPE på Facebook. Missa inte heller att vi nu även finns på Instagram (@theescape).
/Erik