I snart en vecka har bikers, campers och lokalare talat om Beartooth Pass pa Highway 212 mellan Yellowstone NP och Billings. Jag har berattat min fardvag och svaret har varit forvaning, huvudskakningar och asgarv. Det 3.340 meter hoga passet ar stangt 8 manader om aret, bjuder pa 40 kilometer konstant uppfor och ar enligt manga ett vagval vart att undvika pa cykel. I flera dagar var det lodrata hindret ett psykologiskt hinder. Lat mig ta er igenom den absolut varsta och basta dagen under mitt 20 dagar langa USA-aventyr. This is THE ESCAPE climbing ROCKY MOUNTAINS!!!!
06.45: Vackarklockan solen sliter upp mig ur sovsack och ut ur talt. Det ligger frost pa marken och vantar och dunvast aker pa. Min taltplats for natten ar utanfor parken precis innan stigningen borjar. Taltnedtagning och ihopplockning.
07.00: Stadig frukost. Primus bjuder pa en monsteruos portion havregrynsgrot med kanel, apple och mjolchocklad.
07.45: Jag och fullpackad cykel inleder med tunga ben stigningen pa Beartooth Highway mot det drygt 3000 meter hoga passet. Snittfart: 7km/h.
07.55: PPPPPPPPPPSSSSYCCCCHHHHHHHHH..... FAAAAAAAAAAAAAAAAAAN!!!! Jag orkar inte. Sedan ett par dagar tillbaka har bakdacket skott sig men olyckligt nog har punka problemen forflyttat sig en halvmeter framat. Punka #3 pa framdacket ar ett slag under baltet fran innertubs-gudarna.
08.15: Efter meningslos svordomsfrustration mitt i vildmarken samlar jag ihop nerver och lagar punkteringen. Uppforsbacken fortsatter.
09.15: Solen gassar och svettparlorna blir till sma floder som svider till i ogonen. Staendes tuggar jag vidare.
09.45: Paus # 1. Oklart hur stor del som ar avklarad. Jag trycker i mig en Snickers och slacker torsten med vatten fran kristallklara Beartooth Lake.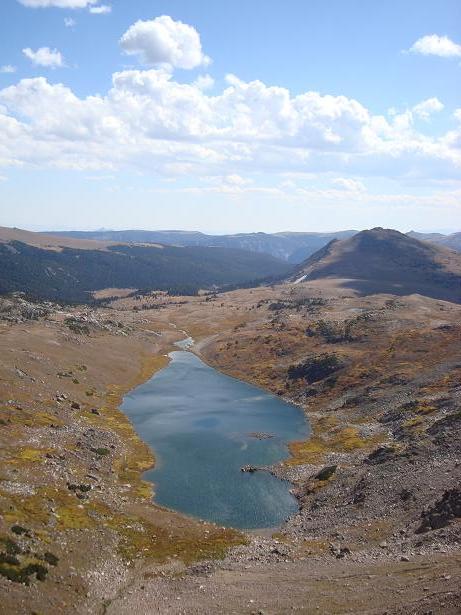 10.15: Uppforsbacken planar ut och jag ser en skylt for "Top of The World Restaurant". Jag ar UPPE! Jag klarade det! Jag stormar in i den lilla affaren och inhandlar en coca-cola och muffin. I kassan forklarar jag for expediten att uppforsbacken var upphausad och inte alls lika jobbig som folk beskrivit den pa forhand. "Which way are you going?", fragar expediten. "East", svarar jag. "Haha! You have a LOOOOONG way to go, son!" Alla kunder i butiken skrattar samtidigt som han forklarar att jag har cyklat 5 av 20 miles.
10.25: Kraftig missbedomning men med en "muffin-sugar-high" tuffar jag vidare. Snittfart: 11 km/h.
10:45: Traden blir farre, mindre och glesare. Efter en liten kurva far jag fri sikt mot toppen och inser for forsta gangen omfattningen av dagens uppdrag. Som en orm slingrar sig den smala vagen langt ovan tradlinjen till en delvis snotackt topp. Huvudet sanks och blicken fastnar aterigen pa den vita linjen och den ojamna asfalten.
11.45: En berg-och-dalbana av trotthet och energi. Jag kastas mellan hopp och fortvivlan. Langsamt fortsatter den lodrata klattringen. Mjolksyran svider i lar och vader.
12.10: Vagarbete. Bilar och motorcyklar star still men jag far tillatelse att gnugga vidare pa den enfiliga vagen. Nar jag passerar alla motorfordon vinkar, tutar och hejar alla pa. Slutspurtskanslan ger mig nya krafter och jag trotsar mjolksyra och utmattning och hojer farten till otroliga 12 km/h.
12.40: Nu ar det nara. Luften ar tunn.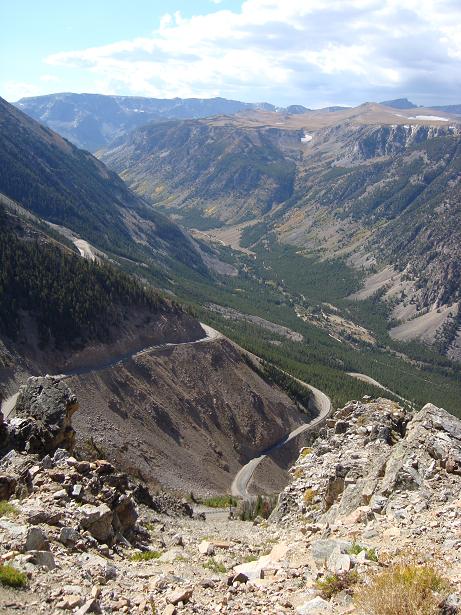 Ovan: Notera vagen.
12.50: AAAAAHHHHHHHHHH!!! COME ON!!! NU KOOOOOOOOOOOOOOOOR VI!!!!, skriker jag hogt. Efter drygt 5 timmar lutning planar asfalten sakta ut pa den vindpiskade toppen och vid utsiktsplatsen sackar jag ihop intill latmask-turisterna. Ni som sett langdskidstavlingar vet hur ackligt det ar nar de gar i mal och dreglar och snorar som bebisar. "Torka bort dreglet, idiot. Du ar pa TV", har jag alltid tankt. Efter Beartooth Pass har jag fatt en helt ny forstaelse for langdskidister - man orkar helt enkelt inte lyfta armen for att torka bort dreglet i mungipan.
12.55: Pa halvskakiga ben hankar jag mig upp pa en sten och lyfter blicken. Beloningen ar ett sanslost rus av gladje. Sann livsgladje.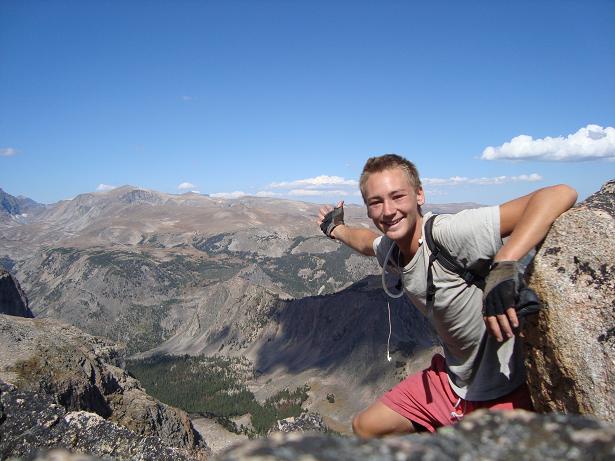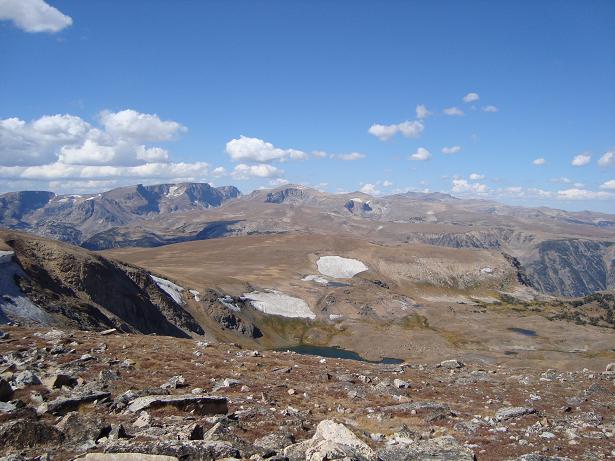 13.10: Hjalmen aker pa och en skylt informerar om 37 kilometer nerfor. I eufori, till Rolling Stone's djuva toner, rullar jag hela vagen till 300 gram saftig hamburgare, pommes med majonas och ketchup, sallad med bluecheese dressing, blabarspaj med glass, 3 stora Pepsi och kaffe. Sann matgladje.
/Erik