Det har gatt 3 dagar och 400 kilometer sedan min vilodag i Toronto. Here's a recap; Efter skyskrapsslalom lyckades jag till slut trockla mig ut fran storstadshetsen. De "Starbucks"-smyckade gatorna blev lyxiga plast-slotts fororter med mexikanska tradgardsarbetare och tunnades sedan ut till en trygg och sansad ko-skits luktande landsbygd. Natten spenderades i St: Catherins i narheten av Niagara Falls med mina "couchsurfing"-vardar Wayland och Amika. Morgonen darpa var det dags att lamna Kanada. Welcome to New York State - U.S.A. Att se skylten gav mig rysningar fran hjalm till joggingskor. Med ett brett leende rullade jag fram till granspolisen som med ett par spydiga och otrevliga kommentarer forsokte fa ner mig pa jorden. Han lyckades inte.
Val tillbaka i USA slapade jag mig sjalv och cykel till universitetsstaden Geneseo dar ytterligare en C.S-soffa vantade, denna gang hos Maggie och Jenny. Efter en sen start har jag idag kampat mig soderut, i kraftig motvind, till staden Horseheads. Kall bira, en enorm portion mat och tak over huvudet levererades ikvall utav Evan och Sara. Strommen utav hjalpsamma manniskor fortsatter.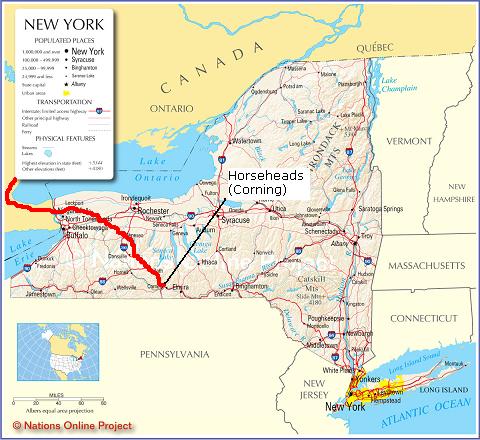 Det ar 500 kilometer kvar till NYC. THE ESCAPE kokar, kittlar och hoppar av forvantan.
/E