När jag vek upp mot bergen från öknen hade jag cyklat 12 dagar i sträck utan vila. Jag var nervös att jag redan då gick på reservtank och att den fysiskt mer utmanande höghöjdscyklingen skulle tära på krafterna. Efter fyra dagar i bergskedjan Qilian Shan och två dagar från Jingtienshan, där jag senast flyktrapporterade, kan jag konstatera att effekten varit motsatt. Jag har fått en ordentlig dos av enastående natur och är full av kraft, energi och glädje. Jag vill exalterat berätta för er om de två senaste dygnens äventyr och 250 kilometers magisk cykling i provinserna Gansu och Qinghai.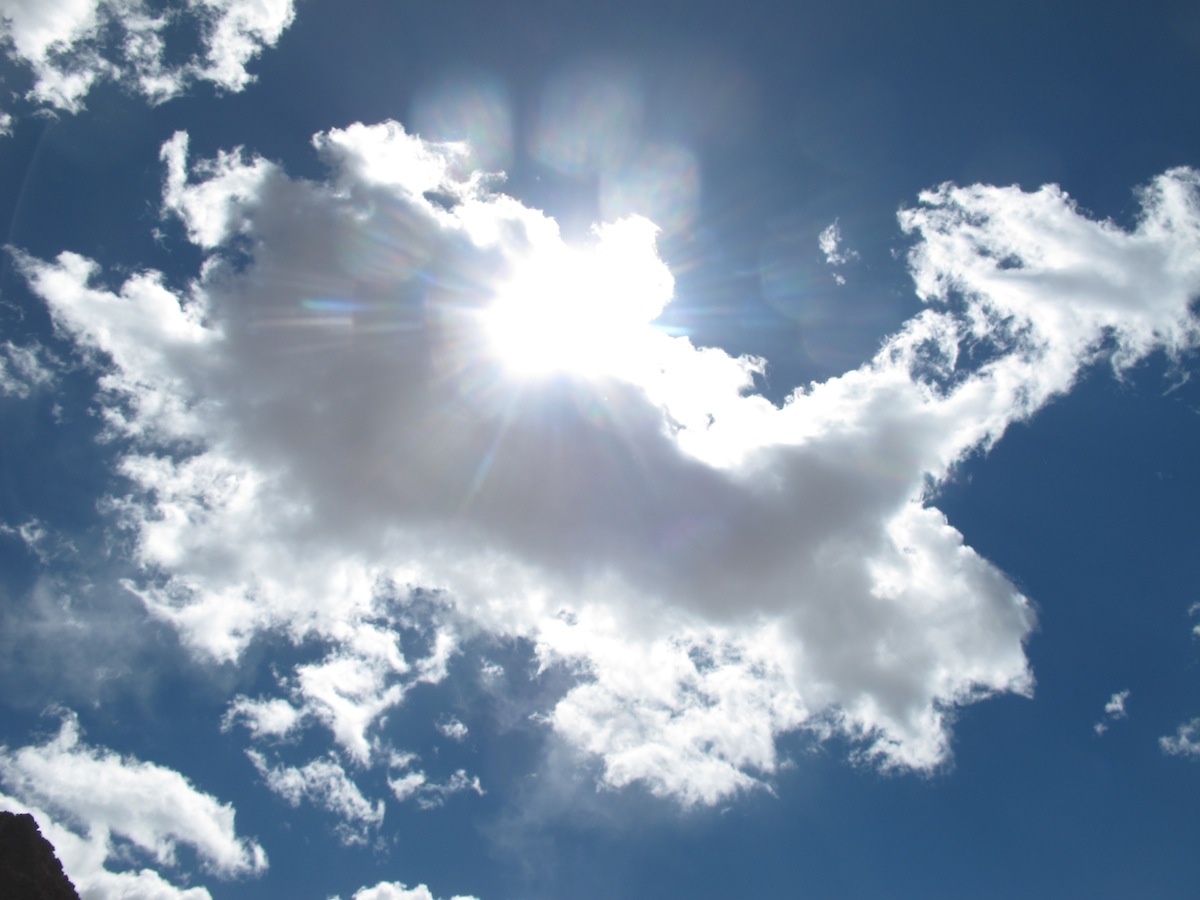 JINGTIENSHAN - QILIAN
När jag lämnade Jingtienshan igår förmiddag hade det gråmulna och blöta vädret från dagen innan svept förbi och det hade delvis spruckit upp. Temperaturen var behaglig och luften krispig. Stigningen från 2.500 meter inleddes direkt och vägen följde en flod uppströms. Asfalt övergick efter ett par mil till en grusväg med två spår. Det var folkfattigt och oerhört fordonsglest. Jag slet på men tvingades göra frekventa stopp för att föreviga den vackra miljön i pixelform. Då jag hade en frisk vind i ryggen höll jag god hastighet trots lutning. Vid 16 tiden nådde jag ett vägskäl utan skyltning. En klassisk situation; en väg till höger, en väg till vänster och en fundersam figur som i sin ensamhet kliar sig i hårbotten. Det fanns inte en själ att fråga och efter en stunds velande väljer jag vägen till vänster då de flesta hjulspåren verkade gå åt det hållet. Uppförsbacken fortsätter i 25 kilometer och lutningen blir kraftigare kring 3.300 meter. Inte en bil passerar mig och jag får inte möjlighet att fråga någon om mitt vägval. Jag slår bort tanken på att jag möjligtvis cyklat fel och njuter istället av en mäktig panoramavy över dalgången dekorerad med snötäckta toppar på vardera sida. Uppförsbacken kändes evig men vid 19 tiden nådde jag 3.700 meter och grusvägen vände nedåt. En upprymd cyklist dokumenterar ögonblicket med video.
I drygt tio kilometer rullade jag längs den slingriga grusvägen ner i nästa dalgång. Jag behövde hitta tältplats innan mörkret men ville komma ner på lägre höjd för lite varmare temperatur. Vid 19:30 möter jag en liten lastbil som jag vinkar in. Jag frågar efter staden Qilian, som är nästa civilisation, drygt 200 kilometer från positionen jag befann mig på. Mannen som körde gör ett kryss med fingrarna, pekar sedan åt hållet jag kom ifrån och gestikulerar ett vägskäl. Jag svär och svär och svär samtidigt som lastbilen slirar iväg. Jag börjar cykla tillbaka upp mot passet men ger kvickt upp och slår läger intill ett litet stenhus utan tak på 3.500 meters höjd. När solen gått ner kröp temperaturen ner mot nollan och huttrandes slängde jag i mig ett paket nudlar. Iklädd underställ, yllestrumpor, balklava och fingervantar kröp jag ner i både sovsäckslakan och dunsovsäck. För en stund längtade jag tillbaka till nätterna i öknen när jag svettades till sömns.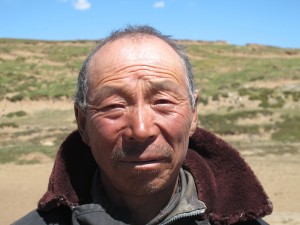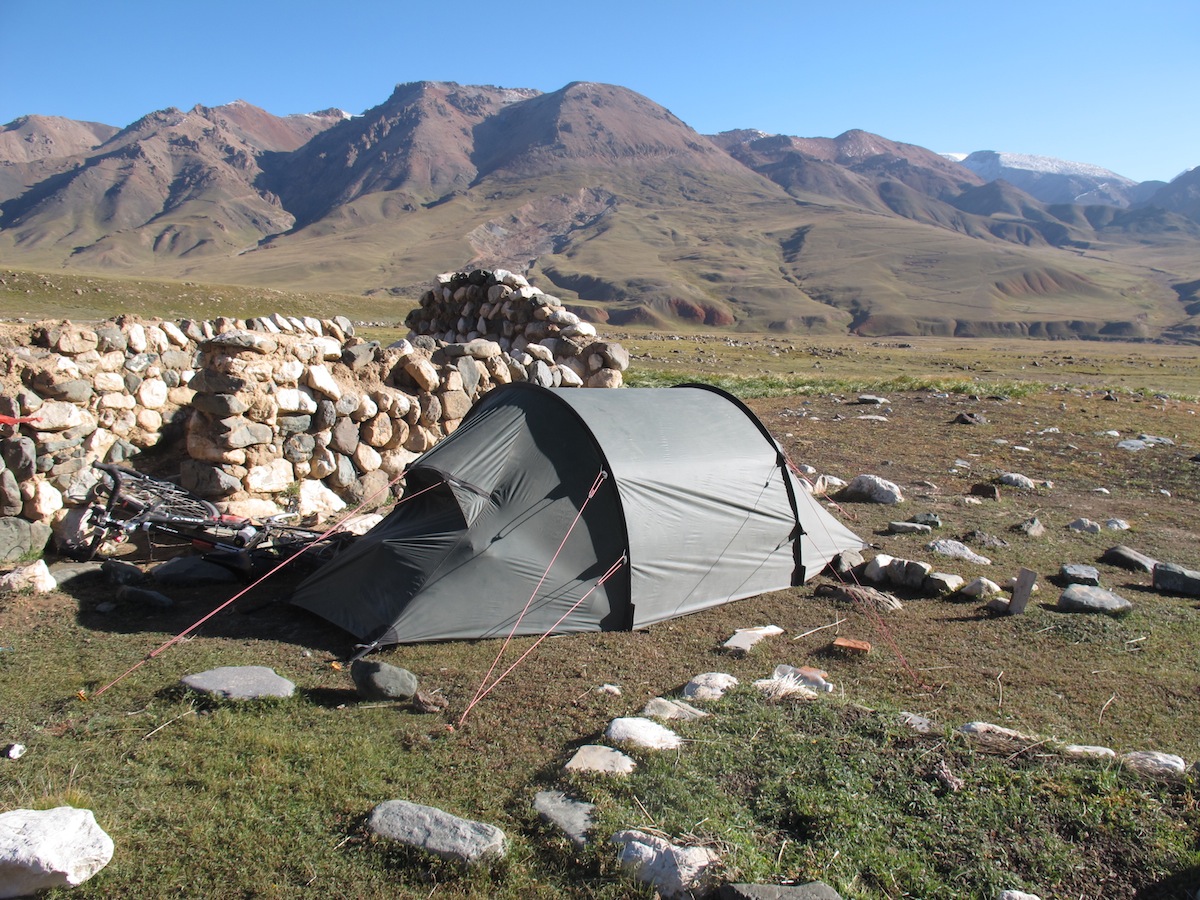 Morgonen efter vaknade jag först vid 8 tiden. Motvilligt tvingade jag mig själv ur min varma puppa och kroppen reagerade med ett heltäckande utslag av gåshud. Jag öppnade dragkedjan till förtältet och möttes av en sky i den blåaste av färger i kontrast till en isigt grå femkilometers spets. Efter delikat frukostgröt med choklad och melon började jag cykla tillbaka mot vägskälet. Jag mötte ganska snart en pickup som stannade. För att dubbelkolla om jag verkligen hamnat fel frågade jag genom teckenspråk herrarna i bilen om jag var tvungen att ta mig tillbaka till vägskälet. Till min glädje svarar de med att gestikulera att vägarna möter varandra. Jag ger dem en penna och de ritar upp en komplicerad karta. Jag frågar om jag kan få lift till rätt väg och det gick givetvis utmärkt. De kör mig uppskattningsvis 20 kilometer genom ett myller av små leder och vägar. På nästan 4.000 meters höjd stannar de och gestikulerar att jag ska följa den lilla grusvägen rakt fram. Jag tackar och bockar och ger mig av. Min framfart flyter på fint tills dess att vägen tar slut. Framför mig finns ett vattenhinder i form av en 30 meter bred flod och på andra sidan spridda hjulspår. Jag kan inte cykla över utan får plaska ut i det iskalla smältvattnet och leda cykeln till andra sidan. Det som för en stund var en väg blev nu fyra-fem olika. Alla verkar dock leda nedåt längs floden. Jag vinglar fram på lite olika av dem och får korsa floden på 8-9 platser. Vid ett tillfälle höll det på att gå illa. Floden var uppskattningsvis 10 meter bred och något djupare och vattnet rörde sig fortare. Mitt i floden lossnar min ena packväska och flyter med strömmen. Reflexmässigt slänger jag mig efter packväskan och cykeln välter. Jag får med ett par fingrar tag på packväskan och lyckas därefter resa cykeln. Väl på fastland byter jag till torra kläder. I packväskan som höll på att flyta iväg fanns min elektronik och min laptop. Tack Sea to Summit för era vattentäta packpåsar!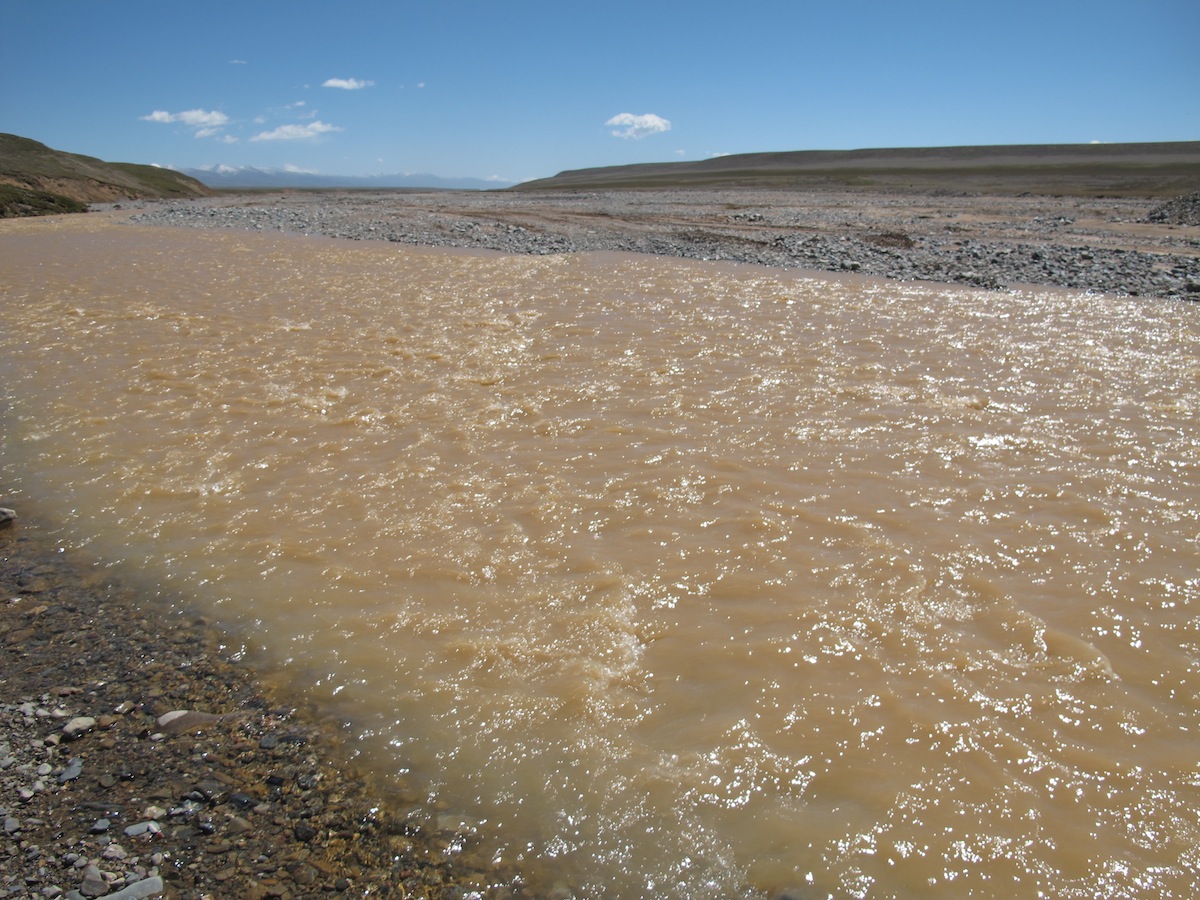 Bild ovan; En av ett tiotal floder jag var tvungen att vada över.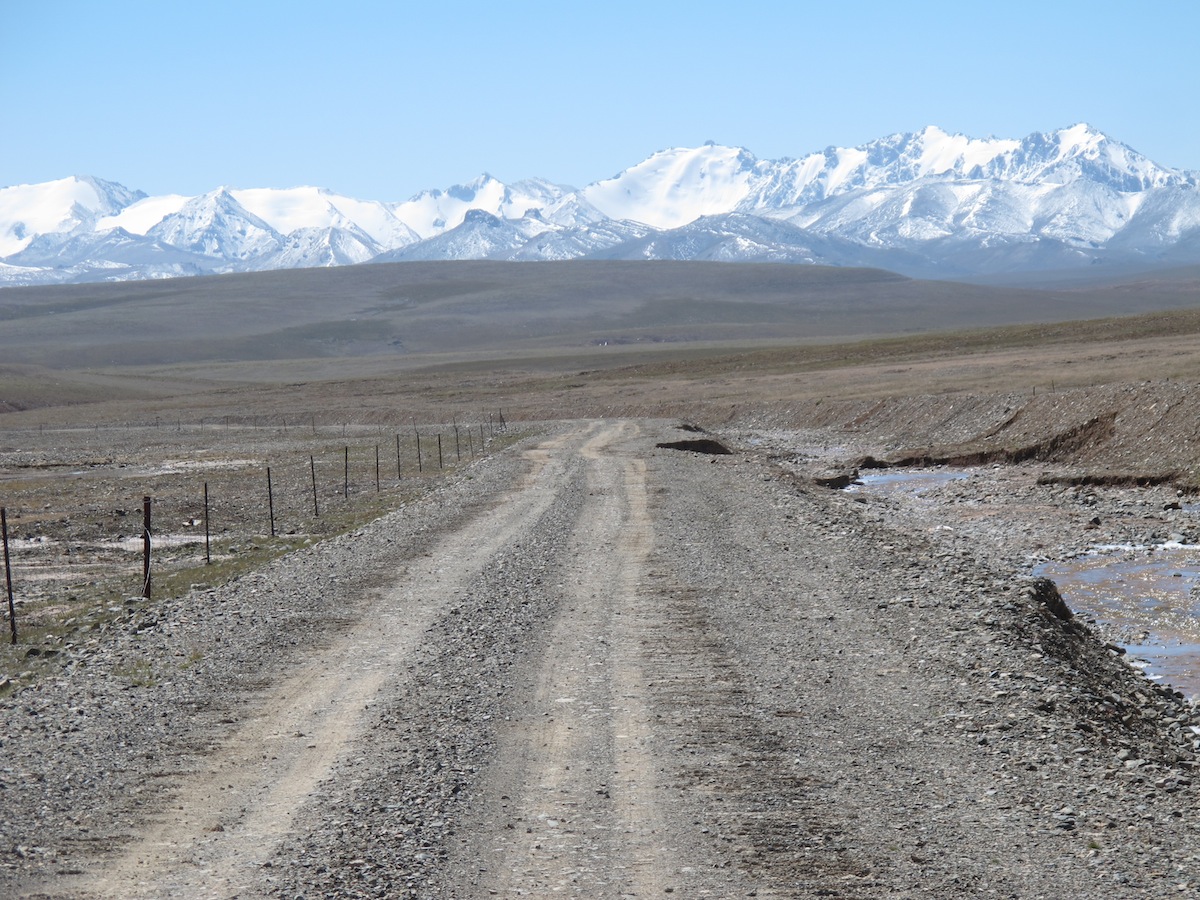 I ytterligare 15 kilometer fortsatte virrvarret av grusvägar och vattenhinder men vid 13 tiden nådde jag ett litet samhälle och till min lycka ser jag hur en asfalterad väg från andra sidan dalen möter den grusväg jag befann mig på. Här inleds en av de absolut härligaste cykelsträckorna på hela resan. Vägen som var jämnt och fint asfalterad var fortfarande i princip tom på trafik. Asfalten följde en bred och grön dalgång. De snöklädda bergen fanns fortfarande med, nu i vacker kontrast till de gröna öppna fälten där hundratals jakar betade. I djurform såg jag även små lämmelliknande varelser som sprang mellan sina hålor, kaniner likaså och stora rovfåglar som i sin tur jagade pälsdjuren. Vägen hade en perfekt lutning och vinden blåste kraftigt i ryggen. Jag yrde fram i mellan 35 och 50 kilometer i timmen. I hela 140 kilometer följde vägen samma dalgång och flod. Framåt eftermiddagen förändrades landskapet och vyerna kryddades med barrskog och en avsmalnande dalgång. Vägen hade karvats ut längs klippväggarna och nedanför kunde jag följa en allt vildare flod. Totalt sett kunde jag fylla i 170 rullade kilometer i loggboken när jag igår kväll låg i tältet drygt 20 kilometer väster om staden Qilian, där jag finns i skrivande stund. Qilian Shan, bergskedjan i Gansu och Qinghai, som stått för de senaste dagarnas underhållning har bjudit på en natur i klass med omgivningar i Kashmir och Ladakh, Patagonien, Kirghizistan, Nya Zeeland, Norge och USA. Vilken omväg det blev!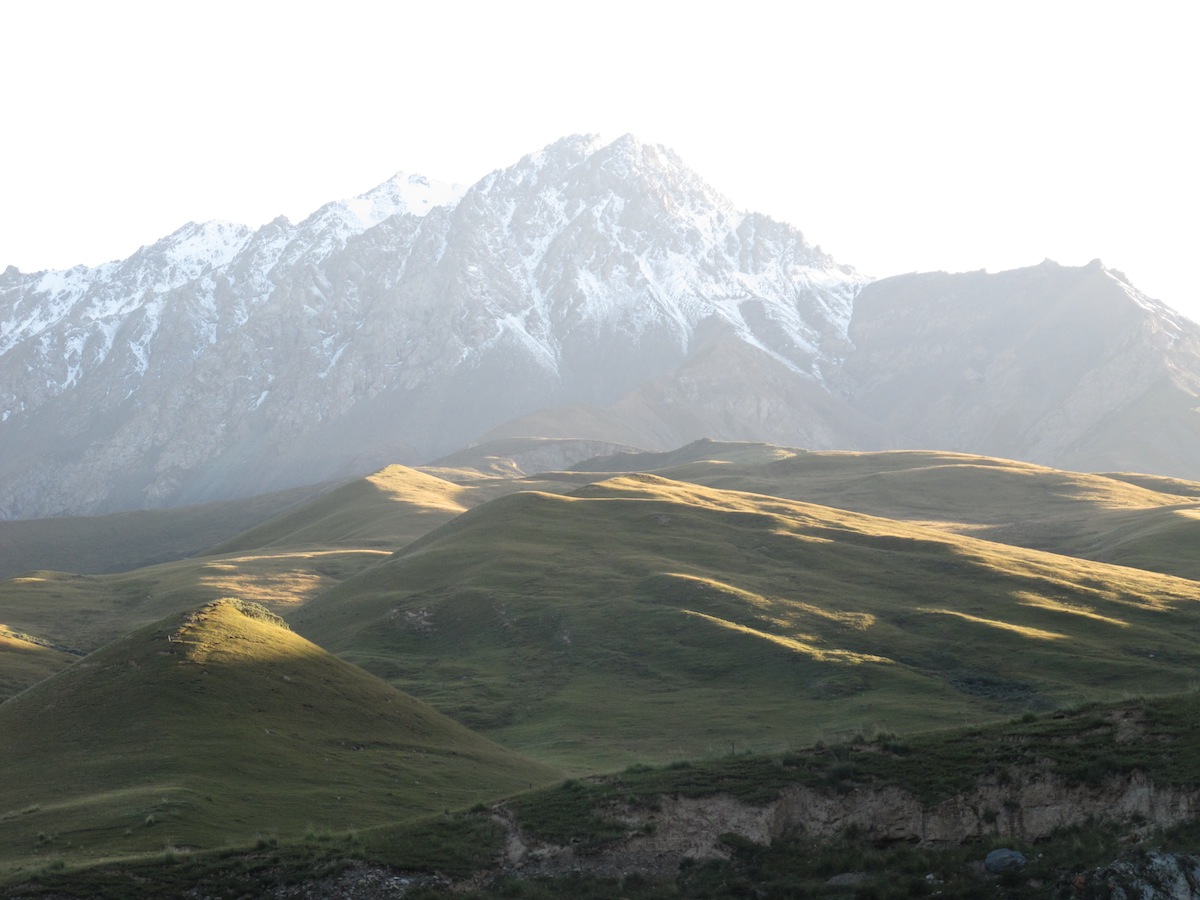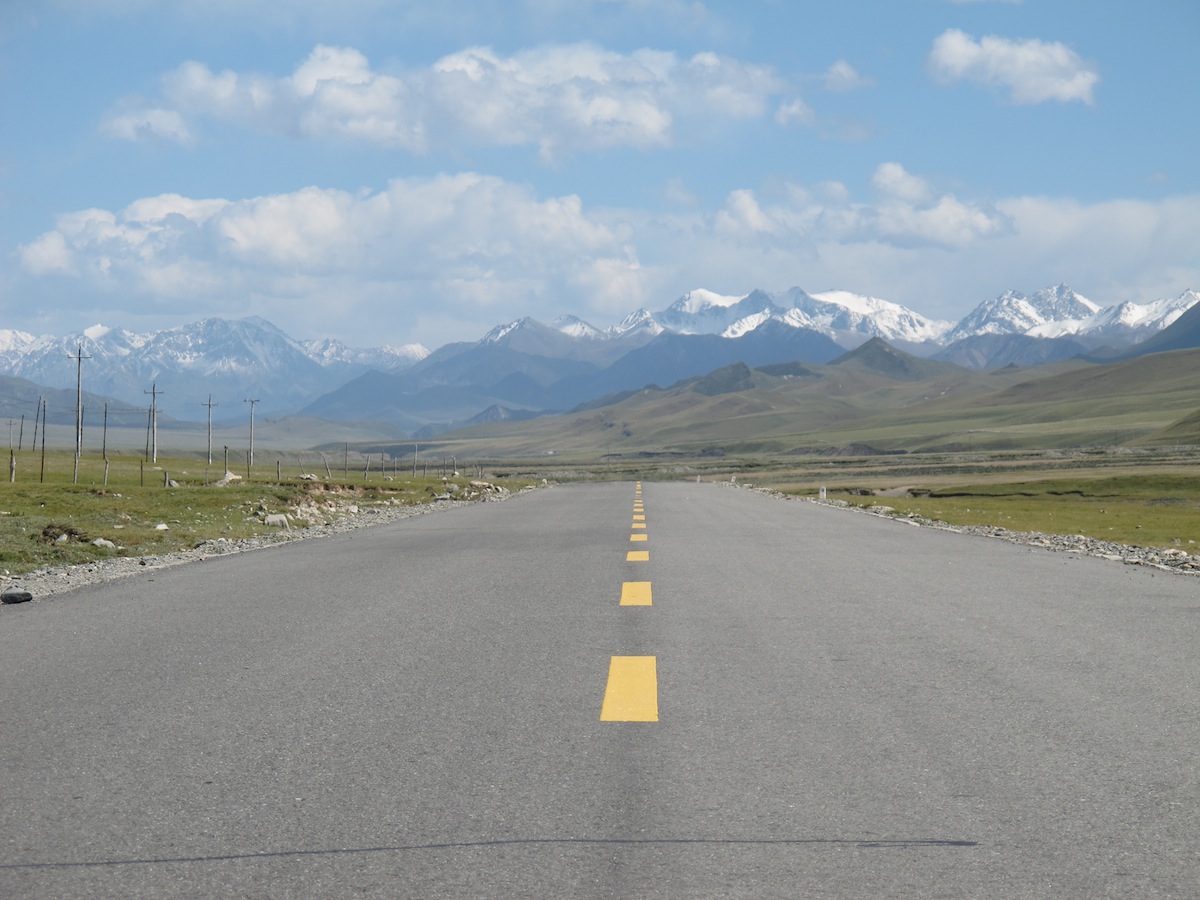 Det är åter en dag tom på moln och strax fortsätter jag med byn Obo som mål för dagen. Jag har uppskattningsvis tre dagar till den större staden Xining där jag överväger en vilodag. Det kuperade landskapet har nått THE ESCAPE för att stanna ytterligare någon månad. Bortsett från avstickare till storstäder som Chengdu och Kunming kommer kommande 3500 kilometer innehålla framfart i olika bergskedjor.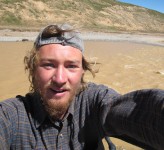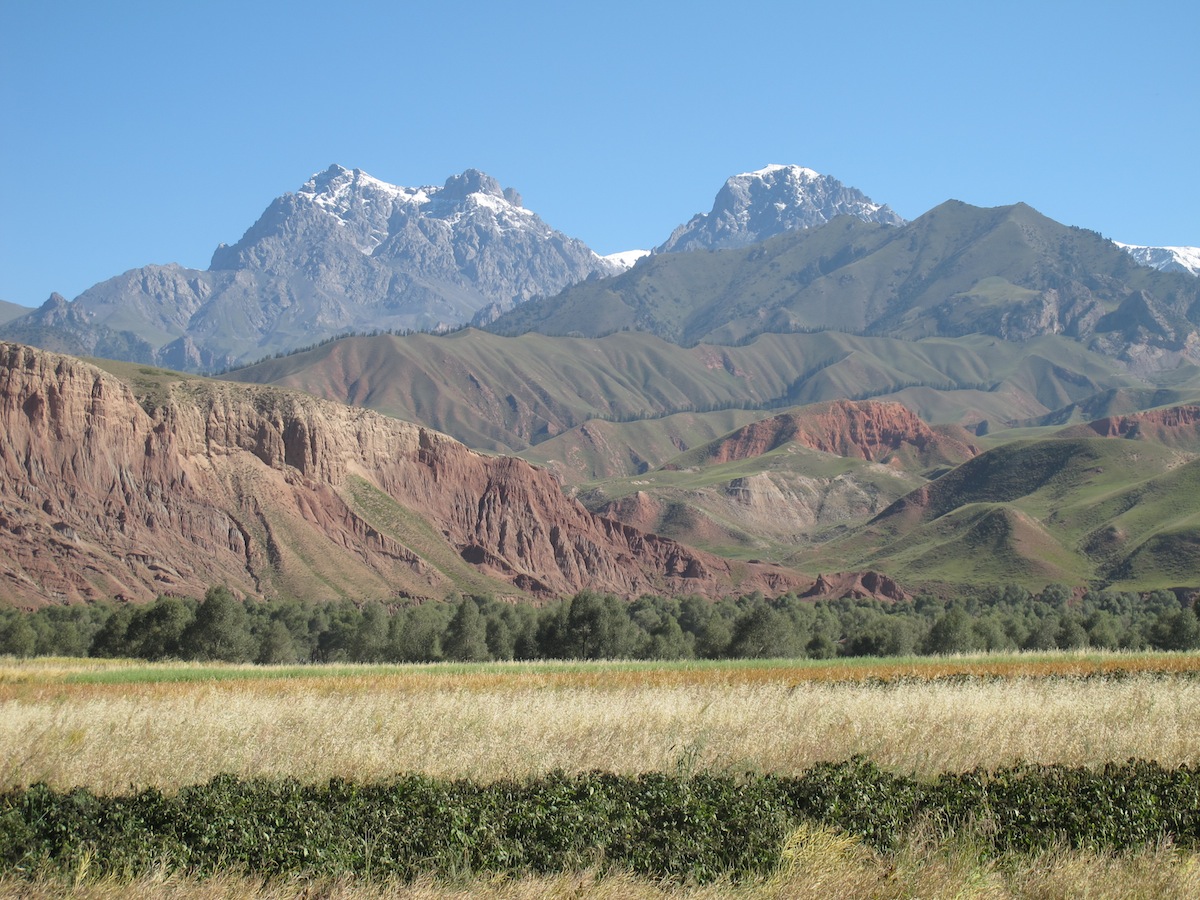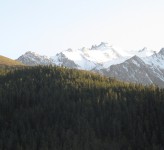 /Erik