Ok. Here it goes. Jag har dragit pa detta for lange... En 20 manader lang jorden runt resa ska avslutas i stil, inte sant? The next, and the last project on THE ESCAPE is a ride across North America! Jakten efter en avslutande utmaning fick mig idag att kopa en cykel. For att knyta ihop den har sacken ska jag under mina dryga tva kvarvarande manader cykla, 5600 kilometer, till New York. Iden har frodats och mognat lange och temat pa THE ESCAPE har, i och med min langtan, under en langre tid kretsat kring USA och mitt avslutande upplagg. I december forra aret traffade jag Preston och Aimee fran Portland pa Filippinerna. I deras lagenhet ar i skrivande stund planeringen i full gang och med deras hjalp blir den langa inkopslistan mindre och mindre. Efter helgen hoppas jag rulla mina forsta kilometer och inleda lidandet.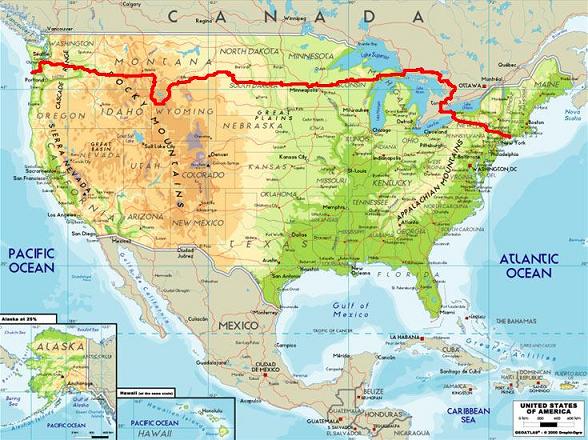 Ovan: En grov resplan. Troligen cyklar jag norr om Lake Michigan, in i Kanada, och avslutningsvis genom New York State till Manhattan. 
 *Mer detaljerad resplan, klicka har!
Hostens underhallning pa THE ESCAPE mina damer och herrar. Fortsatt folja resan, jag kommer behova ert sallskap och stod.
/Erik