Pa THE ESCAPE  har det framgatt tydligt att temat i Colombia till stor utstrackning varit nattliv. Tre veckor barer, pubar, discon och klubbar i Cali, Medellin, Cartagena och Taganga har tagit ut sin ratt och det var dags att sanka tempot och trappa ner pa "Aguardiente". (colombiansk sprit lik "ouzo") Efter dryga 20 dyk under resan har jag i Taganga inlett min "advanced course" for att fa lite mer erfarenhet och dessutom tillgang till djupare vatten. Idag har jag paborjat min tre dagar langa kurs som bl.a. bjuder pa navigationsdyk, vrakdyk, djupdyk(40 mtr), driftdyk och nattdyk.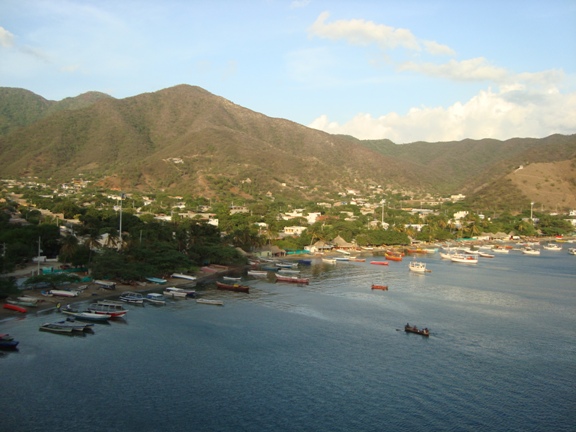 Taganga ar en fiskeby som intagits av backpackers och dykcenter. Charmen finns kvar trots turismen och byn ar vackert belagen i en vik med kullar i kring som erbjuder lysande utsiktsmojligheter. Min dykkurs tvingar mig till en smula mer (efterlangtad) struktur i resevardagen. Tidiga kvallar och for att fa upp flaset har jag t.o.m. borjat jogga. THE ESCAPE har inlett nagot som liknar en halsoresa och varre ska det bli da jag behover komma i form psykiskt och fysiskt infor hosten och ett avslutande projekt innan hemfard. Stay tuned during the summer for more on my next adventure.
Fiskebat i Taganga´s beachhamn. "3 hermanos" betyder 3 broder.
Aterigen en fenomenal solnedgang. Denna under min joggingtur tidigare ikvall.
Imorgon fortsatter kurs och halsoliv. Pa THE ESCAPE kommer det att hittas bilder och mer fran dykningen. Hoppas allt ar val med alla svenska vanner hemma i "varmeboljan".
/Erik