Den senaste tiden tycker jag delaktigheten pa THE ESCAPE varit lite ljummen.
Darfor introducerar jag nu med jamna och ojamna mellanrum tavlingen "know your..." for att THE ESCAPE's trogna lasare ska fa chansen att vinna spannande och unika priser fran olika platser runtom var jord.
For att delta kravs anvandning av ett par hjarnceller/en sokning pa Google och en adress i Sverige. Jag hoppas de flesta har mojlighet att delta...
Spelregler;
Svara pa fragan(orna) i kommentar-faltet. Inom 1 vecka fran tavlingens publicerande kommer en lycklig vinnare utlysas med en inlagg och meddelas med e-mail. ASP skickas vinst till adress i Sverige. Om fler an 1 vinnare sker lottning. Osannolik vinstskatt betalas av vinnaren.
OBS! Tar en och samma vinnare hem tva tavlingar i rad tillkommer TVA bonusar; en overaskning samt en "100-sedel" i lokal valor. Om jag ar i Indien blir det 100 rupies = 16 kronor, om jag ar i USA blir det 100 Dollar = 700 kronor.
Tävling nr 1, "Know your Hindi/India/James Bond"
Priser: Denna vecka blir det inte bara 1 pris utan 2! Forst och framst en "auto-rick-shaw-action-toy" i de klassiska fargerna svart och gul. (den rullar framat om man drar den bakat) Som inte det vore nog slanger THE ESCAPE aven med 52 st "Cricket action photos/Playing cards. Hur later det?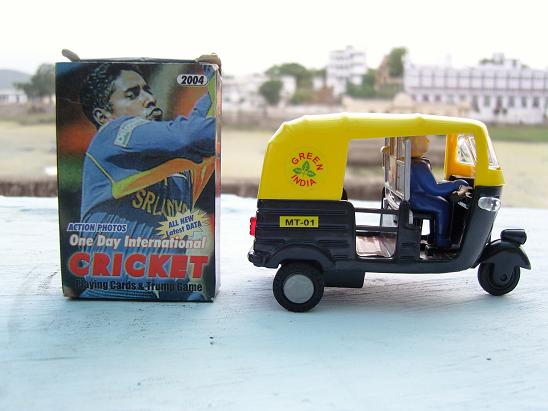 Svara pa fragorna sa kan priserna vara dina inom 1 vecka (eller 16, man vet inte helt sakert med "India Post")
Fraga nr 1:
"kahaang hai gusalkaanaa?" ar en mening som kan vara anvandbar i Indien, vad betyder det?
A) Kan du vara snall att inte kora sa fort!?
B) Var ligger toaletten?
C) Skulle jag kunna fa lite toalettpapper?
----------------------------------------------------------------
Fraga nr 2:
Ena handen anses vara smutsig, vilken hand far man ata med i Indien?
---------------------------------------------------------------
Fraga nr 3:
Hur manga Bond-filmer medverkade Roger Moore i efter filmen Octopussy som spelades in i Udaipur?
A) 4
B) 1
C) 3
---------------------------------------------------------------------
STORT lycka till! Har ni onskemal om framtida priser eller fragor kring tavlingen ar det bara att klamma ivag ett mail till erik@theescape.se!
/Erik