I mina flyktrapporter har det aldrig framkommit att det finns en särskild koppling till mitt slutmål. När jag var liten bodde jag i Singapore. Jag var fem år gammal när familjen flyttade till ekvatorn för nästan tre års vardagsvärme. Mina minnen är relativt få men starka. Jag gick i en internationell skola med stränga lärarinnor och jag fick en multinationell vänskapskrets. Fidaus från från Brunei var sultanen av Bruneis brorson och bjöd alltid på köpt lunch så jag kunde slänga min matlåda med mammas morotsstavar, Manu från Belgien drömde om att bli pilot, Ali från Pakistan var snabbast i klassen och Stuart från Storbritannien samlade på actionfigurer. Den enda jag fortfarande har kontakt med är Manu som ibland styr jetplan från Belgien till Bromma. I Singapore ägde jag min första cykel. På svenska kyrkan, som var samlingspunkt för skandinaver i Singapore, anordnades ett lotteri där förstapriset var en cykel. Jag var bestämd på att cykeln skulle bli min och så blev det! Mitt något för stora vrålåk var skrikgrön och ramen smyckades med ordet "JAZZ". Kunde det bli coolare?
Bild ovan; Erik, 6 år gammal i Singapore. Att jag nu återvänder är något av en medveten slump.
THE UNITED STATES OF THAILAND
Jag andas avgaser och maler kilometer i nordöstra Thailand. Efter tio dagar i Laos nådde jag för tre dagar sedan gränsstaden Namkhai i Thailand. Sedan ankomst till nation 16 har jag hunnit trampa drygt 400 kilometer och jag finns i staden Pak Chong som ligger 170 kilometer nordost om Bangkok. I brist på vägalternativ tillbringar jag dagarna i väggrenen intill en tungt trafikerad flerfilsväg. Lastbilar och bussar dundrar förbi och framfarten är enformig och tråkig. I delar av Kina och Laos uttryckte jag en längtan till jämna och raka vägar. När nu vägen är både flack och platt saknar jag givetvis de kuperade landskapen. Jag blickar ut över milsvida sockerrörsfält istället för tät regnskog och det öronbedövande ljudet är inte längre från cikador och färgrika fåglar utan högljudda motorfordon. Det finns dock få anledningar att klaga och med fattiga 200 mil kvar till Singapore är det lätt att sona ut och föreställa sig segergester i Merlion Park.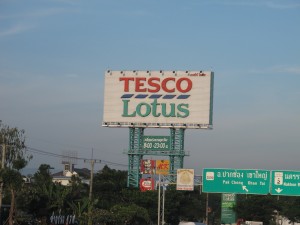 McDonalds, 7-Eleven, Starbucks, Hershey, M&M, Esso, Ford Ranger och Tesco. Mina inledande motorvägsintryck från Thailand har haft en tydlig västerländsk och amerikansk prägel. Det kolesterolglada Thailand har varit något av en överraskning.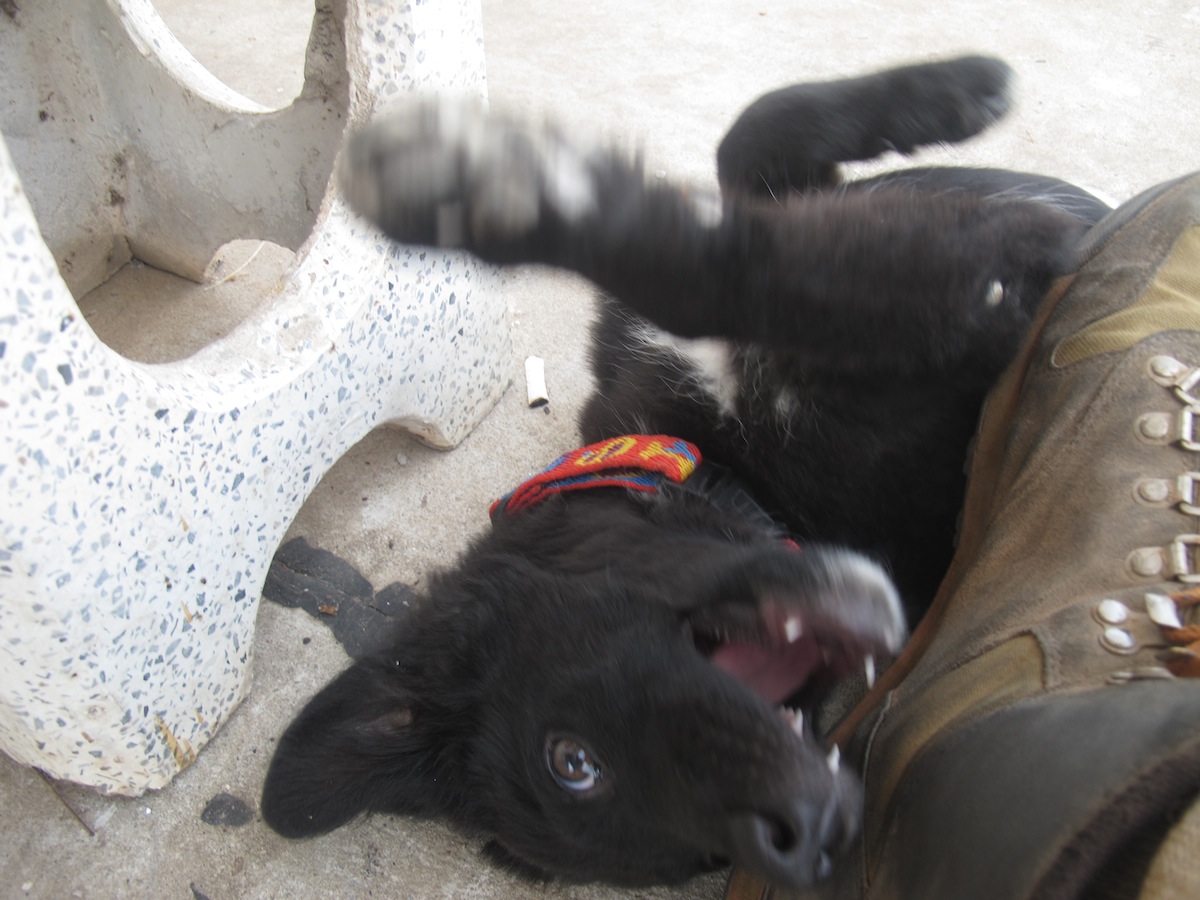 Bild ovan; När motorvägen var allt för enformig fastnade jag i över en timme med en lekfull hundvalp.
Jag har siktet inställt på ön och dykdestinationen Koh Tao utanför staden Chumphon i södra Thailand. Min goda vän Rustan (som var med och vinkade av i Stockholm) finns sedan en vecka i Thailand och min avsikt är att möta upp honom för några dagars avslappnat strandhäng. I mina förhandsstudier var jag övertygad om att man som svensk medborgare får 30 dagars uppehåll i Thailand utan visum. Jag har dessvärre fått erfara att detta inte gäller vid inresa landvägen från Laos då enbart 15 dagars vistelse beviljas. Jag kommer att kunna förlänga min vistelse i Thailand med 7 dagar genom ett besök på lokalt immigrationskontor men tyvärr räcker inte detta för att hinna ut ur landet i tid. Min lösning kommer att bli att lämna cykeln på lämplig ort i södra Thailand och sedan motordrivet resa till Malaysia för ett visumsprång innan jag tar mig tillbaka till cykeln. Det hela är relativt okomplicerat men oerhört onödigt då en enkel visumansökan i Vientiane hade löst problemet.
/THE ESCAPE