Om min förra rapport från staden Osh var något fattig på äventyr kommer jag med följande blogglektyr kompensera med råge. Planenligt befinner jag mig i huvudstaden Bisjkek och det har gått en dryg vecka sedan jag senast kommunicerade livstecken genom THE ESCAPE. Min lediga vecka har jag fyllt med 600 kilometer äventyrscykling varav en stor del på små grusvägar över sanslösa bergspass i mäktiga Ferghanabergen i sydvästra Kirghizistan. När jag nu sitter med en kopp kaffe intill mig för att locka fram en vass återberättelse kan jag konstatera att veckan som gått varit en naturmässig höjdpunkt på resan från Sverige.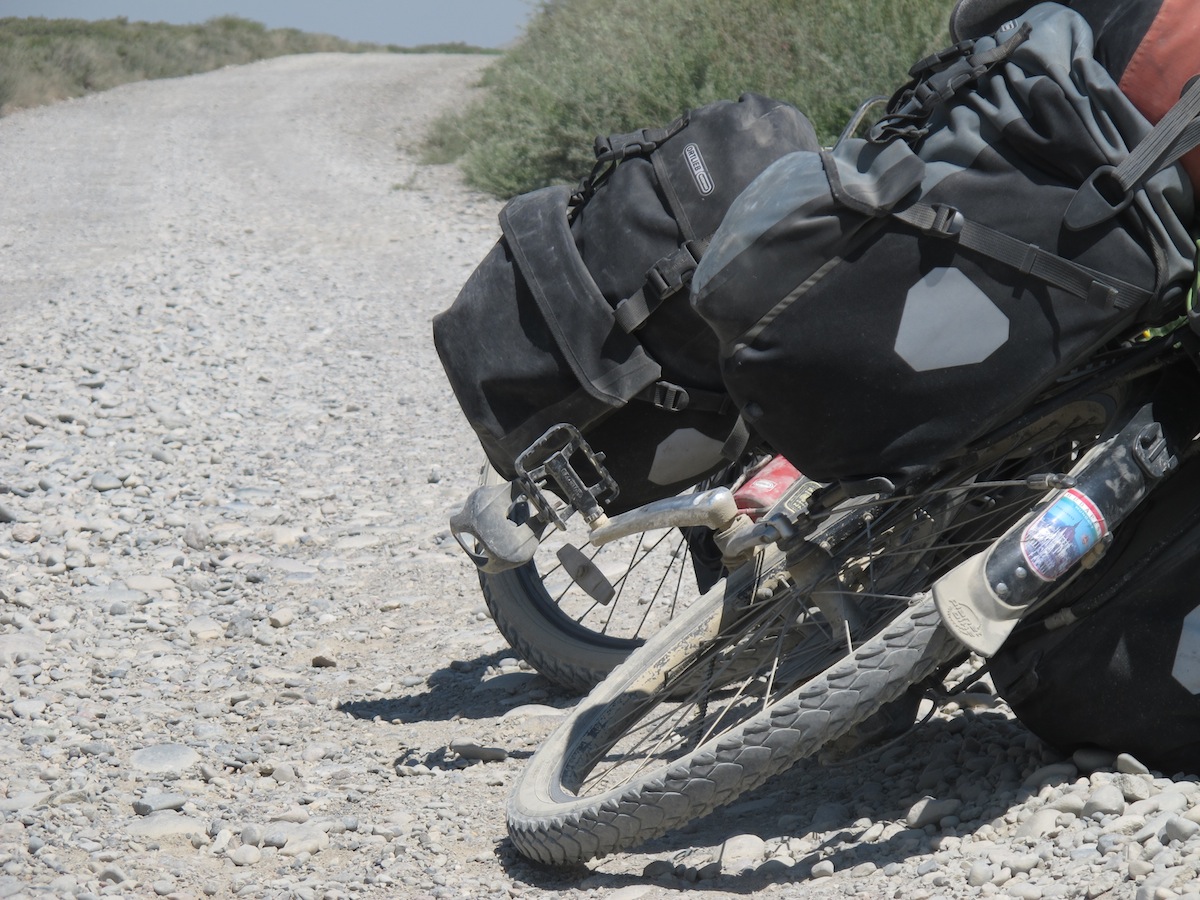 Ferghanabergen, norr om Pamirbergen och Himalaya, har toppar som sträcker sig drygt 4000 meter ovan havsytan. Mellan och intill dessa toppar tuggade jag under fyra dagar 300 kilometer grusväg. 30 mil av löst grus, gropar, stenar, sand och lera, tålamodskrävande farter på mellan fem och tio kilometer i timmen och två bergspass över 3000 meter. De fysiskt krävande och dåliga grusvägarna slet hårt men jag blev samtidigt ständigt belönad med makalösa vyer över sagolika landskap och en vildmark nästintill tom på civilisation. Naturen tog olika skepnader och kontrasterna var många. Färgnyanserna var häpnadsväckande och hypnotiserade från sadeln.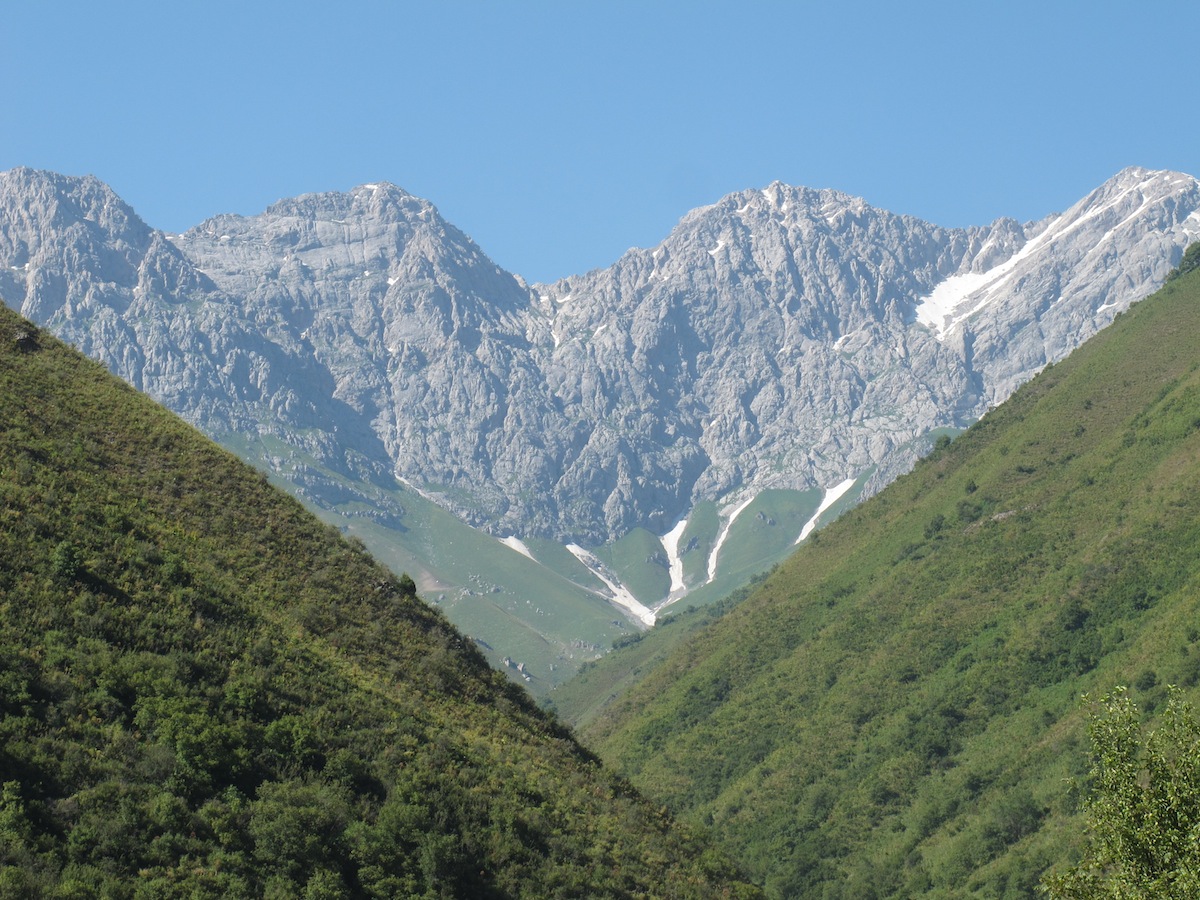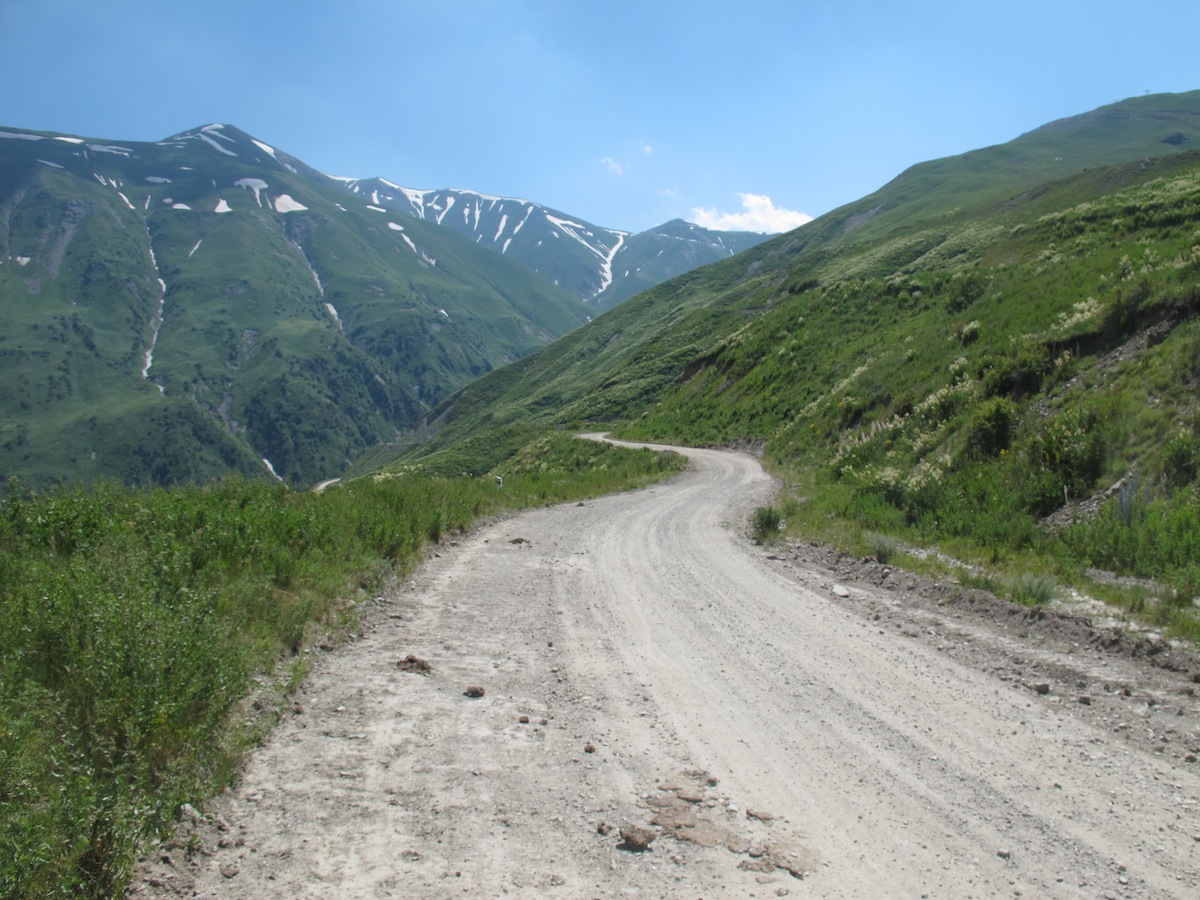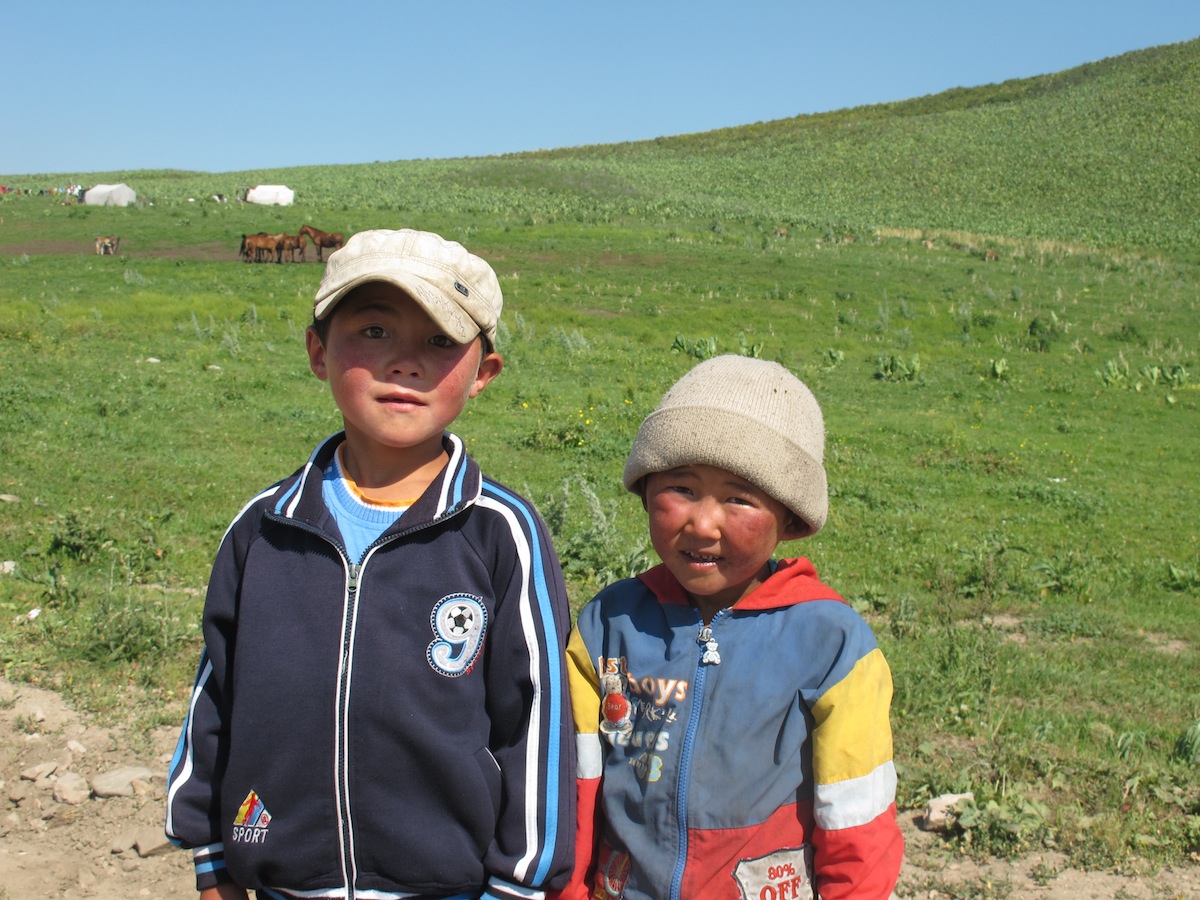 Äventyret inleddes i staden Jalalabad där jag vek av från den större asfalterade vägen och trampade österut, mot en vägg av grå-blå snödraperade bergstoppar. Jag följde initialt en bred dalgång med stora solrosfält. Bergen kom närmre, den lilla grusvägen tvingades in i en allt smalare dalgång och klättringen mot 3100 meter höga "Kaldama Pass" hade inletts. Då timmen var relativt sen valde jag att spara topprycket till dagen efter. Jag slog läger intill floden som följde vägen, tillagade och förtärde mina delikata nudlar och slocknade sedan skönt i den ljumna alpnatten.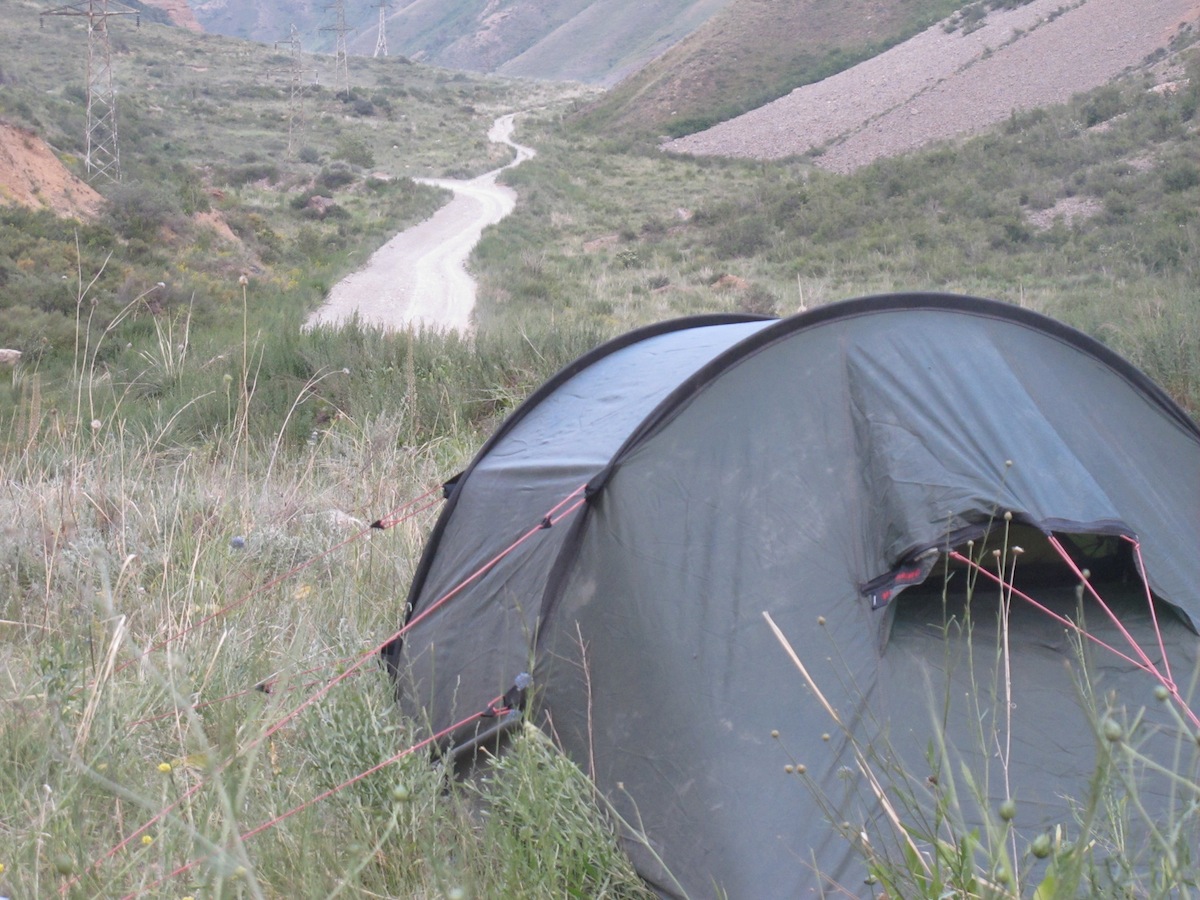 Efter en stadig grötfrukost började jag slita mot passet. Inledningsvis var lutningen inte allt för kraftig men efter ett par kilometer fick jag klar sikt mot topparna framför och kunde se hur vägen var urkarvad i de branta bergssluttningarna. Intervallcyklingen inleddes på 1800 meter och under fyra och en halv timme gjorde jag 500-meters ryck med jämna och ojämna mellanrum. Jag stannade för att hämta andan och blicka ut över landskapen som lockade fram huvudskakningar och ett ständigt mumlande av superlativ. I 180 graders kurvorna var det brant och spårigt. Jag väjde för stora stenar, gruset var löst och om jag trampade med en allt för ryckig rörelse tappade jag fästet och mitt ekipage wobblade från sida till sida på den smala vägen. Först vid 13 tiden rullade jag utmattad fram till den skylt som informerade om att jag befann mig på toppen av passet. Jag hämtade krafter, fyllde på reserverna med choklad och rullade sedan nedåt. På de dåliga grusvägarna kunde jag inte njuta av den 25 kilometer långa nedförsbacken till fullo. Jag hängde på bromsarna och nötte bromsklossarna kraftigt. Efter ytterligare sju timmars cykelslit, nådde jag i skymningen byn Kazarman där jag hittade ett vandrarhem som drevs av en vänlig värdfamilj.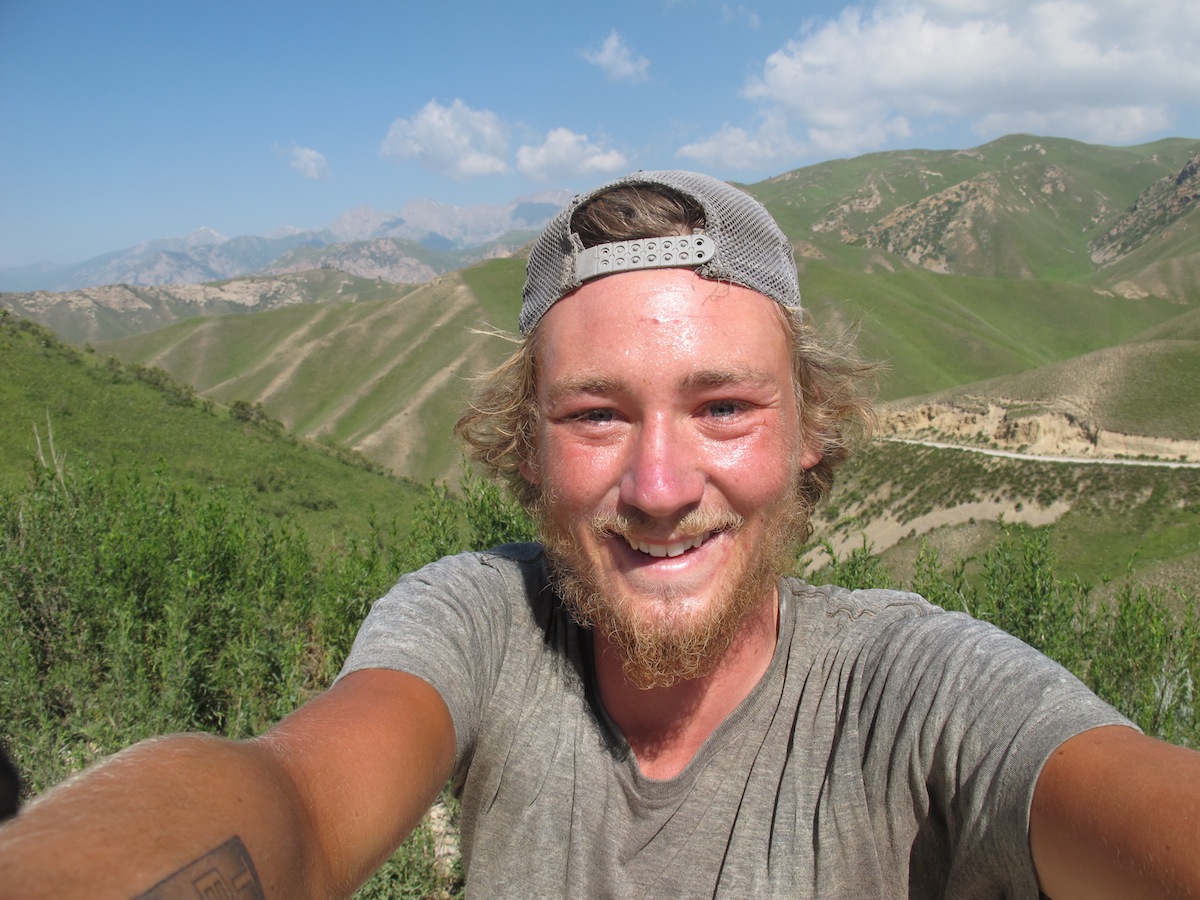 Dag tre bjöd på ytterligare 80 kilometer grusparty. Jag förskonades från krävande bergspass men landskapet var fortsatt kuperat, vägarna riktigt dåliga och inte en by passerades under dagen. Dag ett och två cyklades i gröna och frodiga landskap men nu hade jag hamnat i en karg och torr omgivning. Under mina 300 kilometer från Jalalabad till Naryn passerade inte mer än ett 30-tal fordon om dagen men de som passerade gjorde det i alldeles för höga farter. Då vägen var spårig och det låg en vall av grus och sten i mitten fick jag obehagligt nog både mig själv och cykeln nerstänkt av sten vid flera tillfällen. Dag tre avslutades vid foten av pass på 2800 meter som inte var namngett på kartan.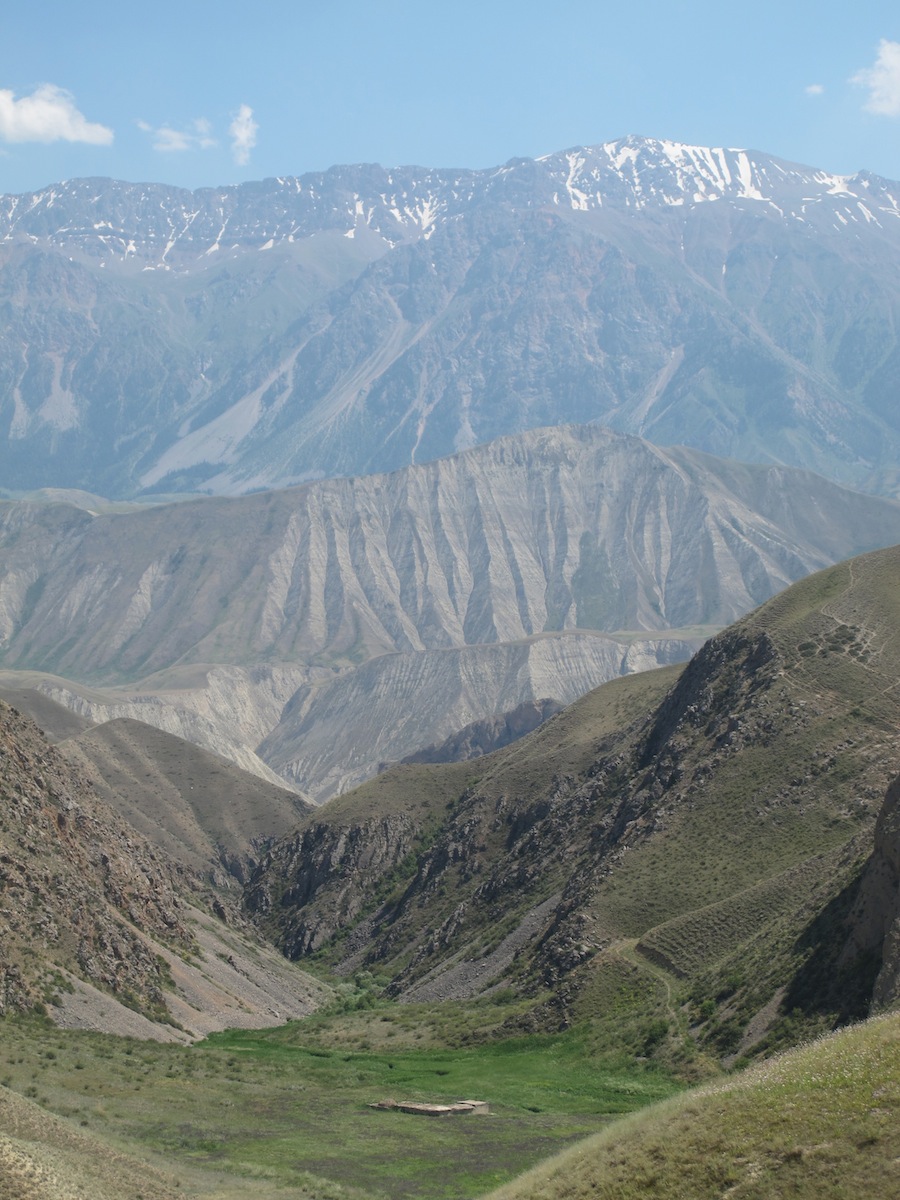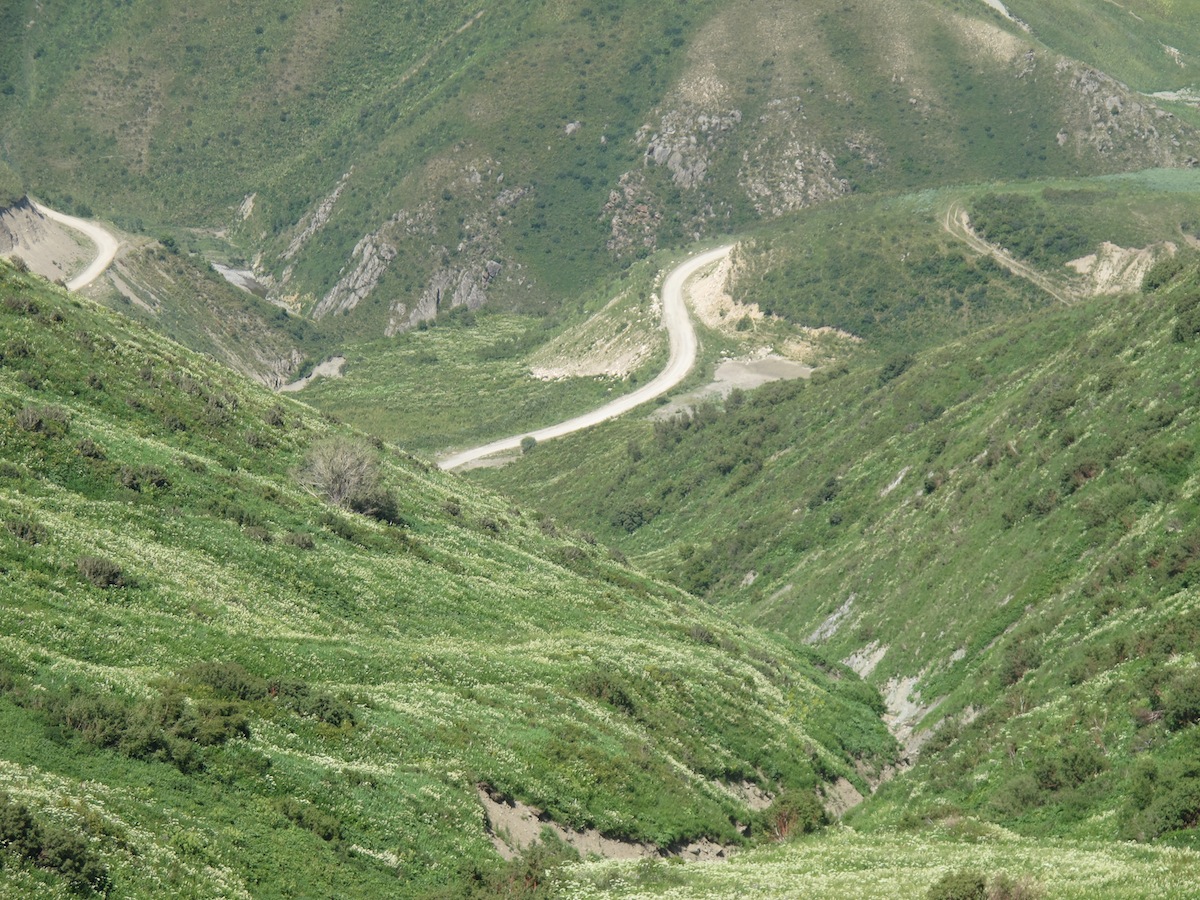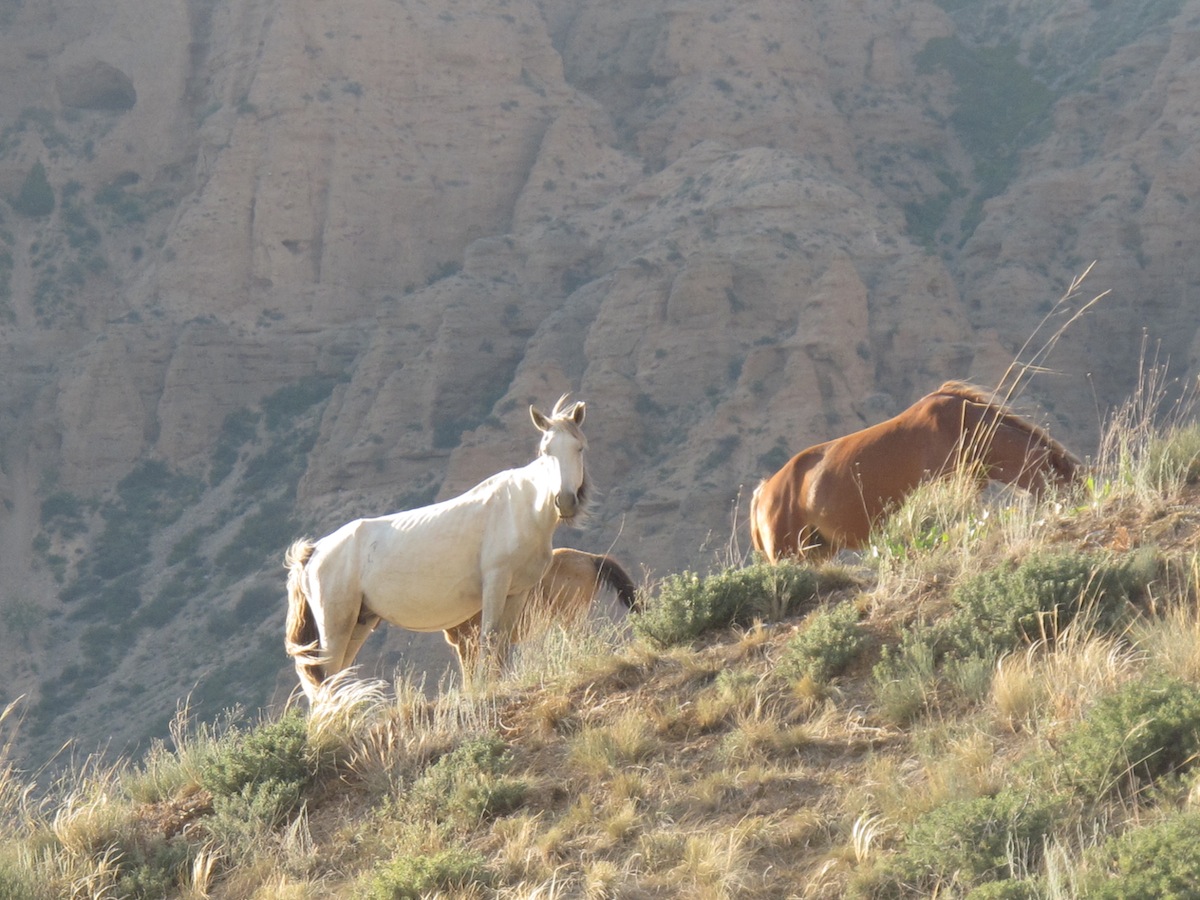 Ingenting slår lite morgongymnastik. Med kudden kvar i ansiktet började jag morgonen dag fyra att frusta från 1500 meter upp mot passet på 2800 meter. Till skillnad från passet dag två var hårnålskurvorna inte lika branta utan det bjöds istället på en 30 kilometer lång och seg uppförsbacke. Det blev fem timmars slit och traditionsenligt gratulerade jag mig själv med en chokladkaka på toppen. Efter 25 kilometer skön nedförsbacke med nöjesfältskänsla hade jag bara några mil kvar till byn Ak-Tal där asfalten, enligt lokalbefolkningen, skulle vara tillbaka. De sista milen grusväg skulle dock visa sig vara de allra värsta. I vägen hade det formats vågor och jag fick sick-sacka mellan riktigt stora stenar och gropar. Det skakade ordentligt och det fanns knappt en platt yta att rulla på. Mitt tålamod tröt och efter flera vredesutbrott insåg jag att det var lättare att cykla bredvid vägen på små boskapsupptrampade stigar. Vid 16 tiden nådde jag till slut Ak-Tal och gruset byttes, till min enorma glädje, ut mot asfalt. Det var 80 kilometer kvar till Naryn men då jag hade medvind bestämde jag mig för att försöka nå fram till en varm dusch och hotellsäng. När klockan var 20:30 hade jag bara ett par kilometer kvar men framför mig ytterligare en riktigt lång och trög uppförsbacke. Jag samlade mina absolut sista krafter och satte fart. Dregel hängde i långa slemmiga trådar och mjölksyran som sved i lår och vader skickade rysningar ända upp till nacken. Långsamt plattades asfalten ut och på andra sidan krönet kunde jag se ljus från byggnader och gator i staden Naryn. Jag knöt näven, sträckta båda armarna i luften och vrålade ut min glädje. Om jag förtjänade en öl?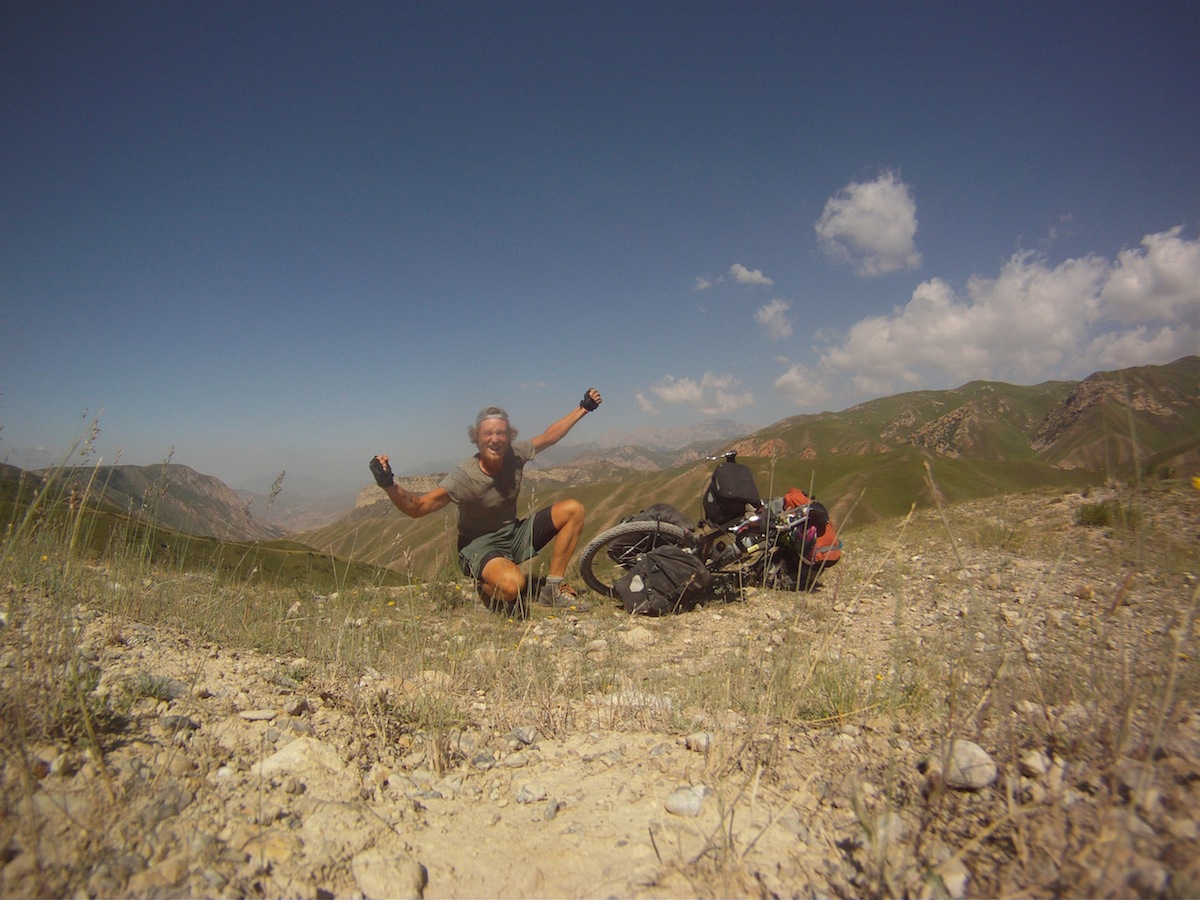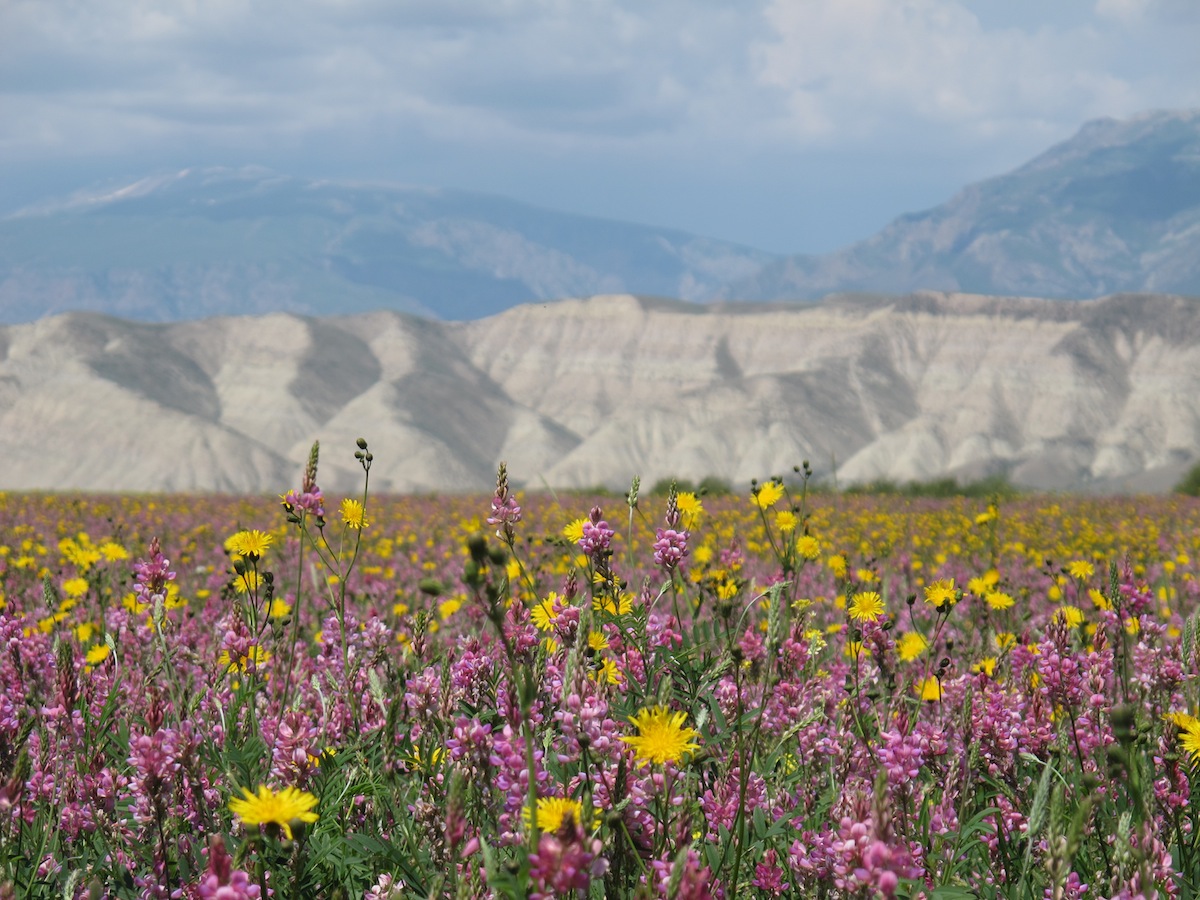 THE ESCAPE IN BISHKEK
Från Naryn till Bisjkek blev det trampande och tumviftande om vartannat. Efter tretton dagar och 1300 kilometer i sträck på sadeln från Samarkand var jag sliten och då min framfart hade sinkats av de dåliga vägarna och de krävande passen låg jag lite efter i tidsplaneringen. Jag hade även möte inbokat med min japanska vän Kenta i staden Kochkor. Kenta, som jag träffade första gången under min USA-cykling 2009, kommer ni kunna läsa mer om i separat inlägg inom kort. Sedan igår befinner jag mig i huvudstaden Bisjkek där jag laddar för en visumvecka som inleds imorgon.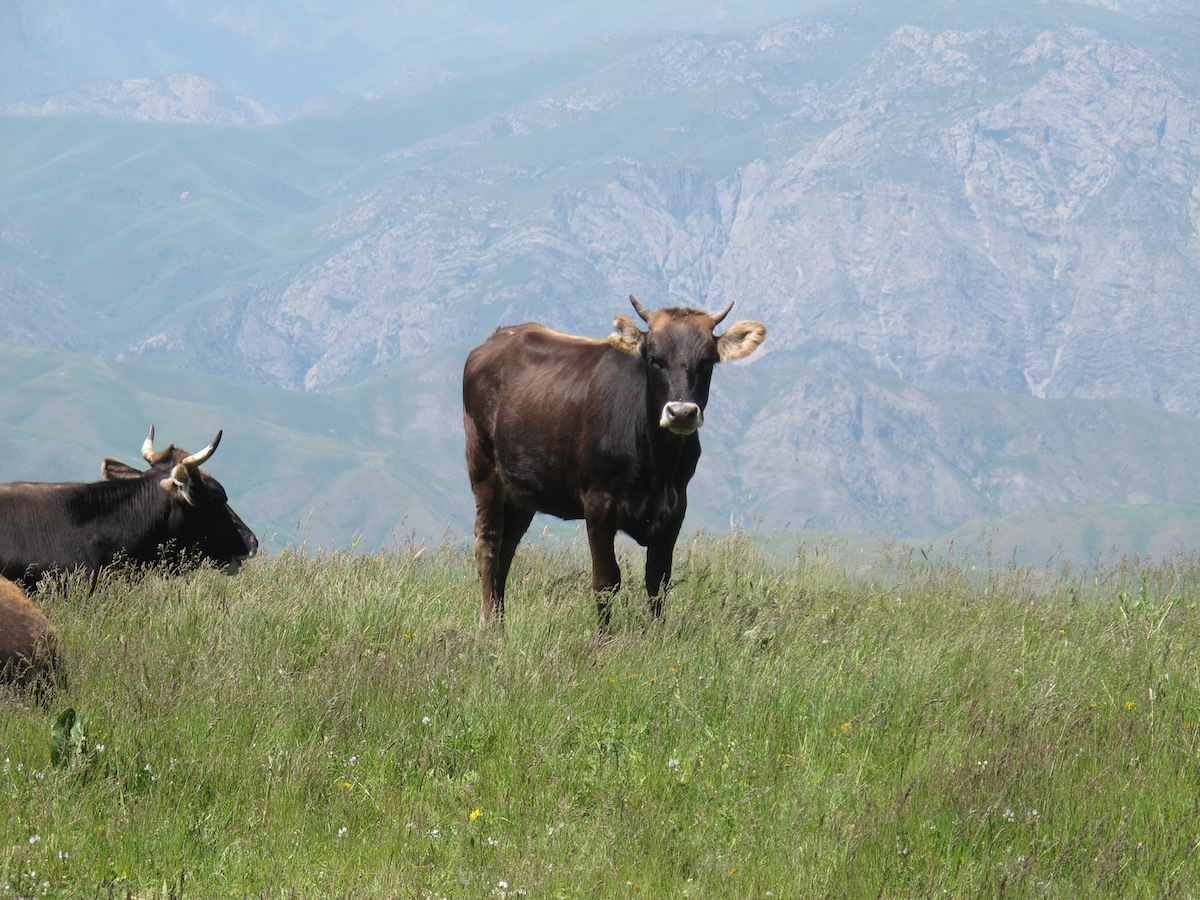 /THE ESCAPE