With current comes BIG GAME. Pelikaner, leguaner och skoldpaddor i all sin ara men det var inte det som lockade mig till Galapagos. I mitt tekniskt svaraste dyk hittills fick jag se det jag kom for att se. Igar dok jag med hammarhajar vid undervattensvulkanen Gordon Rock. I ett turbulent hav med 5 meter hoga vagor tomde jag min "BCD" pa luft och gled ner pa 27 meters djup. Val nere var det bara att ta tag i narmsta sten och kampa emot havets vilja att skolja bort mig. Med en halvslapp dykutbildning och blygsamma 19 loggade dyk blir man en aning nervig nar de andra dykarna snittar 200 dyk och har avancerade utbildningar. Den nervositeten upptogs av en annan sa fort den forsta flocken hammarhajar langsamt svepte forbi ett par meter ovanfor. Vilken kansla. Om en valhaj ar ett rymdskepp sa ar hammarhajen en utomjording.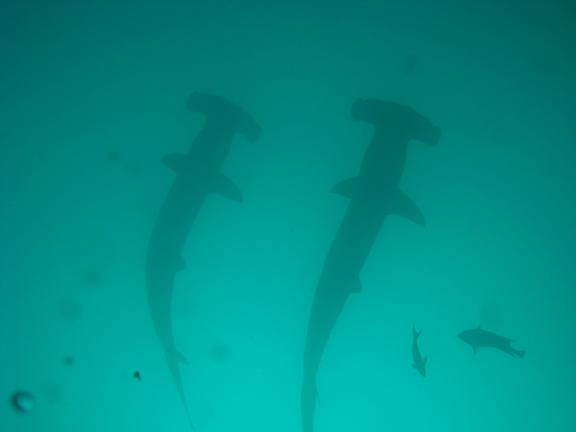 Ovan fr vanster, havsskoldpadda, vitfenad haj, rockor och murana.
THE ESCAPE har aldrig kunnat dela med sig av pixlar fran dykning men igar dokumenterades dyket av en undervattensfotograf. Forutom hammarhajar kryllade det av ornrockor, guldrockor, barracudor, skoldpaddor och andra hajar. Jag fick aven, som hastigast, se en djavulsrocka. Tillsammans med ett nattdyk pa Sulawesi i Indonesien var detta hojdpunkten i min unga karriar med tuber. Galapagos fortsatter att bjuda pa sanslosa upplevelser bade ovan och under ytan. Ogruppen ar hapnadsvackande.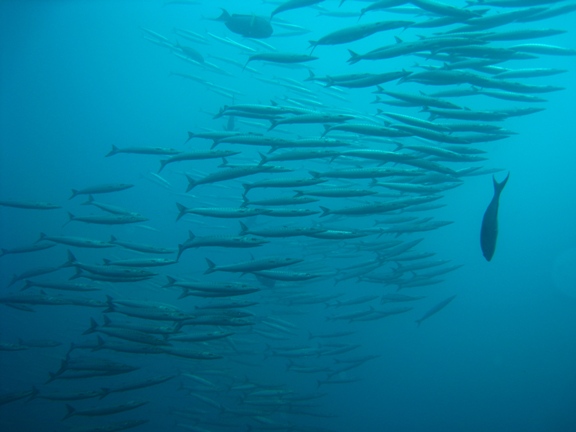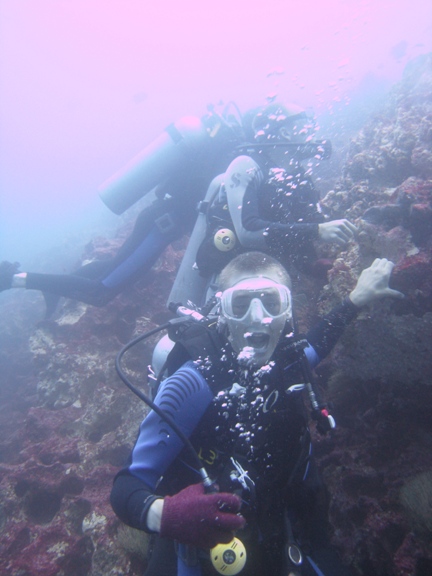 Imorgon blir det troligen mer dykning, denna gang vid Seymour Island, som ska vara platsen for djavulsrocka.
/Erik