Panama har en nyckelroll i forbindelsen mellan Asien och vastvarlden. Panamakanalen forbinder varldshaven Stilla Havet och Atlanten och mojliggor en betydligt kortare transportstracka for de enorma lastfartygen som ser till att det finns frukt pa ICA och japanska bilar pa vagarna. Med amerikansk ingenjorskonst stod den 77 kilometer langa kanalen klar 1914 och raknas idag till ett av 7 "Modern Wonders of the World".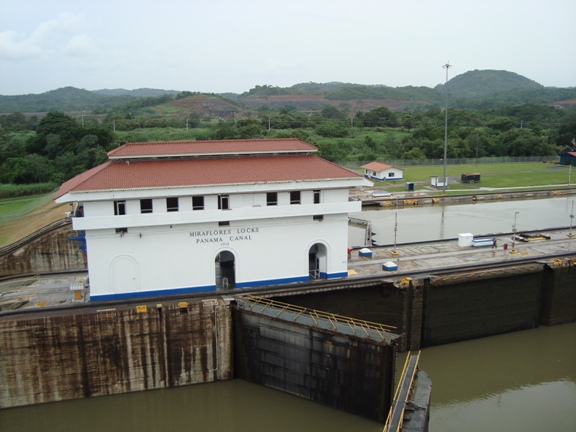 En 20 minuter lang taxiresa fran centrala Panama City tog mig idag till Miraflores som ar pa Stilla Havs sidan av kanalen. Pa nara hall fick jag se de valdiga containerfartygen lyftas upp och ner med fullkomlig precision i de smala slussarna. En given och otroligt intressant dagsaktivitet i Panama City.
Ovan fr. hoger: 1: Grafik over Panamakanalens utformning. 2: Vatten strommar in i slussen och fartyget hojs/sanks till efterstravad niva.  
-------------------------------------------------------------------------
Kursandring. Det var tankt att jag skulle ta mig till kust och fest-staden Bocas del Toro men jag har kommit pa andra tankar. The gringo-trail is old news. Det borjar kannas upprepat med backpackertata paradisstrander. Jag vill hitta pa nagot nytt trots att jag har svart att kommunicera utanfor turistomraden. Pa forslagslistan finns nationalparken Corcovado i sodra Costa Rica. Inledningsvis, tidigt imorgon, blir det buss till staden David i norra Panama, pa vagen dit finns tid att fundera pa nasta steg.
/Erik