Viftandes med skylten "We Won't Kill You" plockade den forsta bilen upp mig och mitt tummsignalerande sallskap, Eamonn fran Irland strax efter Golden Gate Bridge utanfor San Francisco. Detta blev startskottet for tre hogst udda, stereotypiska och fantastiska dagar i norra Kalifornien och Oregon som till slut tagit mig till mitt depastopp Portland. Att ens forsoka sammanfatta upplevelser fran den gangna veckan kanns svart. Jag ar oversvammad av omaka handelser och intressanta karaktarer.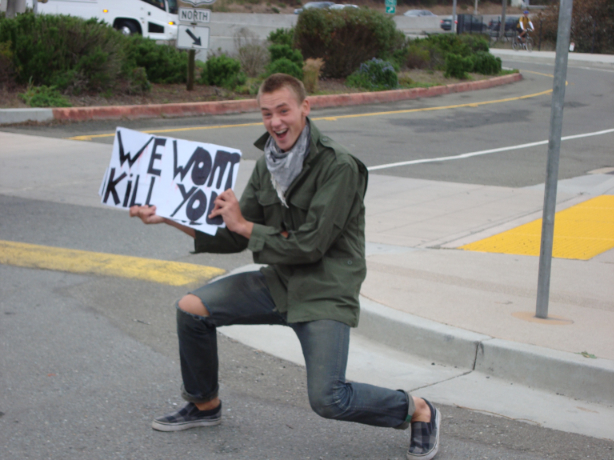 Fast pa nathinnan ar dock en man som plockade upp oss i onsdags. Mannen, i 50 ars aldern stannade i sin slitna VW-buss och vi slangde in vara ryggsackar i mini-bussen fullproppad med svarta soppsackar. "Jump in guys, hope you don't mind the mess". Han var pa vag tillbaka till Oregon fran Kalifornien dar han plockat "Magic Mushrooms" och bark (??) som han nu alltsa fyllt sin folkabuss med. Den "Flower-Power" skaggiga gubben som uppenbarligen fastnat i 60-talet tar fram en ICA-kasse med marijuana, rullar en FET samtidigt som han gapflabbandes viftar med sitt "Medical Cannabis License". En timme och manga konspirationsteorier senare stannar han vid en bro for att bada. "Dude, fuck man, I wanna jump from that awesome bridge bro, It looks sweet man". Den barksamlande hippien ville hoppa fran en 25 meter hog bro. Han pastod att han var simhoppare nar han stod pa kanten men tur nog lyckades jag och Eamonn overtala honom att noja sig med ett hopp fran lagre hojd... Som sagt, en av manga handelser.
Otroligt nog befinner jag mig nu alltsa i Portland, Oregon dar mitt oavslojade och lange omtalade projekt inleds i nasta vecka. Ovan ses karta over "The Americas". Den 16/3 inledde jag resan norrut fran Ushuaia i Argentina. Snart kommer jag att borja rora mig osterut, mot New York och mot Sverige. Projektavslojande kommer under kommande dygn. Hall utkik!
*Antal busstimmar fran San Jose, Costa Rica: 146,5. (6 dygn effektiv busstid)
/Erik