THE ESCAPE in Akcakoca. Sent igår kväll nådde jag den lilla byn vid Svarta Havet efter 80 slitiga kilometer från Kaynarca. Gårdagen var kylig, blåsig och blöt. Ett oavbrutet lätt regn höll mig sällskap från morgon till kväll och en tjock dimma täckte de ljusgröna och allt frodigare landskapen. Dagen blev lång och utdragen trots en tidig start och en sen punktering gjorde att jag inte nådde Agcakoca förrän det var mörkt.
Jag skriver till er från frukostbordet på en restaurang intill vattnet. Även idag är molntäcket tjockt, en kraftig vind kommer från fel håll och stora vågor sköljer in över stranden. En vilodag lockar men jag siktar istället på en kort etapp till staden Eregli där jag hoppas få härbärge hos en CS-värd.
Ta även en titt på "PEOPLE OF ISTANBUL" och gilla THE ESCAPE på Facebook för att få det senaste!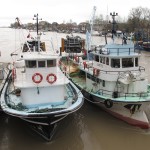 /E